When you think of "an e-commerce website", such online retail sites as Amazon or eBay might first spring to mind. But have you ever thought of your rental property website as a site with an eCommerce booking system?
eCommerce refers to buying and selling goods and services over the Internet. Every hotel, B&B, or campsite website is created to drive more customers and sell the product. Thus, if your website deals with online bookings via dedicated software, it may be classified as e-commerce.
The online presence of your rental business should go beyond beautiful photos and attractive design. Finding the tool to create a hotel booking system is so efficient. Your website needs simple and credible booking software that makes accessible a "Book Now" button and ensures a seamless user experience.
And here BNBForms comes in handy!
What is BNBForms?
BNBForms is a versatile solution that integrates a property management system, channel manager, and booking software into the website. It works smoothly for hotel, vacation rental, and bed and breakfast owners who already have their site or create it from scratch.
In simple words, you get a flexible and powerful property booking widget. You need to insert a code snippet into the related area of your site. It's worth mentioning that you require no coding skills to add the BNBForms booking form.
Getting started with BNBForms
Before embedding a code snippet to your website, you should make sure that all the settings are configured properly. It takes a few steps to create a free account and launch an online booking and eCommerce system with BNBForms:
1. Sign up with BNBForms.
2. Confirm your address via email.
3. Log into your account.
4. Add any number of accommodations, customize the settings, and add the booking widget to your website.
Note: BNBForms is a subscription-based service. There are no extra commissions per accommodation or booking – you pay a fixed price.
You can read our BNBForms tutorial to explore a detailed dashboard and menus walkthrough.
The BNBForms eCommerce booking system suits any CMS your website is based on. In this article, we come through its basic features. Besides that, you can follow one of these tutorials to find out how to create a booking website on different platforms:
Features you get with the BNBForms eCommerce booking system
It's difficult to include all the features of the BNBForms system in one article. So, let's get straight to the main tools that help you manage your eCommerce booking website!
Flexible pricing system
When we talk about online booking using eCommerce rules, we'd like to emphasize the flexibility of the BNBForms rates system. It allows you to set prices based on the season, the number of guests, or the stay length. On top of that, you can provide discounts via coupon codes.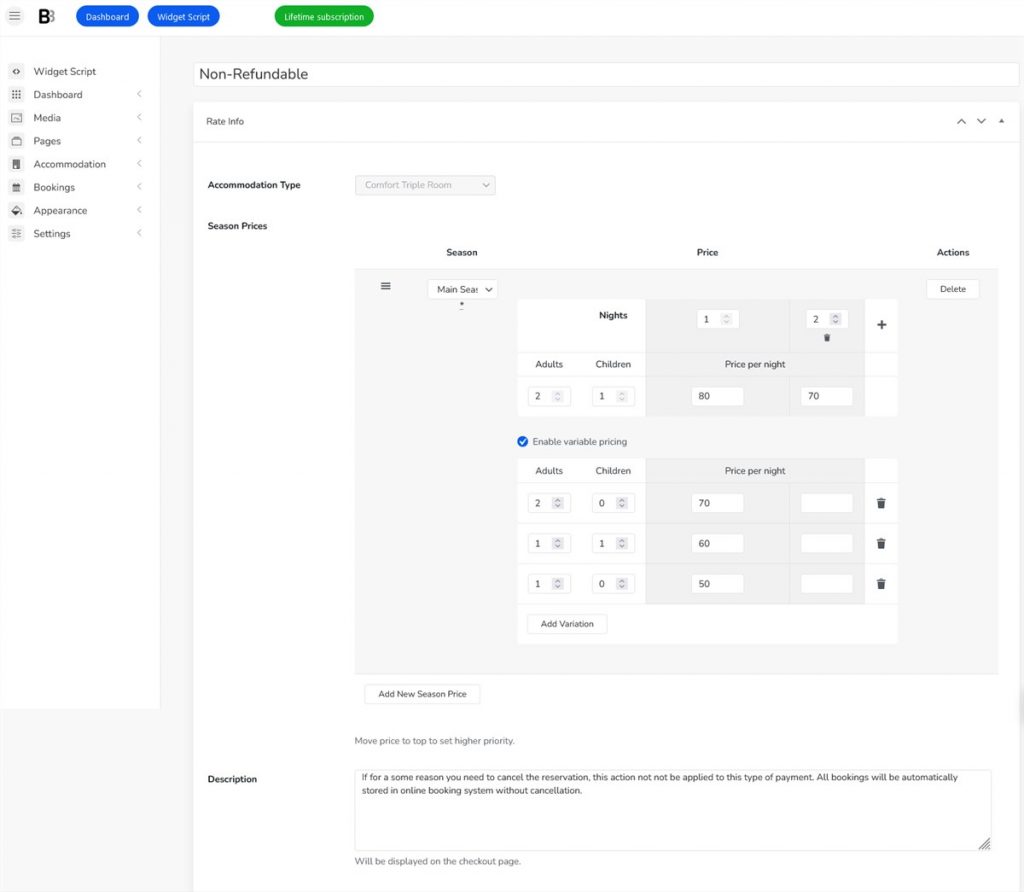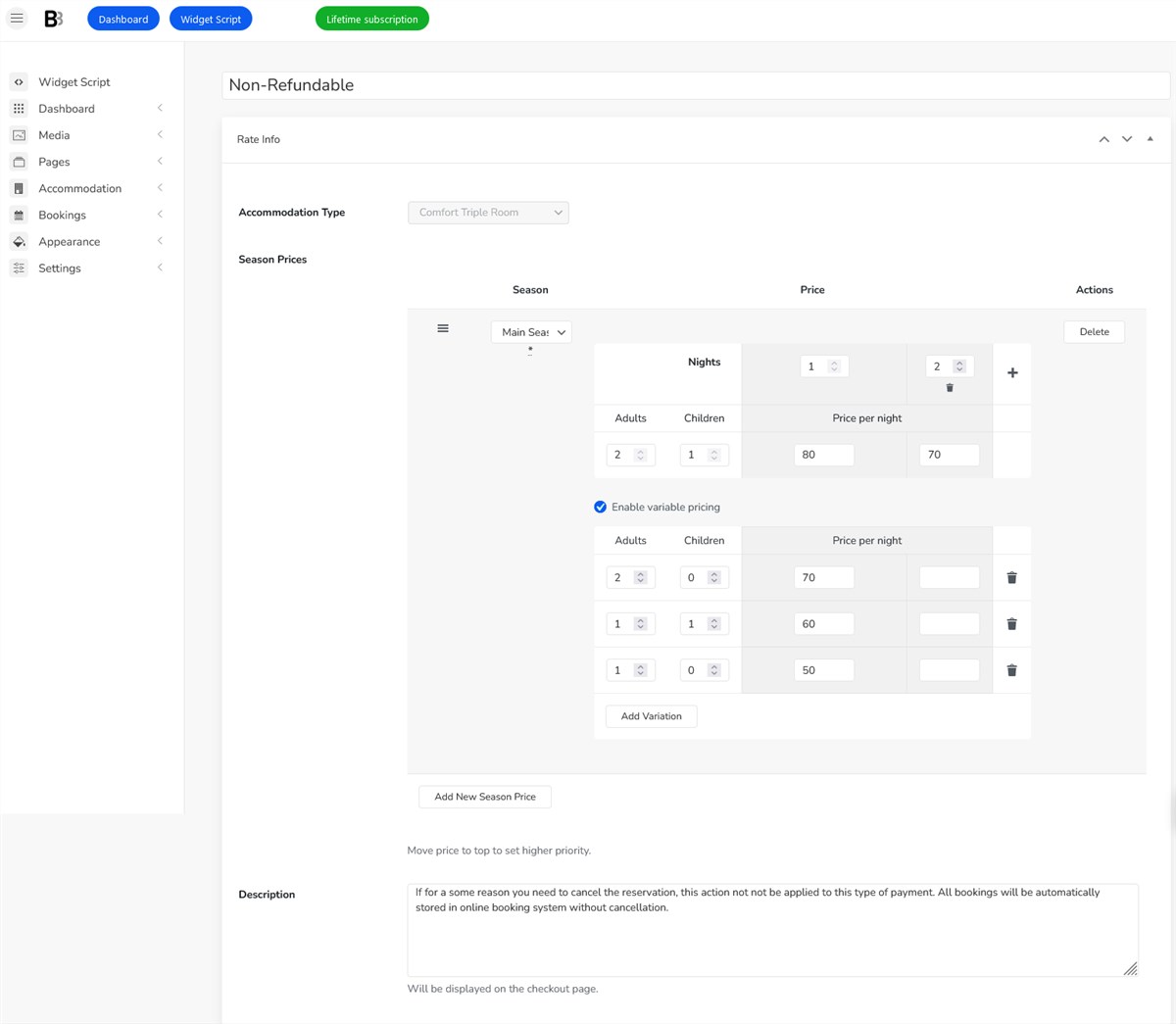 Multiple payment options in your eCommerce booking system
The joint effort of eCommerce with booking software is impossible without different payment processing options. You don't need additional integrations or charges. With BNBForms, you can accept payments via in-built gateways: bank transfers, payments on arrival, PayPal, 2Checkout, Stripe, Braintree, and Bambora. Your clients can pay a deposit or full charge in advance.
Taxes & fees
If needed, make the information about taxes, fees, and other obligatory charges displayed next to the property rate or included in the total price.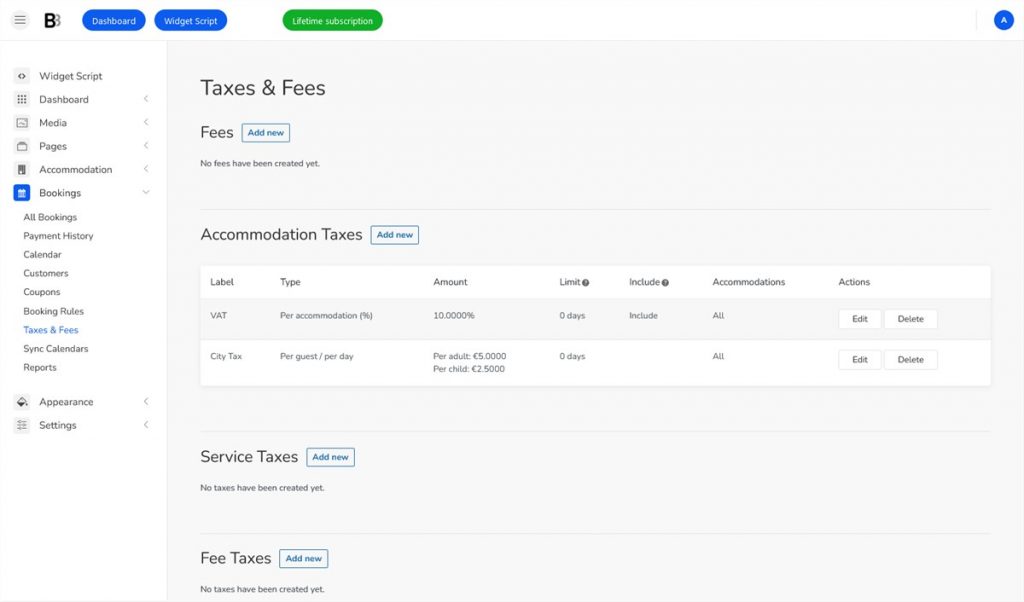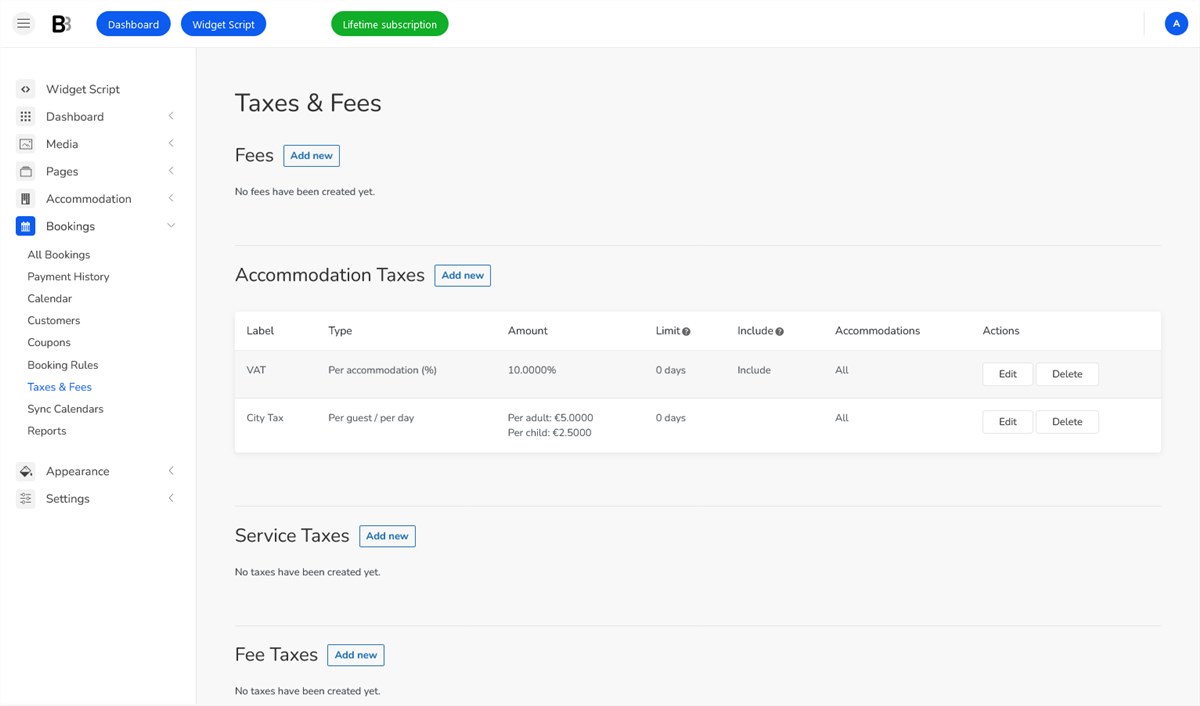 Synchronization with OTAs
The ability to synchronize your bookings with external platforms such as Booking.com, Airbnb, or any other lets your website avoid overbooking. The point is that you can use them along with BNBForms to have the calendars connected and sync the availability.
Real-time availability calendars
With BNBForms, you can show the traditional availability calendars with a color-coded view. You and your guests will be able to view available and unavailable days & rooms.
Booking rules and confirmation modes
It's up to you to set booking rules for your rentals. For example, block any accommodation from being booked, designate restrictions, or set available arrival and departure times, the stay-in period, buffer times, and more.
There are 3 ways for your staff to confirm the booking: click a button manually, automatically, or upon payment.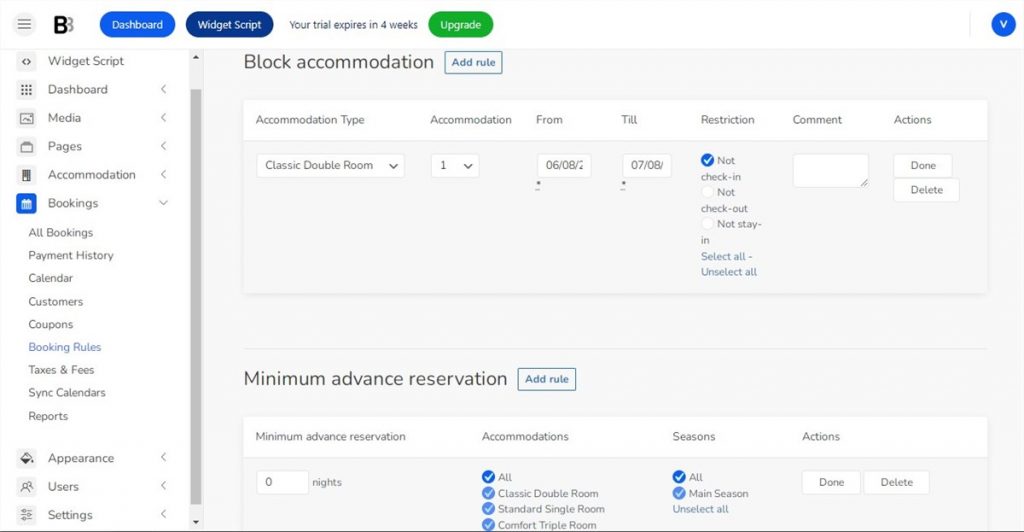 Extra services (free & paid)
It's possible to offer guests free or paid extras and packages if you go with BNBForms. The options enable you to set their price, how often to charge and how to multiply it.
Email notifications
Automatic email notifications follow all actions related to bookings (e.g, cancelation or confirmation). You can customize the email content, colors, logos, and other visual specialties.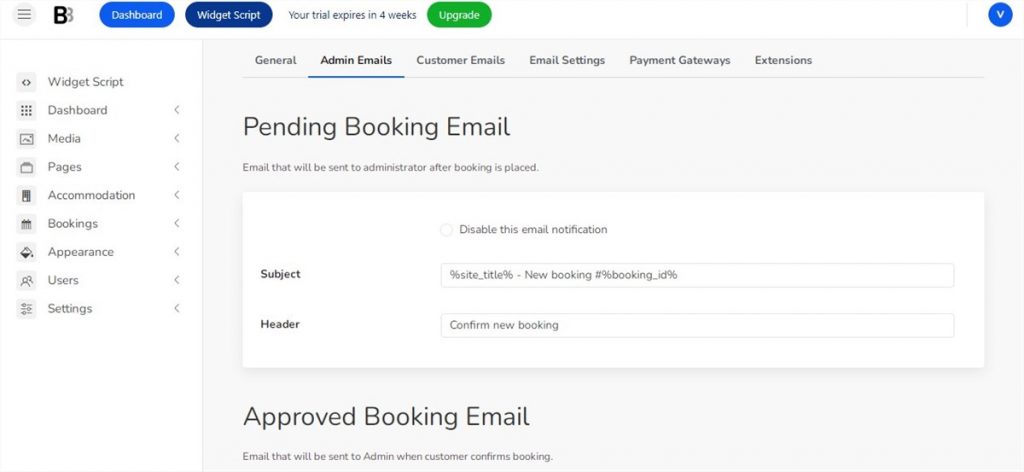 Sales dashboard
The opportunity to export reports makes it easy to track the numbers dedicated to your lodging business. For example, the number of bookings in a particular period or the revenue stats can be displayed on your dashboard. Use this tool to measure your business results!
A customizable booking widget
Tailor the appearance of the booking widget you place on your site. You can modify colors, hide fields (except for the arrival and departure dates), and edit field labels.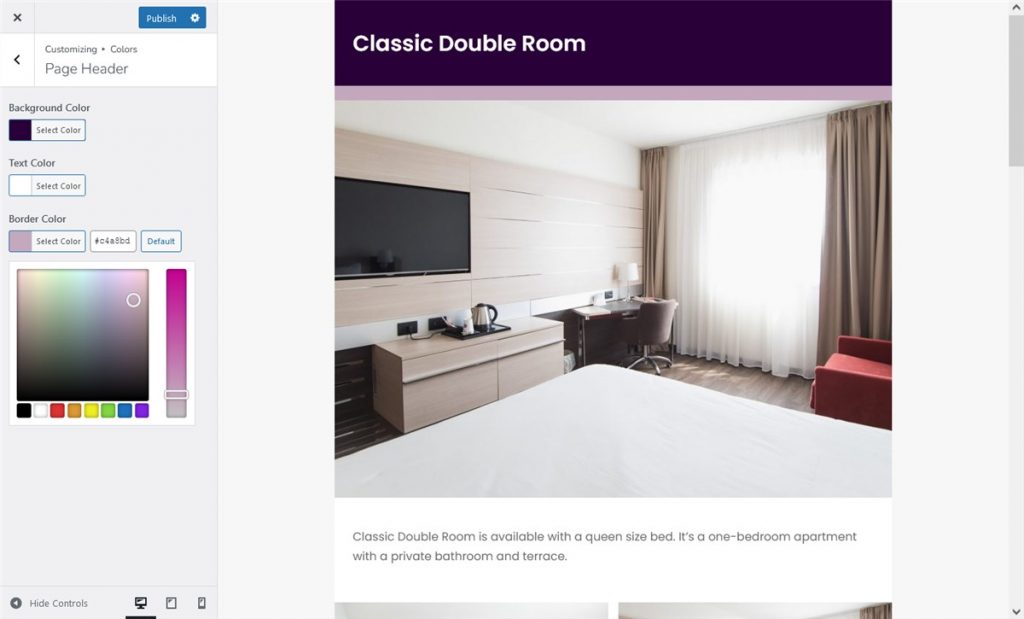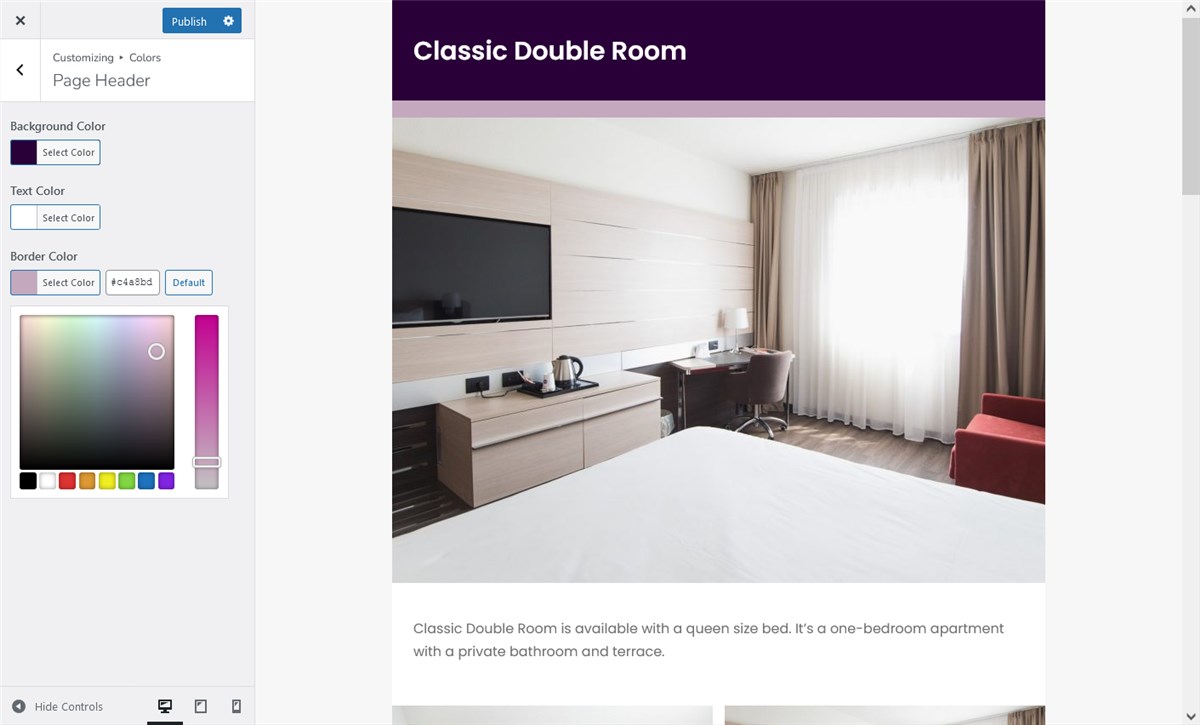 Read also: How to customize colors in the BNBForms booking widget?
Final Remarks
A well-developed eCommerce booking for hotels and condo rentals makes it convenient for guests to book directly with you. If guests get to the payment page in a few clicks, they won't leave when navigating from the website to the booking eCommerce engine. Hence, more bookings will be completed straight away.
The BNBForms eCommerce booking system works for unlimited properties and reservations. After a one-month free trial, the yearly subscription cost is $119 per year. You get a centralized dashboard where you'll be able to manage bookings, properties, payments, clients, and booking channels. So, if it works for your website, start a free trial right now!
💡 Discover: Best Vacation Rental Website Builders for Direct Bookings