If you want to integrate Weebly online booking options for hotel, bed and breakfast, or vacation rental websites, you've landed on the right tutorial.
We'll tell you how to set up the property management system, booking engine and channel manager with BNBForms and then bridge it with your Weebly website.
BNBForms is a vacation rental software for short-term rentals that works with any website CMS, including Weebly. It encompasses all the needed tools for modern vacation rental and hotel owners.
So what features do you get with BNBForms and what settings will you need to go through?
Add properties, set rates and connect to OTAs with BNBForms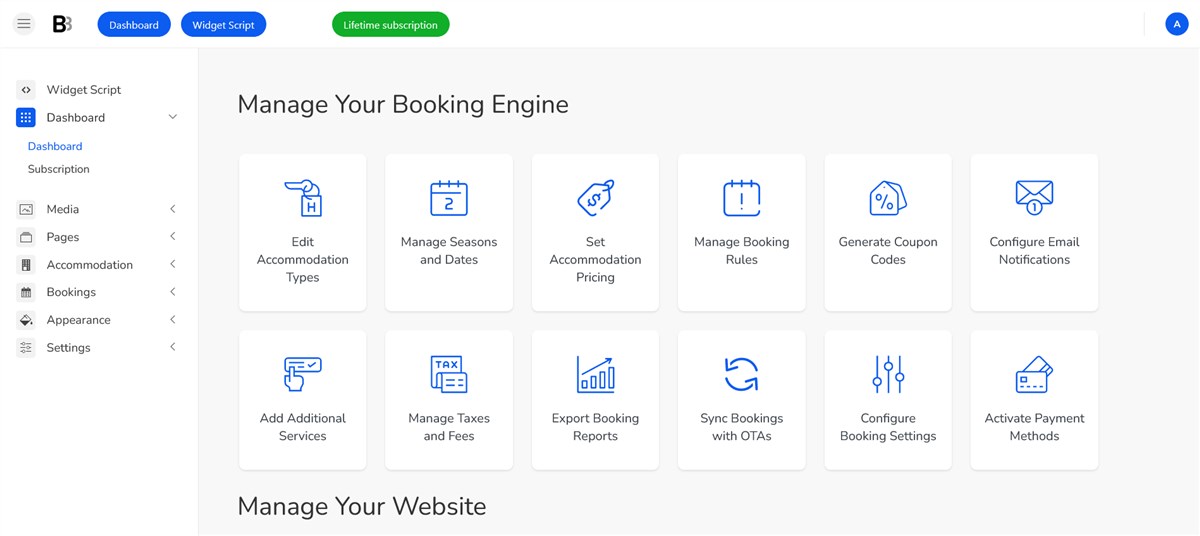 Here are some essential, high-frequency features for a rental business that come packed with BNBForms:
Pricing tiers and rates based on the number of people staying in, season, amenities and discounts. Decide how and when the price should differentiate. You can also create personal discounts for clients.
Sync bookings to get up-to-date availability information with external platforms, including Airbnb, Booking.com, Google and Apple calendars, as well as other websites that support the iCal file format. This will allow you to get reservations from various channels avoiding issues with overbooking.
Optionally impose mandatory taxes and fees on a booking, that is, add it to the default property price.
Real-time availability calendars for individual accommodations.
Apply various booking rules for the arrival and departure times, min and max days to stay, disable reservations for certain accommodation for a chosen period of time, designate buffer times between bookings.
Confirm booking automatically, manually or add them by hand via the admin dashboard.
Use bank transfer, cash on arrival, PayPal, 2Checkout, Stripe, Braintree, Bambora and other methods easily – enable them in a click.
All ranges of email notifications are available.
Additionally sell extras and packages – offer them at checkout as well.
Track the current performance of your business via the sales dashboard that provides data on bookings and earnings, download reports, see clients and more.
You can set up all the needed preferences via the BNBForms dashboard; if you want to have a hint at how things work, here is the quick BNBForms dashboard tutorial we created.
As you see, you'll be provided with a centralized dashboard for everything – managing bookings, properties, payments, clients, and booking channels, all under one roof.
Once you're done with all the settings on the BNBForms side of things, let's move on to:
how you'll need to connect it to Weebly in order to create a booking section on Weebly.
how to add booking calendar to Weebly.
How to manage bookings.
Add the booking widget to your Weebly website
So let's see how to integrate Weebly booking for hotels.
First of all, go to your Weebly dashboard > site editing panel.
Then go to Basic > find the Embed code widget and drag it to the needed area of your Weebly website.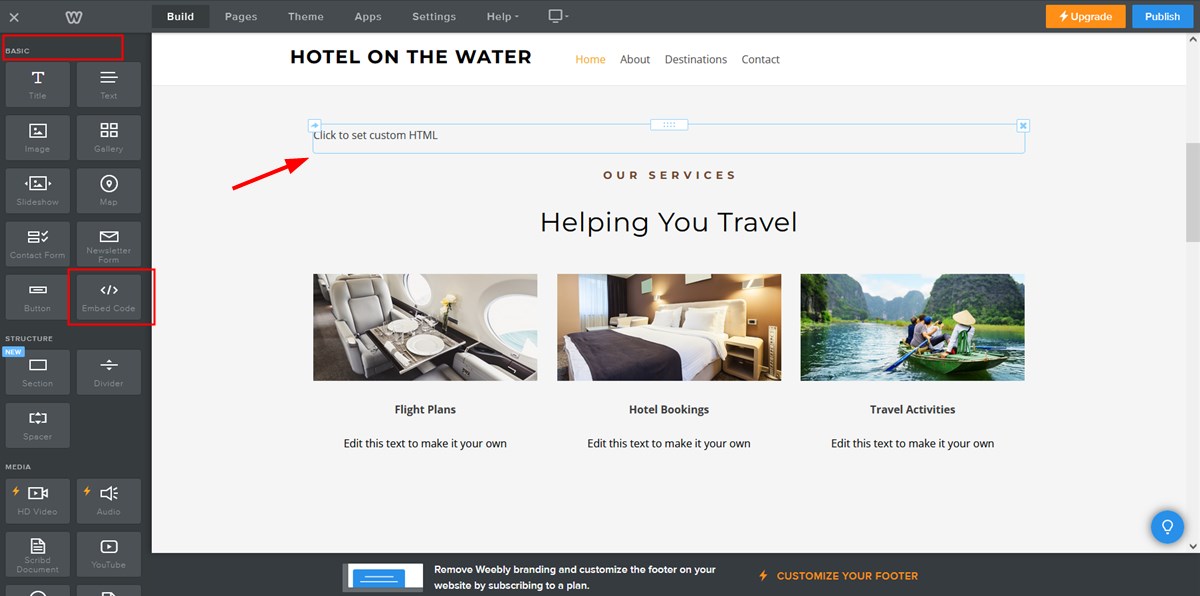 To get the script that will generate the widget, you need to go to your BNBForms dashboard.
Copy and paste the code script, which is unique for your BNBForms account, by heading to the Widget Script button > copy the code.
This will add the Book Now button to your site.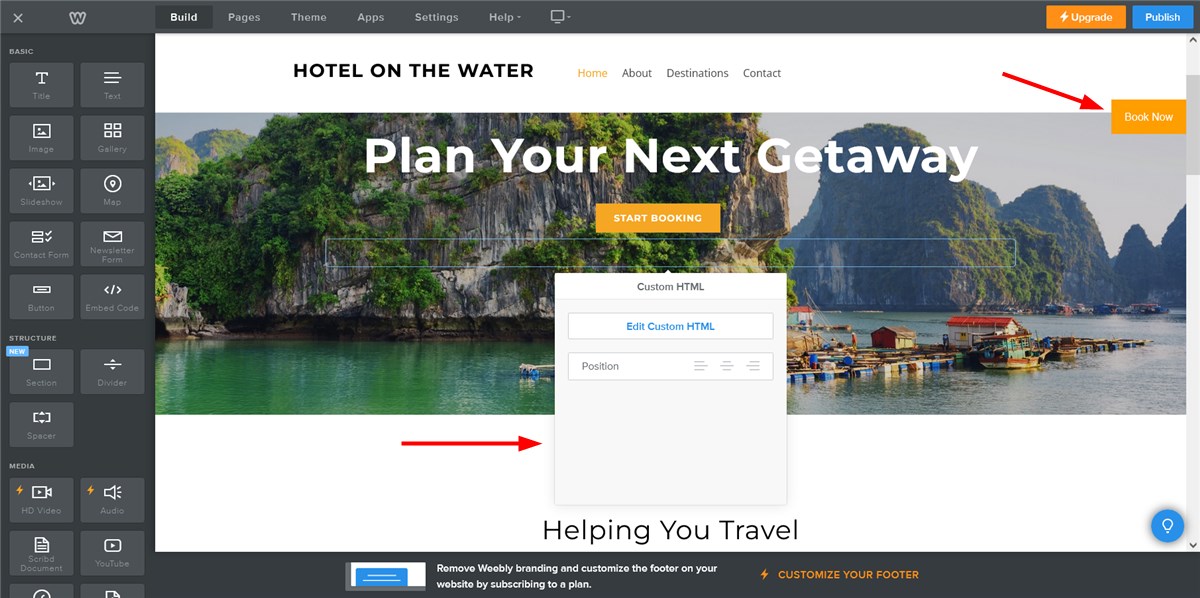 This is a code embed that you can customize further as well, for example, change the background color of the Book button.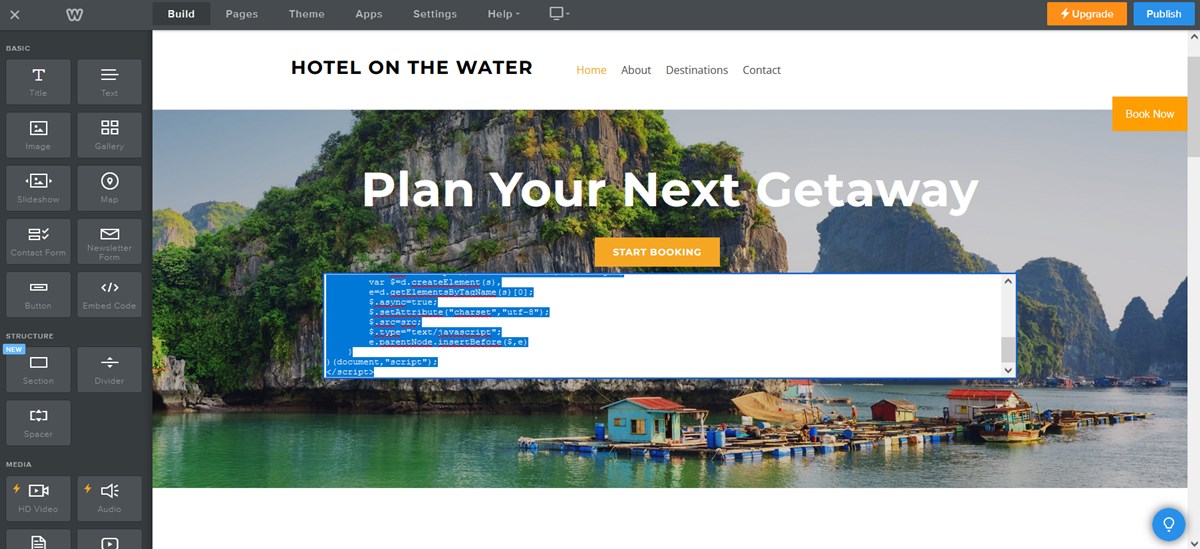 The BNBForms customizer allows you to change the color scheme of every part of the bookings widget. You can do that via the BNBForms dashboard > Appearance > Customize > Colors.
It gives you access to every color on the widget, for example, buttons or the availability calendar.
Let's change the default color scheme to fit the Weebly design of the template we've chosen.
Note: if you want to change default BNBForms booking widget colors, you need to firstly change the colors, and copy the widget script after that before pasting to Weebly.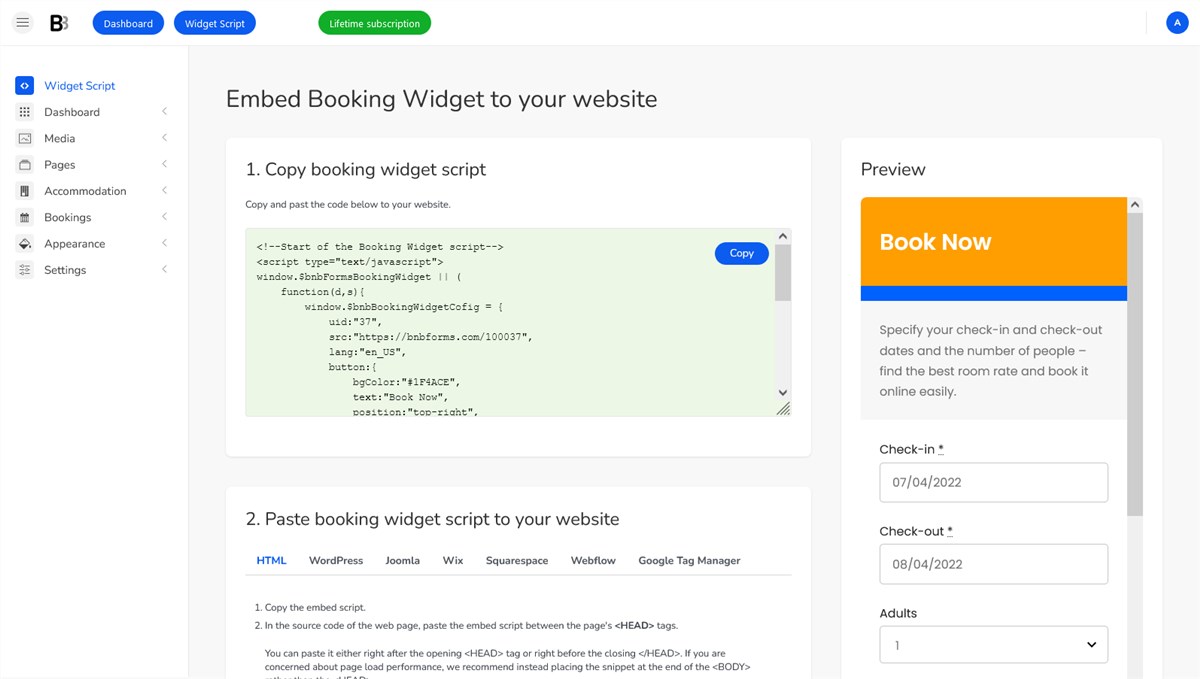 The widget will appear on every page so it's going to be easy for your customers to see it.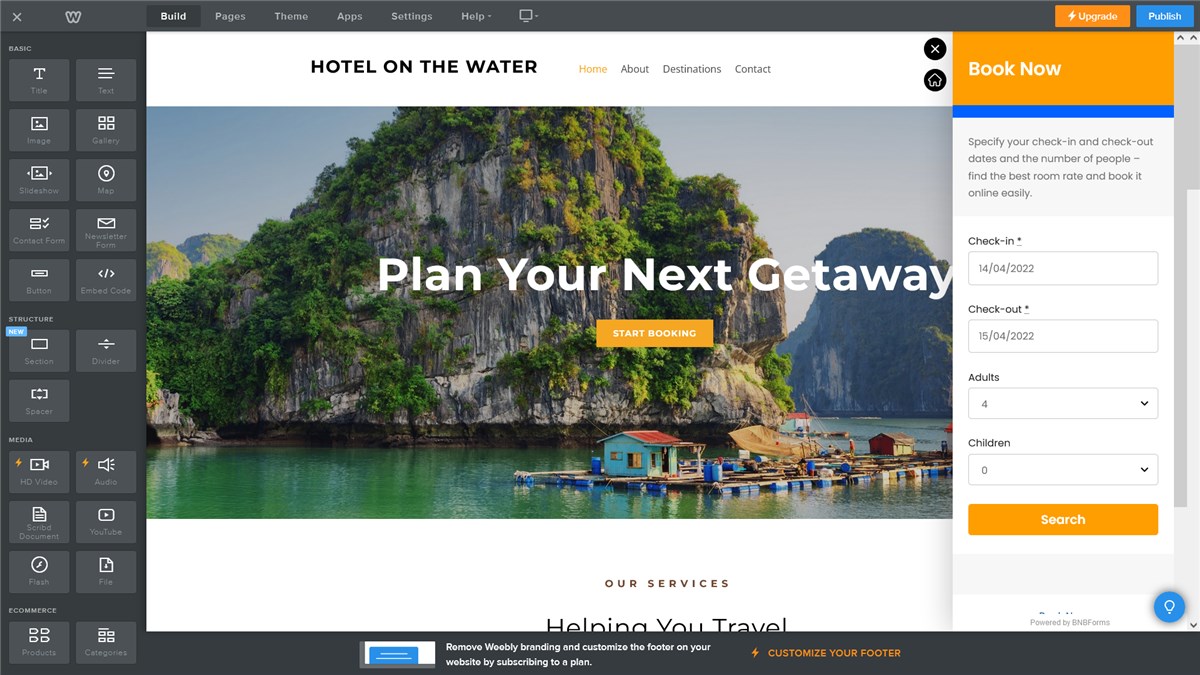 Customers will start by picking available days and the number of people.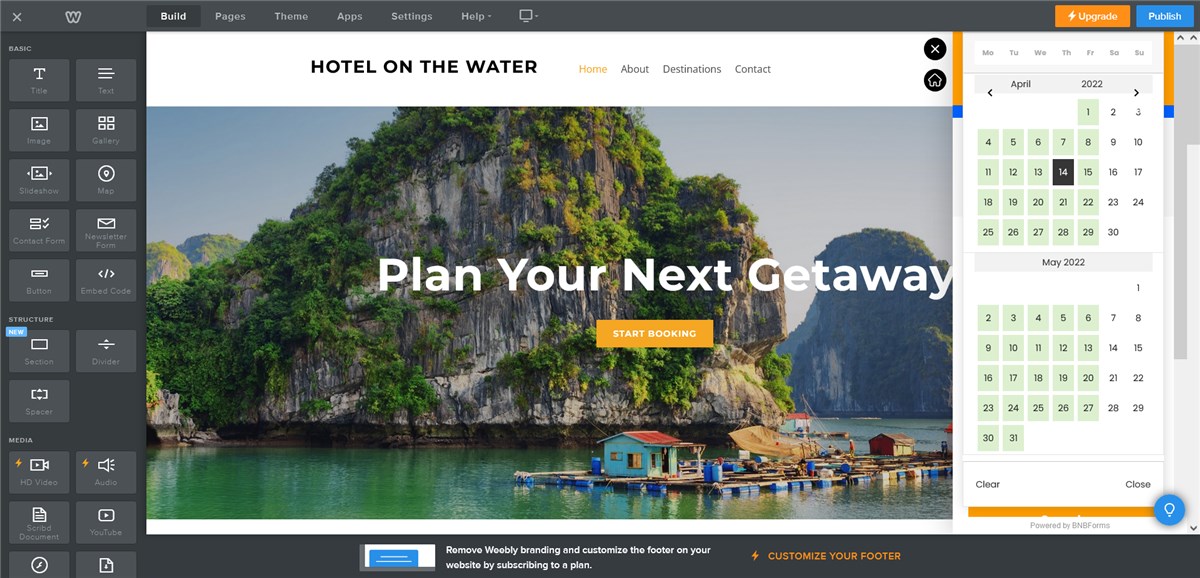 Potential guests will see all the available options – there are a few recommendations as well as the entire list of properties, where each accommodation can be extended for more details, such as amenities, photos, availability, etc.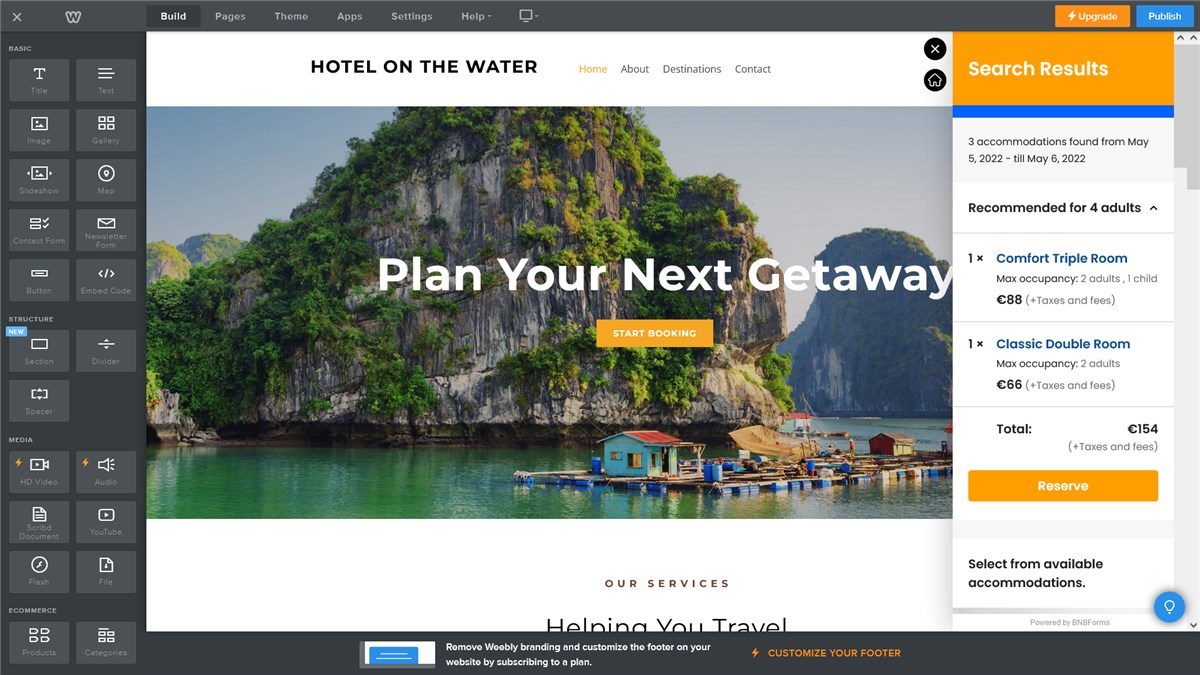 It's easy to go to individual accommodations and extend their details.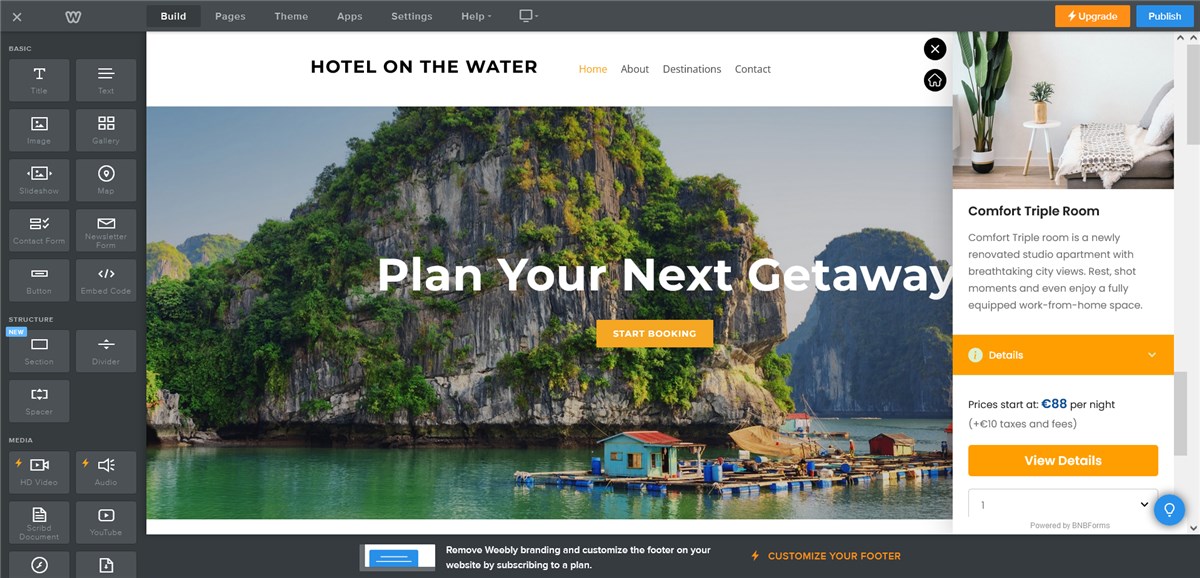 On each room page, you can view an availability calendar and book a property/room directly from the page.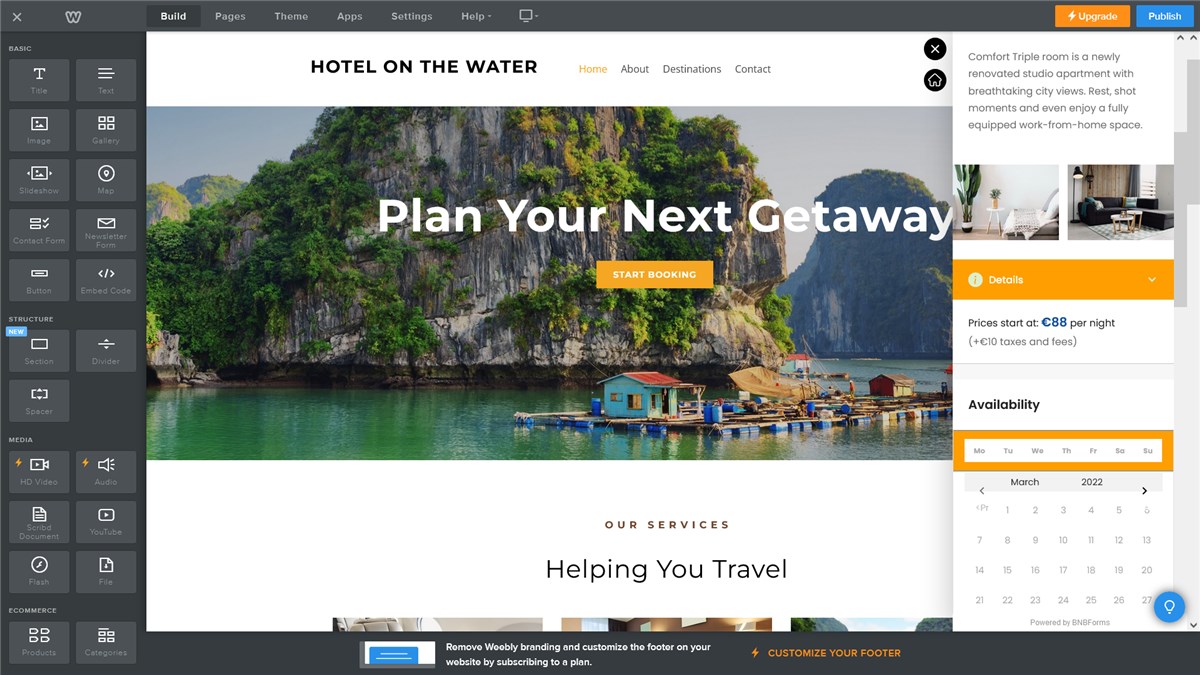 On the next page, when a property is already chosen, guests need to further fill in their contact and billing information.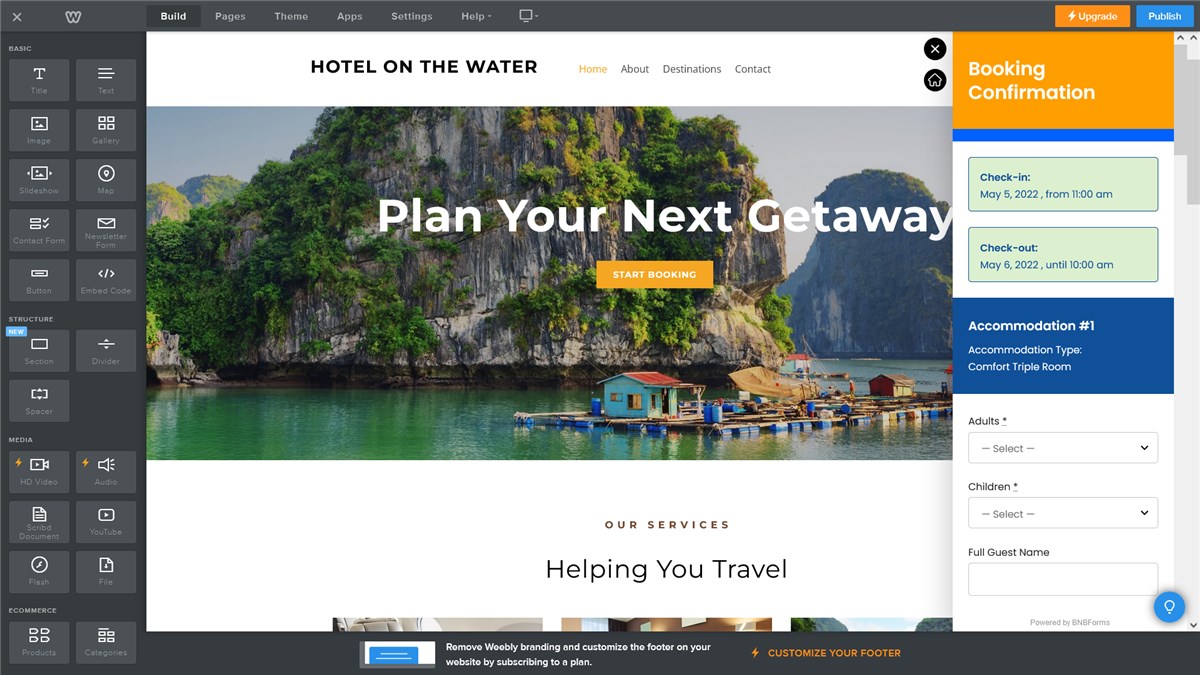 To customize the conditions of their stay-in period, guests can choose rates and optionally add more services to cart, e.g., order a food basket or an airport shuttle.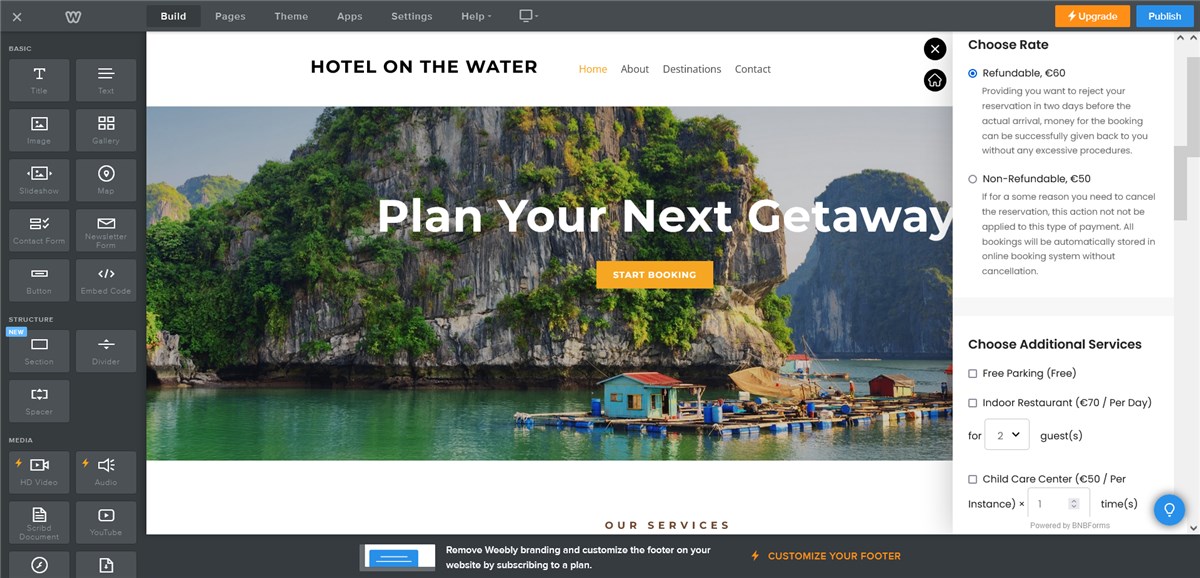 The total booking cost will be recalculated automatically; a guest can extend the price breakdown table to view details on all the extra fees and taxes that might be imposed in addition to the base property rate.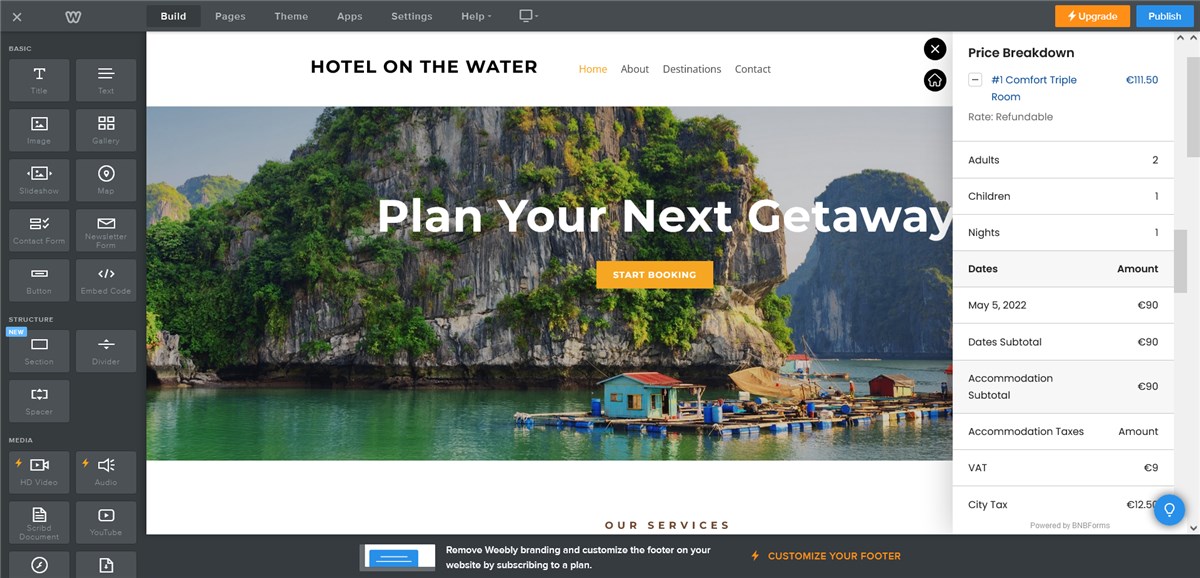 As for the payment methods, guests can opt for securing their booking by paying the whole cost in advance via payment gateways you offer, e.g. PayPal, Stripe and more, or they can choose to pay after arrival.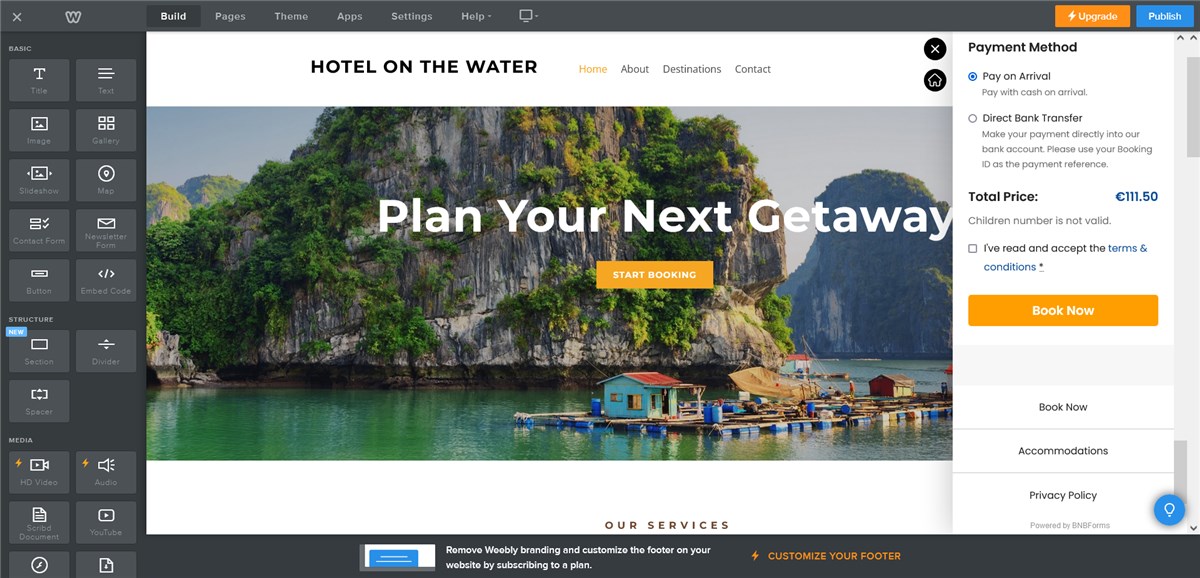 The payment options they see at checkout depend on what options you enable via your BNBForms checkout.
Once the booking is submitted, guests see the summary right on your site and they also receive an email confirming their booking to their email address.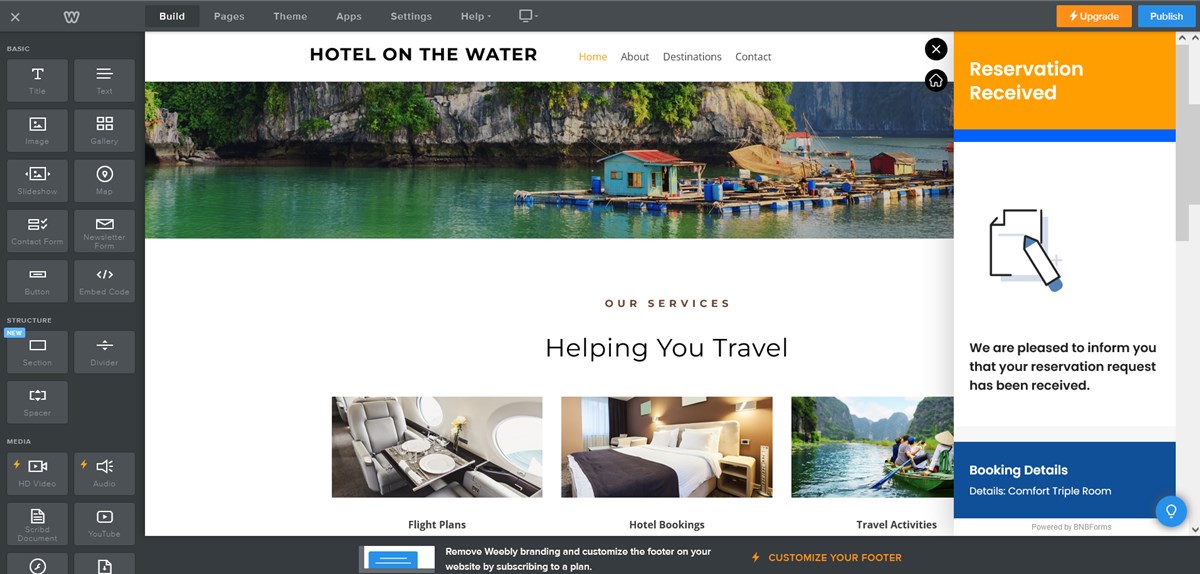 Admins, too, receive updates on each new booking via email.
So it's how things work. It might take a while to add all the content for your properties and configure the needed settings and branding tweaks, but it's really a breeze to add the booking section or booking widget to your Weebly website with the dedicated "Embed code" widget.
It's quite the same for other platforms in terms of adding the widget. But there are differences as to working with the widget via different CMS's.
You can check out our tutorials for Wix, Squarespace, WordPress, GoDaddy, and a plain HTML website.
This is how you bridge the BNBForms vacation rental software to your Weebly website – via a single script that takes one copy-paste action. The booking widget generated via this script works well on mobile phones or tablets, comes with quite familiar booking interfaces and is going to be truly convenient for your guests.
Manage bookings & properties via BNBForms
After you've integrated Weebly online booking widget, time to take care of your reservations.
There are different ways you can view and filter bookings you receive on your Weebly website with the help of the BNBForms hotel booking widget: a table, calendar, and payment history.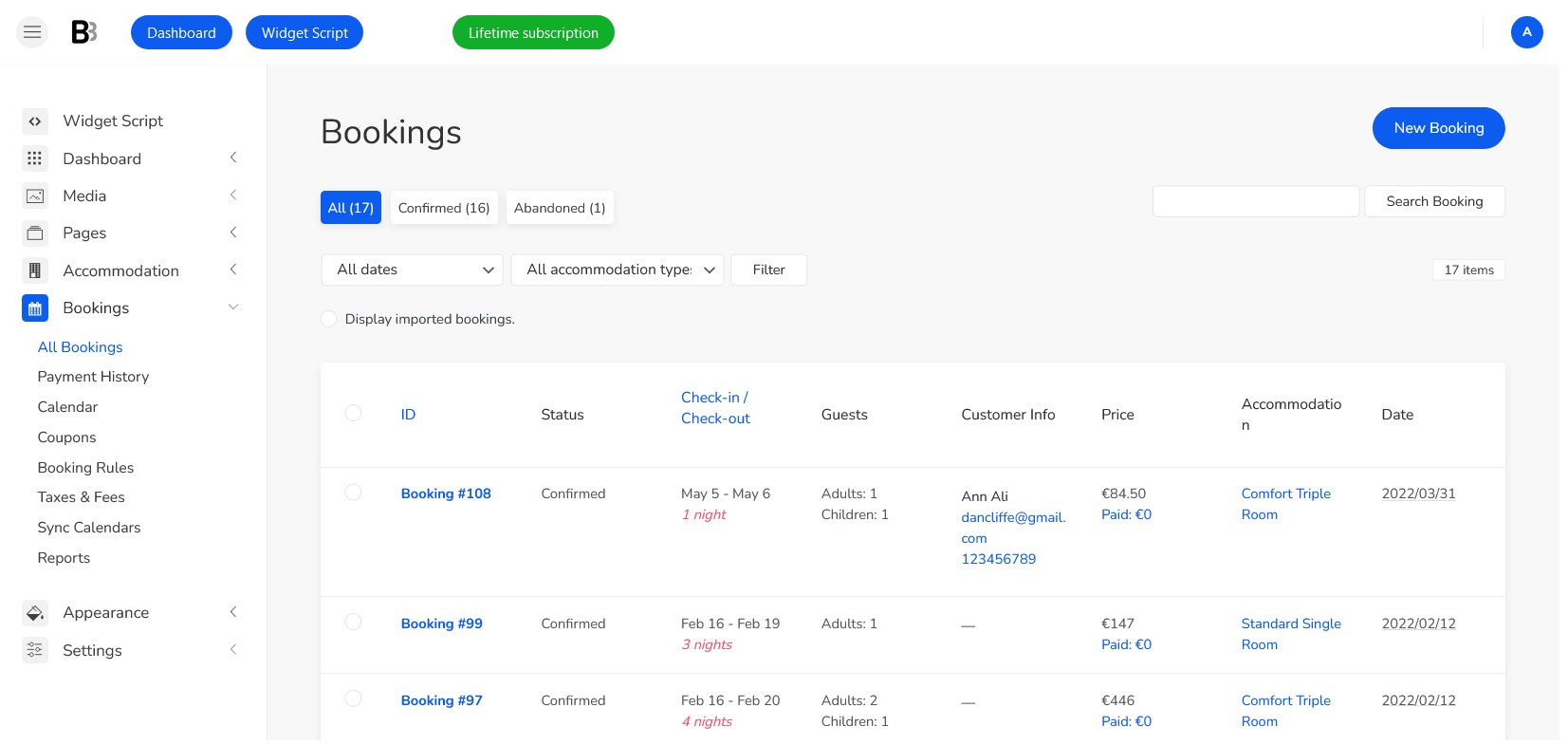 Go to the Bookings menu on the dashboard to see all received reservations in a calendar view. You can filter bookings by statuses and dates to find the needed one in a matter of clicks.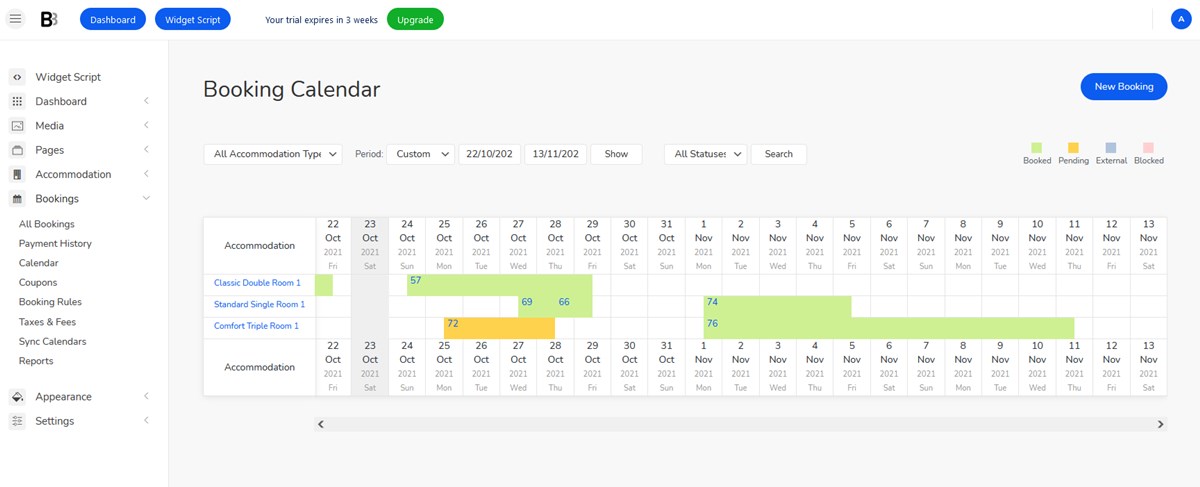 As an administrator, you can add bookings manually via the admin dashboard as well.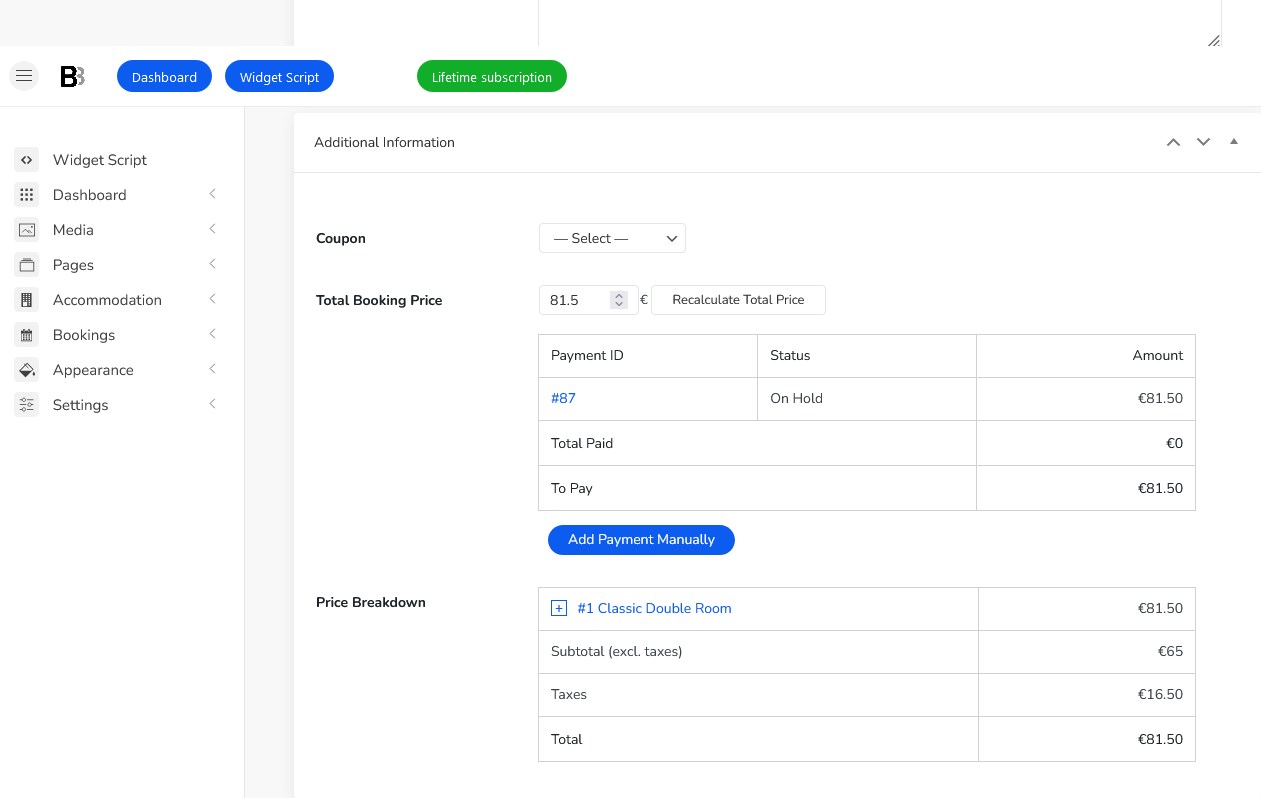 The BNBForms vacation rental software also has a built-in analytics reports system that shows you all key earnings data, including your revenue on booking within a specific period of time, without or without taxes/fees/extra services. This will help you easily see how your business is performing at any moment of time!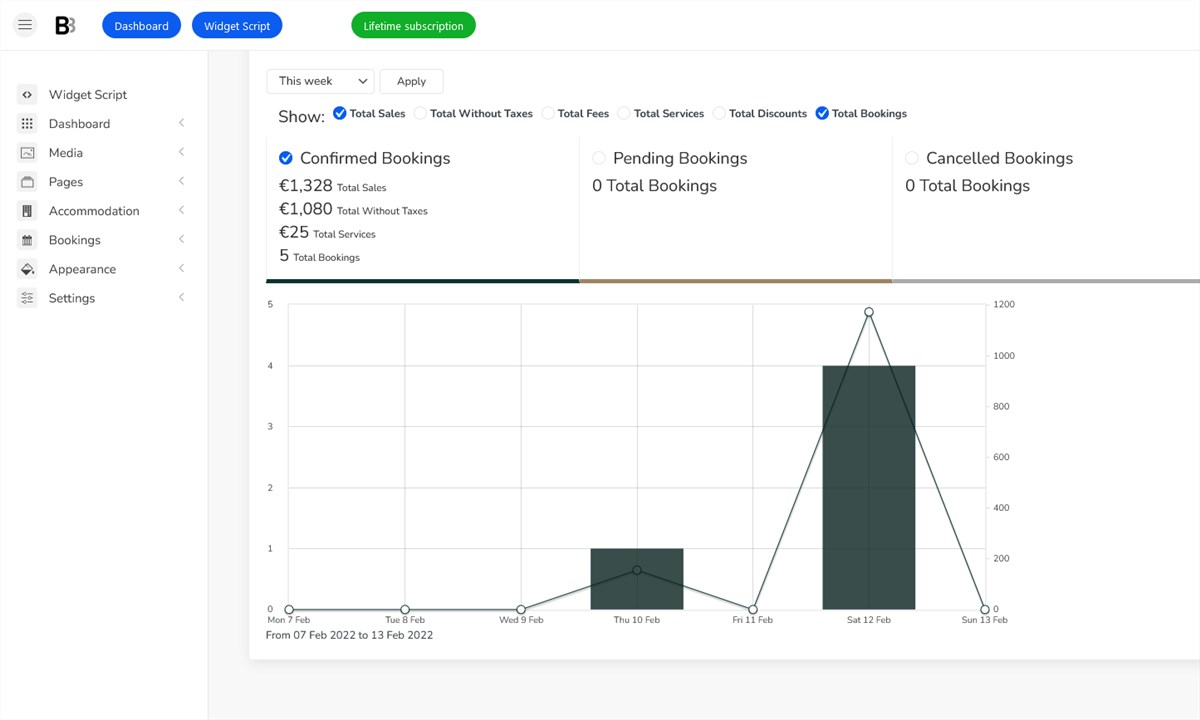 So how to create a booking section on Weebly with BNBForms?
So here is what it takes to create a booking section on Weebly using the BNBForms software for hotels and vacation rentals:
Register with BNBForms and add your property.
Configure the booking settings and parameters.
Generate and insert the BNBForms booking script into your Weebly website with the Embed code script.
Some other details include:
BNBForms cost: one fixed annual fee ($119 per year as of April, 2022)
Free trial: one month, no credit card info or set-up fee required
Commissions: no per-property or per-booking commission for you or your guest
Live demo: BNBForms demo
Learning curve: no need to hire a developer or designer
Requirements for Weebly: no additional requirements
That's it! Ready to try?
Test BNBForms with no set-up fee today