Our team of professional designers has created a bunch of free social media hotel templates for Facebook, Instagram and more. With these well-crafted ads banner assets for social media, you can effectively promote your hotel, bed and breakfast, or villa business on the internet.
In particular, these banners are suitable for promoting your current offerings, seasonal discounts or hot deals. And the best thing is that you can download them for free!
All you need to do is add relevant information and a photo to the template in Figma, and you're good to go!
We offer three categories of banners – "Sea," "Urban," and "Mountain" – each with its own unique designs, colors, and sizes, which are fully editable.
We offer social media banner ads templates for hotels in two sizes – 1080 x 1080 and 1080 x 1920 pixels.
The 1080 x 1080 pixel size is ideal for advertising on Facebook, particularly for posts with links. It is also great for designing a carousel for Facebook and Messenger, as well as for uploading regular posts on Instagram.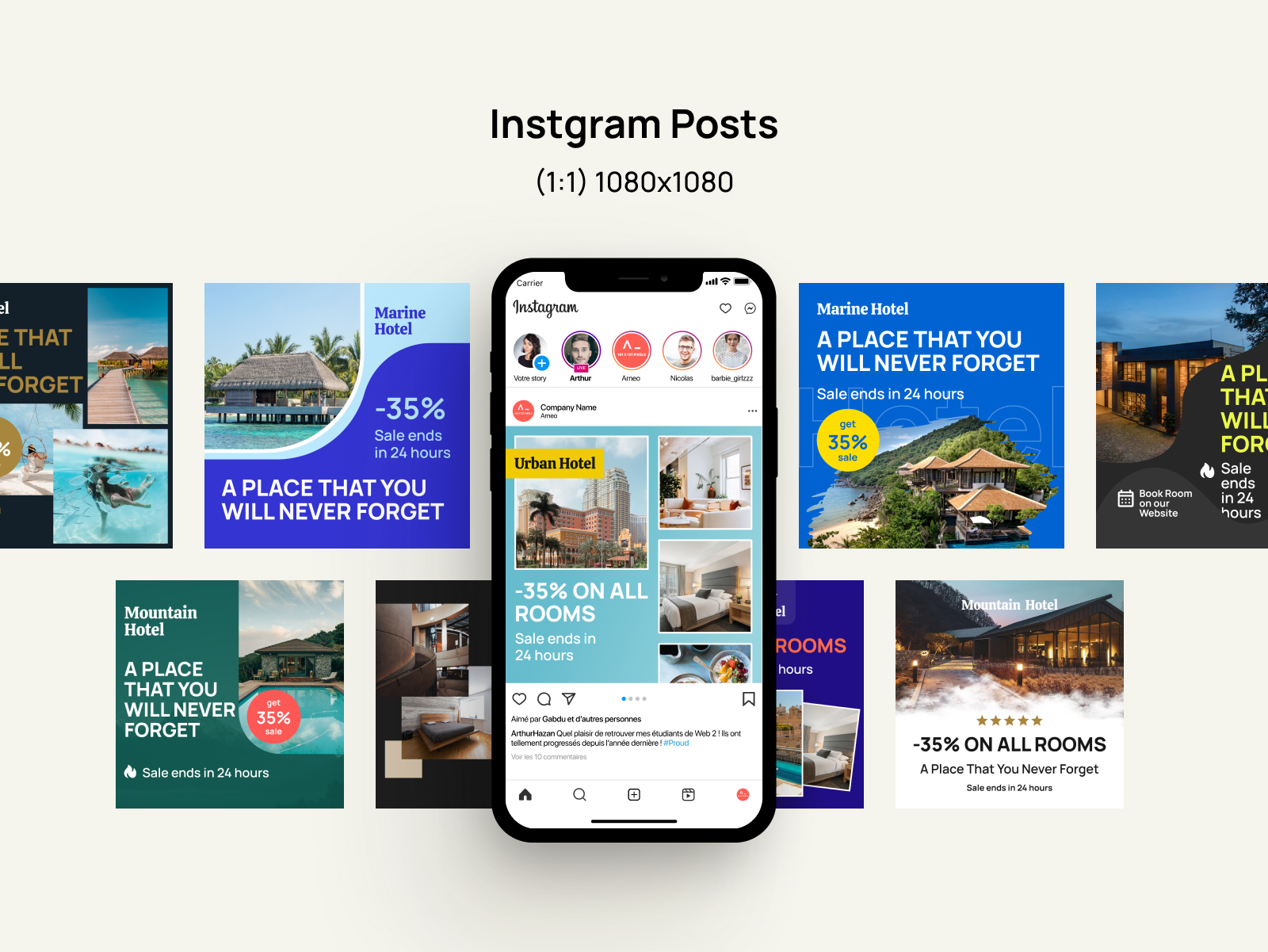 However, if you plan to advertise on Instagram Stories and use vertical images, the best choice would be 1080 x 1920 pixels. This size is also suitable for Facebook and Messenger Stories.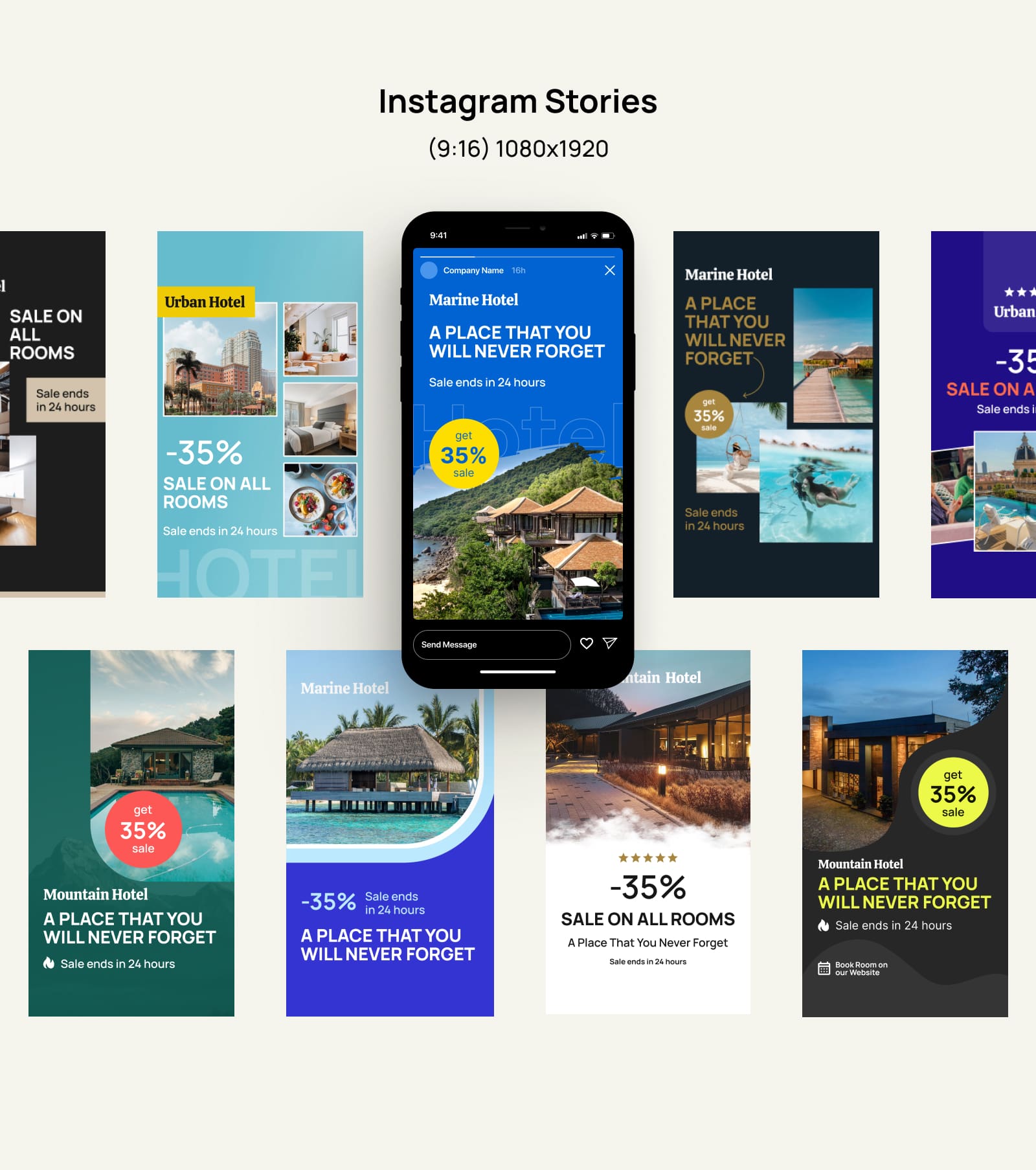 However, it's important to note that Facebook recommends leaving around 14% of the image free (250 pixels). To ensure that the key elements of the image/banner are not covered by the profile photo, it's best to display them in a safe area of 1080 x 1420 pixels for a 1080 x 1920 pixel image.
Note about downloading files in this post: When you click "Download", you are basically transferring the files to your personal Figma account to continue editing them. You need to have a free Figma account to copy the provided templates. In Figma, click on the 'Social Media Templates' title on top> click Duplicate to your drafts.
More free resources for you:
Download social media hotel templates
These banners are customizable and can include any information about your current discount or hotel, such as room prices, check-in and check-out times, and the availability of balconies, air conditioners, and WiFi. You can also include calls-to-action, such as 'Book a room'.
Additionally, you can include your hotel's rating, official slogan or catchphrase, an advertising appeal, motivational phrase, or anything else that helps promote your business or current offerings.
Of course, the name of the hotel and photos of the exterior and interior of the hotel are the best to entice potential guests.
Beachfront hotel ad templates
The "Marine" category features colors that evoke the sea, such as blue, and azure.
Urban hotel social media templates
The "Urban" category uses colors typically found in urban buildings with recreational areas, such as dark blue, black with beige elements, and the color of a sea wave.
Mountain retreat ads templates
The "Mountain" category, on the other hand, uses colors that reflect mountain landscapes, such as white, green, and black and gray.
How to edit these hotel social media for Facebook & Instagram templates in Figma?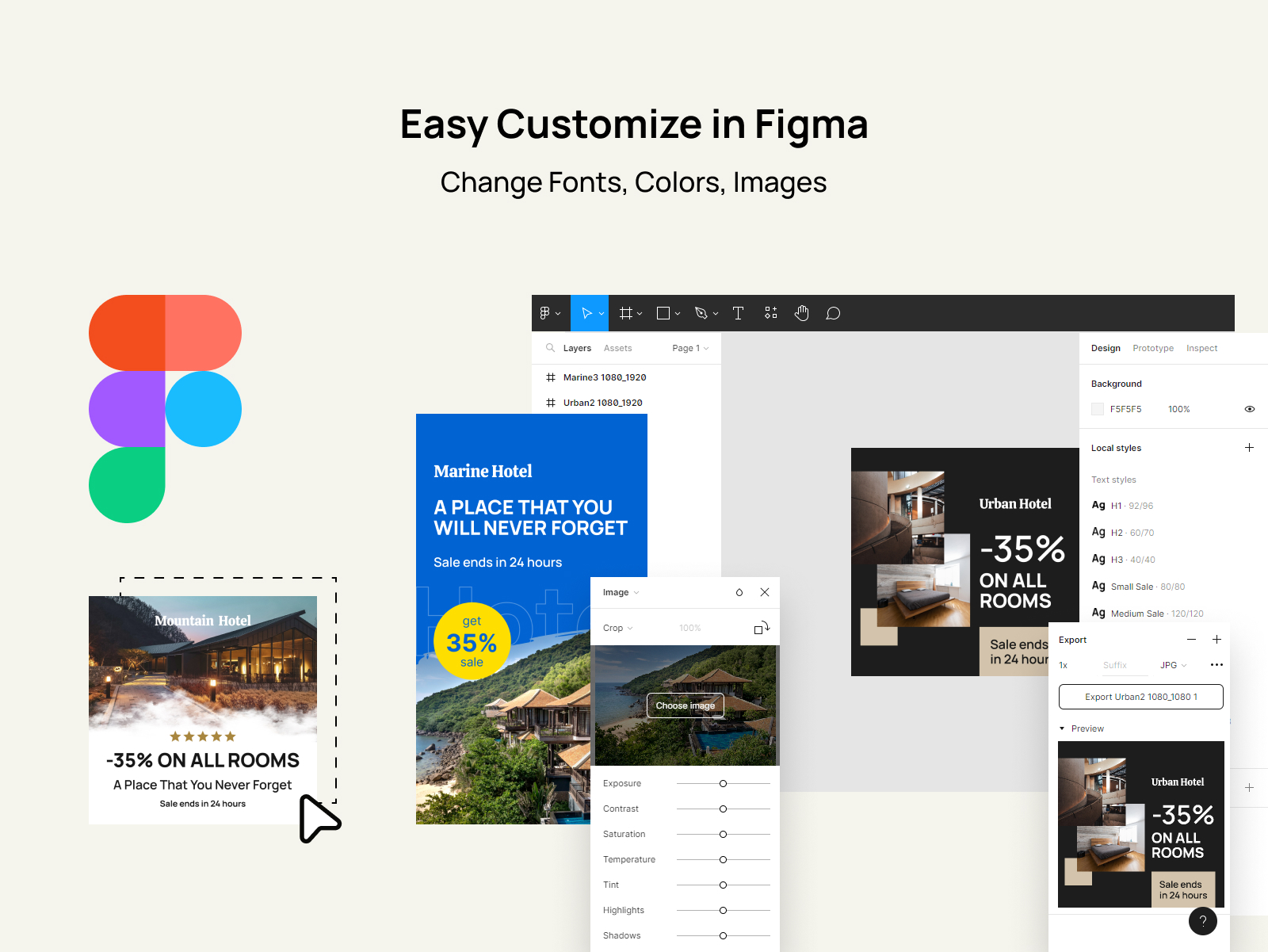 Sign up with Figma. It's free! Use your Google account for login to speed up the process.
Follow this link to access the assets.
Click on the 'Social Media Templates' title > Duplicate to your drafts in Figma.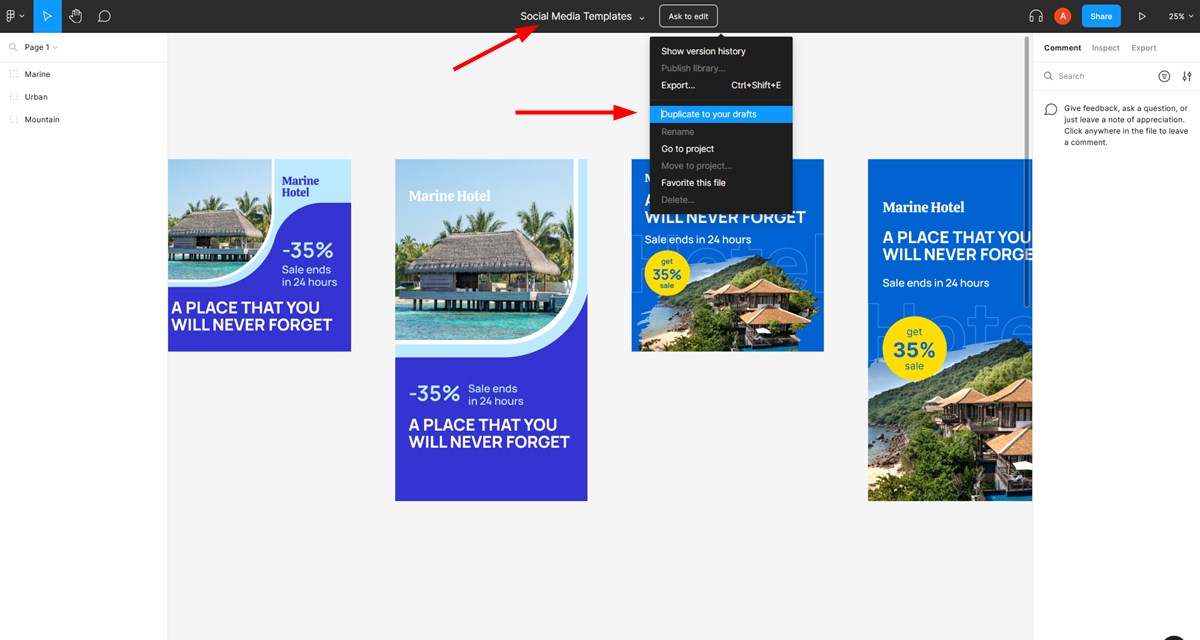 4. Go to your own Figma account to locate the files you copied and choose a template you want to use. Now you can edit colors, fonts, images, texts and more.
5. When you are done with the banner edits, click on the title of the edited version in the left-hand menu, then click Export > pick the needed file format to save your hotel banner.
How to edit images?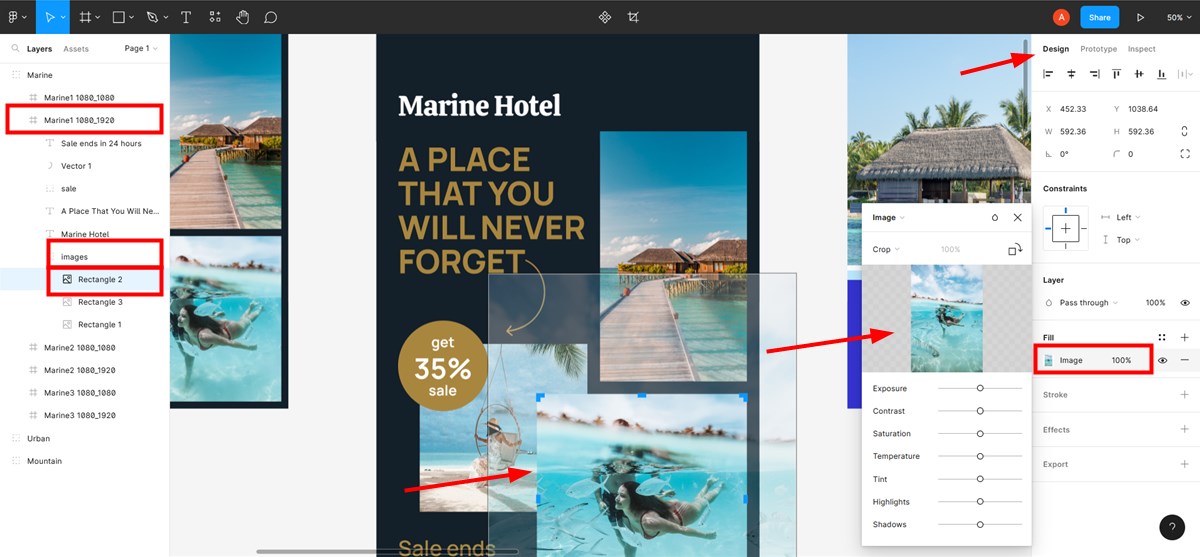 Select the desired banner > choose a layer with an image from the left-hand menu > click 'Image' from the right-hand menu > hover your mouse over the image > click Choose image. Customize your image further, for example, apply filters.
How to edit text?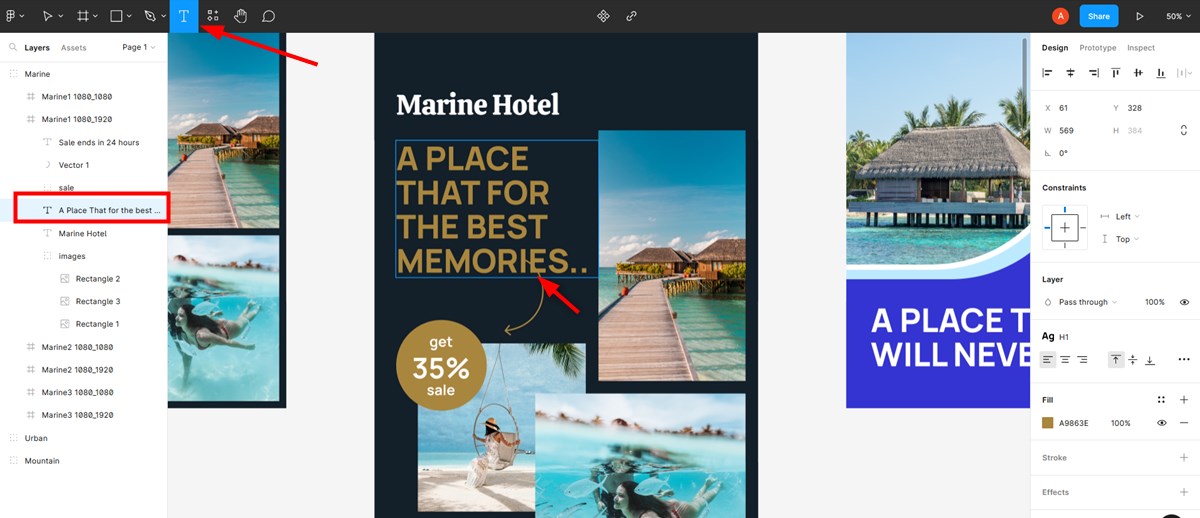 Select the desired banner > Click on the text you want to edit > click the text tool > get back to the piece of text and edit right on the template. In the Figma editor, each text component is accompanied by a corresponding title.
How to edit colors?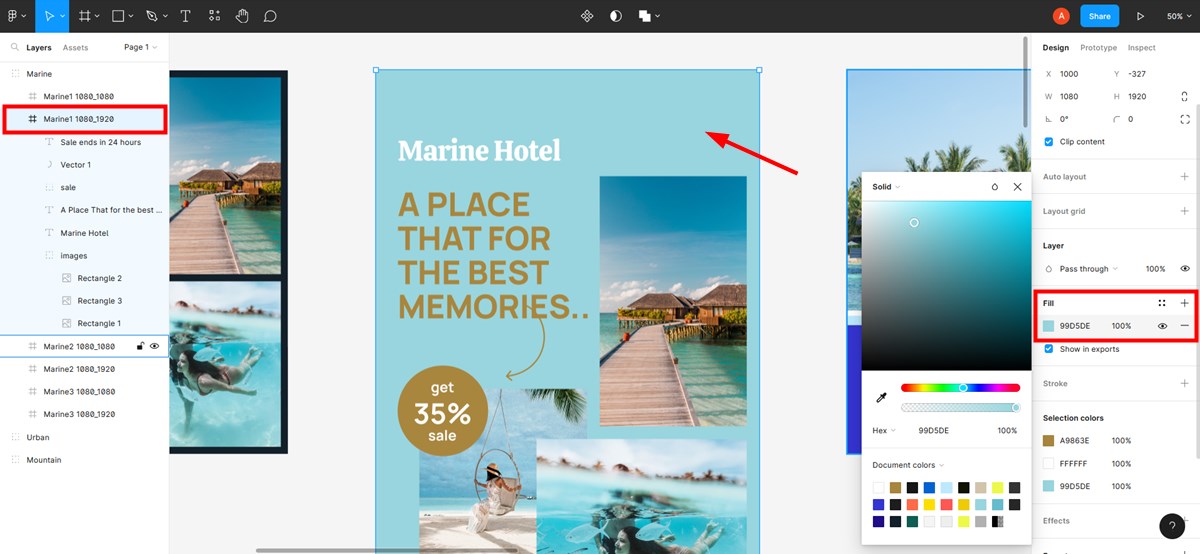 Choose an area where you want to edit the color > go to the design tab from the right > Fill > customize a color.
Simply choose one of our banners and add basic information about your hotel's facilities and services to the hotel banner template you like. Spruce it up with some photos of your hotel's exterior and interior, and voila! You're ready to post a perfect hotel deal on one of your social networks!