We are excited to present to you our three free hotel booklet templates, which are categorized as "Mountain," "Seaside," and "Urban." These booklets are the winning designs from our BNBForms hotel booking widget in-house competition, and the best part is that you can use them at no cost!
These hotel brochures provide detailed descriptions of the three most popular types of recreation among tourists. Each category has its own unique characteristics and details, which we will delve into below.
Why use these free hotel booklet templates?
Professionally crafted and unique.
Printable leaflets.
Edit easily in Figma (+ our quick editing guide at the end of this post).
By default, these hotel brochure templates include the all-important information that matters to hotels: amenities, location, site links, rating & reviews, etc.
A4 format.
You can easily customize and extend our free hotel brochures to create minimalist trifold vacation booklets and destination booklets.
Note about downloading files in this post: When you click "Download", you are basically transferring the files to your personal Figma account to continue editing them. You need to have a free Figma account to copy the provided templates. In Figma, click on the 'Hotel Brochure' title on top> click Duplicate to your drafts.
Also browse our free resources and guides for rental property owners:
Hotel Booking Confirmation Email Templates & Tips to Write One
Free Hotel Check-in Reservation Templates
What is a Booking System for Hotel and How to Add it to Your Website?
Mountain inn, a free hotel leaflet template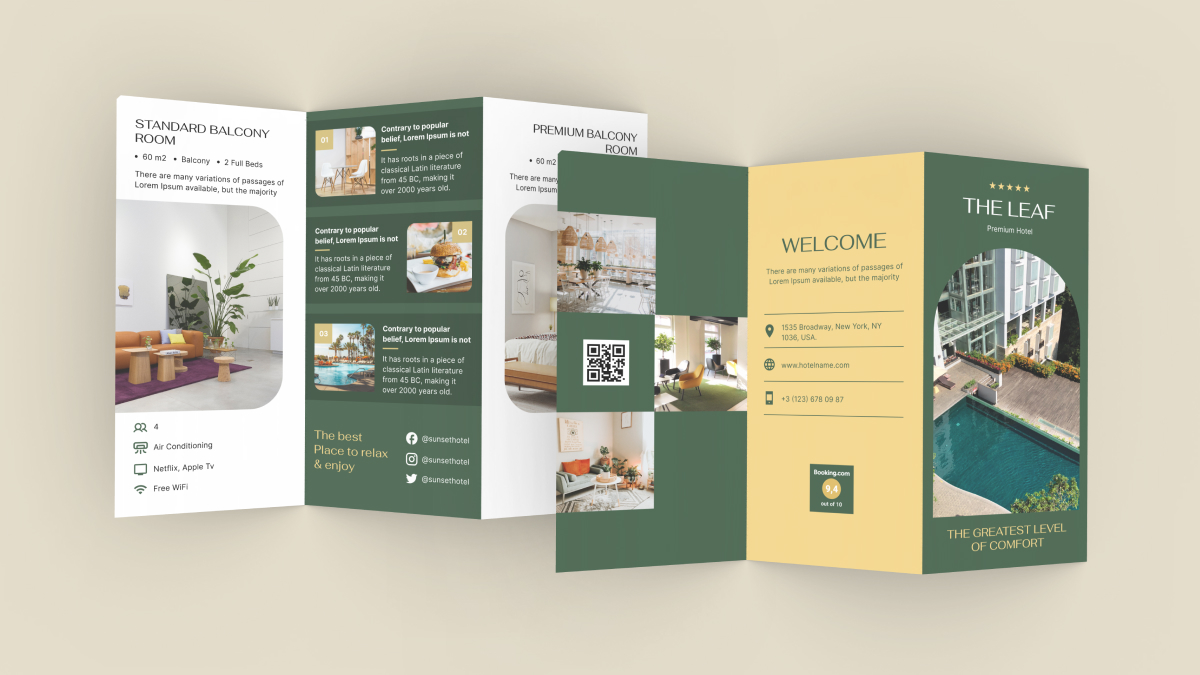 This free hotel booklet template is the perfect tool for advertising your mountain inn or authentic chalet.
Its eye-catching design features a stunning combination of green and mustard yellow – colors that evoke the beauty and power of nature and the great outdoors.
Whether your guests are seeking a peaceful retreat in the mountains, a secluded forest hideaway, or a picturesque forest glade, a single booklet like this can showcase all your features.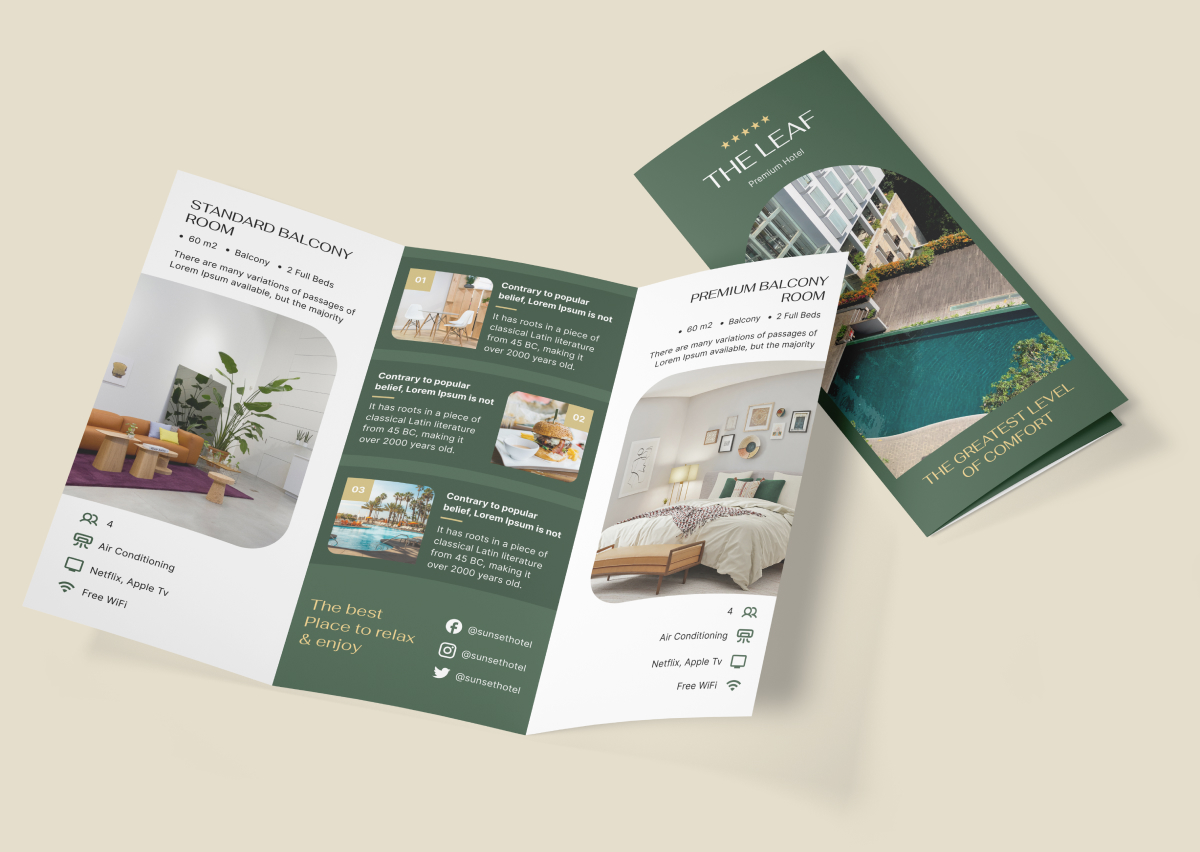 In addition to showcasing beautiful photos of your vacation rental and its rooms, this free hotel booklet template also provides essential information for potential guests. This includes the rating of your hotel on Booking.com (replaceable with any other OTA you might use), the number of stars, and links to your official pages on popular social media networks. Detailed descriptions of your rooms are also included, with information on square footage, number of beds, availability of balconies, air conditioning, and WiFi access.
The leaflet also features important information about your vacation rental or mountain hotel's location and the surrounding area. Guests can learn more about the local attractions and activities available, helping them plan their perfect mountain getaway. And for those who want to dig even deeper, the booklet includes a QR code for easy access to additional information from any mobile phone.
📗 Build your knowledge with: Top 15 Short Term Rental Podcasts
Seaside resort brochure template for print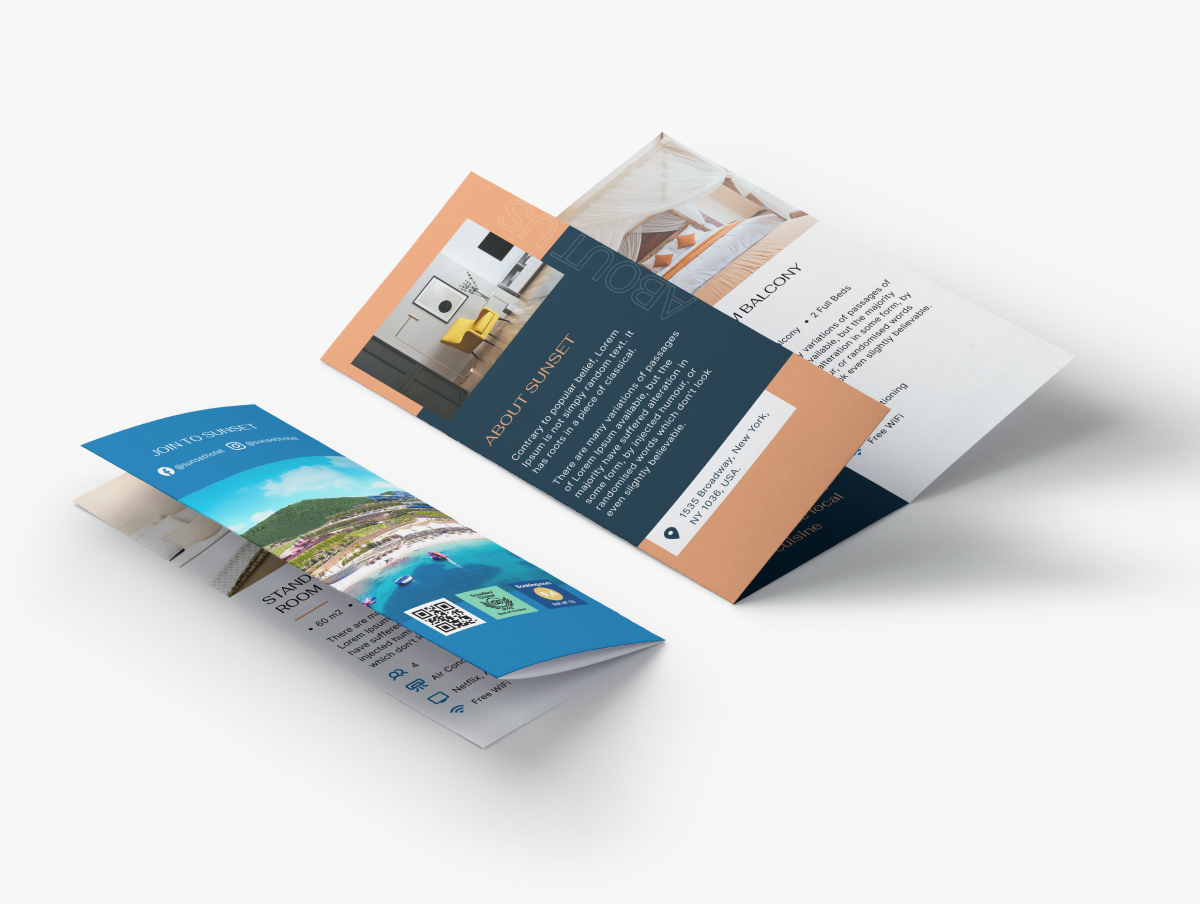 This hotel brochure template is ideal for promoting seaside vacations, resorts, and health & wellness facilities. It showcases various shades of blue, ranging from the calming azure to the deep dark blue, and the pinkish color of the wood, which highlights the freshness, clean air, and ecological wooden buildings, panels, and accessories, all of which entice customers to experience a rejuvenating vacation.
The free hotel leaflet provides ample space to include a link to your official website, as well as a section for customer ratings on Booking.com, and even an area to showcase any international or industry awards that your establishment may have earned.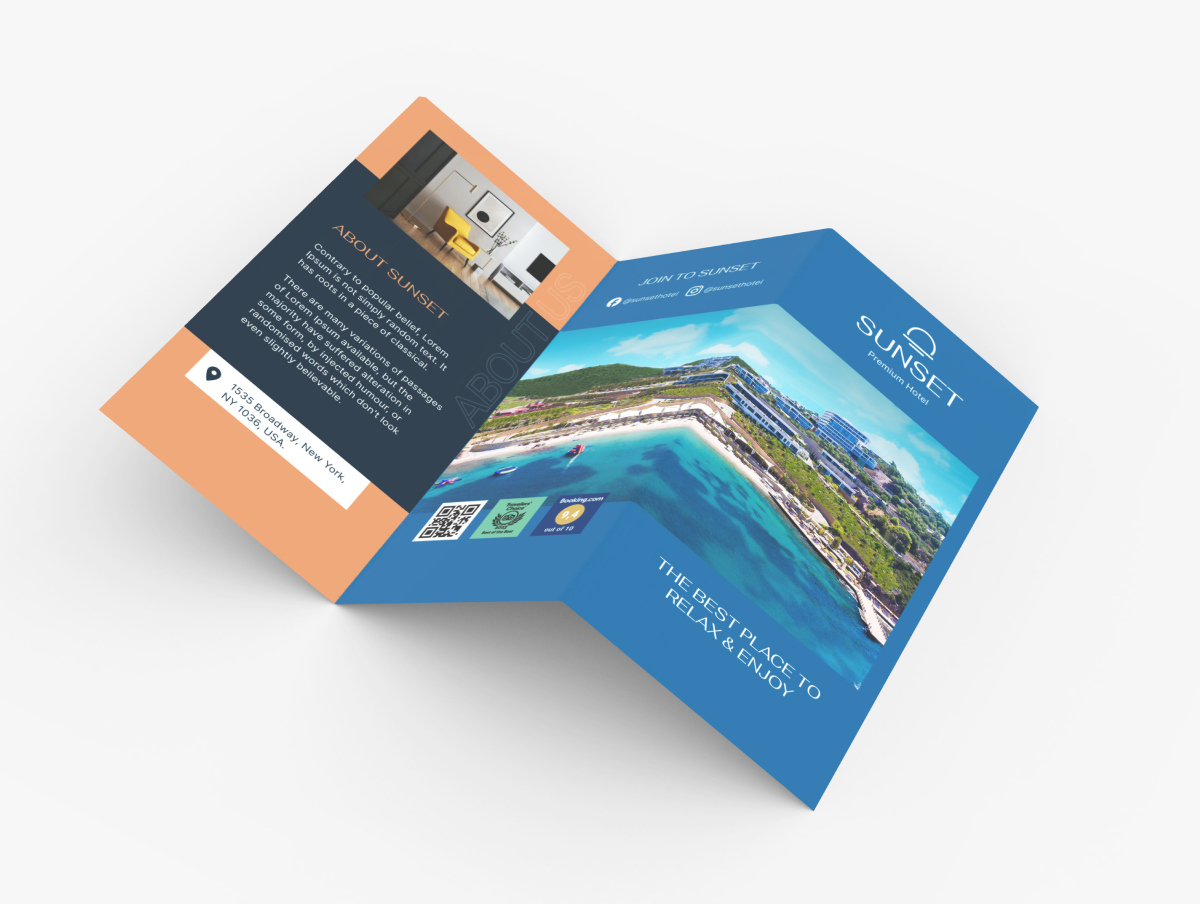 You can easily include amenities, such as details about the available rooms, whether standard or premium, their size, the number of balconies, air conditioners, and even television subscriptions to popular channels. Of course, such standard things as WiFi are also included.
Additionally, the booklet also highlights the availability of spa treatments, a fitness center, and bars with restaurants – you can surely replace them with your own. Customers can access further information by scanning the QR code located on the improvised "cover" of the booklet.
Urban hotel booklet template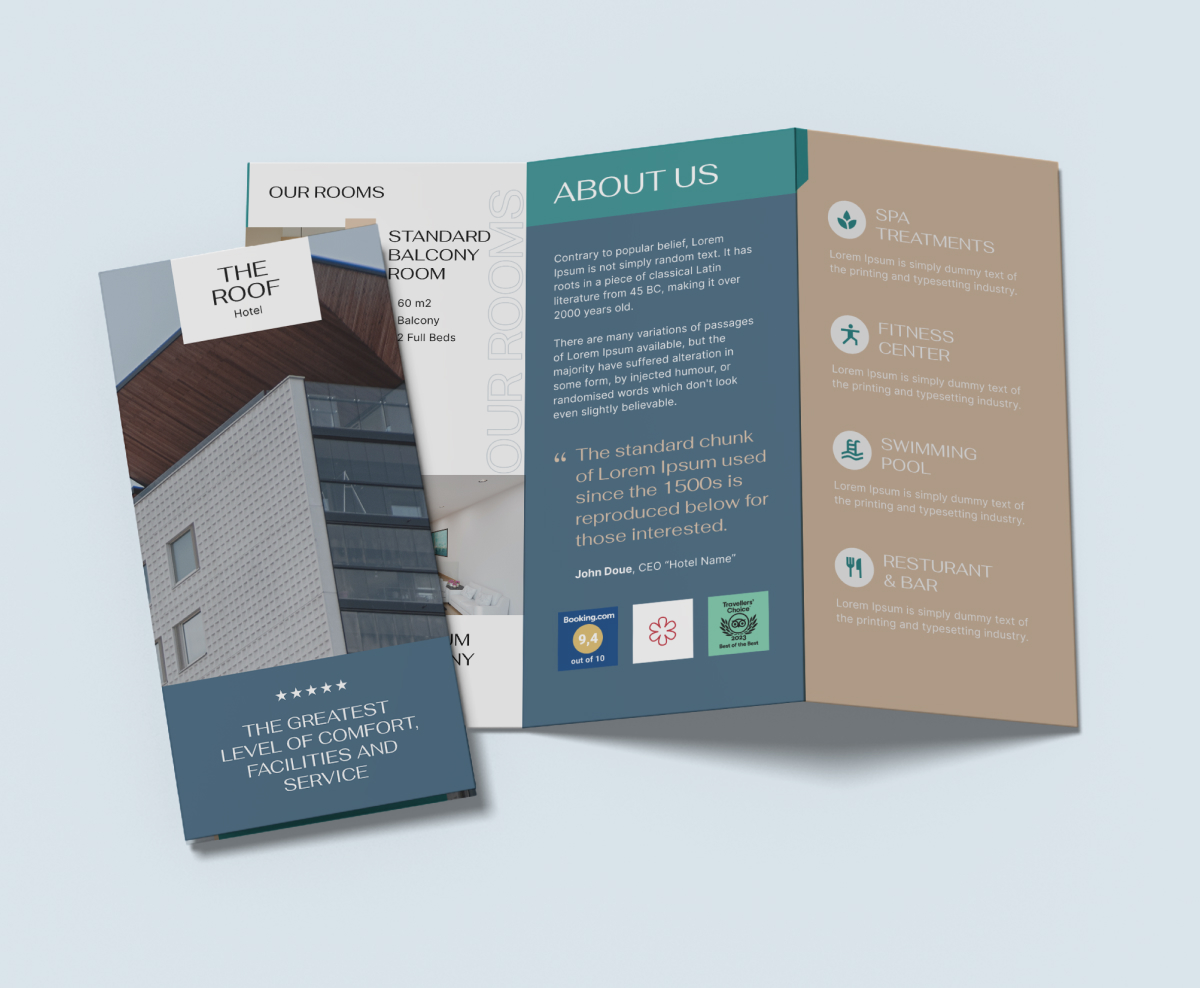 We made this free hotel booklet suited for showcasing hotels in cities and urban tourism centers. Its color scheme is wide-ranging, featuring pastel hues, noble greens, and sleek grays to capture the urban landscape, including residential buildings, lush greenery, and sleek asphalt and concrete surfaces.
The details are just as essential as in other hotel booklet templates in our list: website contact details, social media pages, phone number, and also a QR code for customers seeking additional information.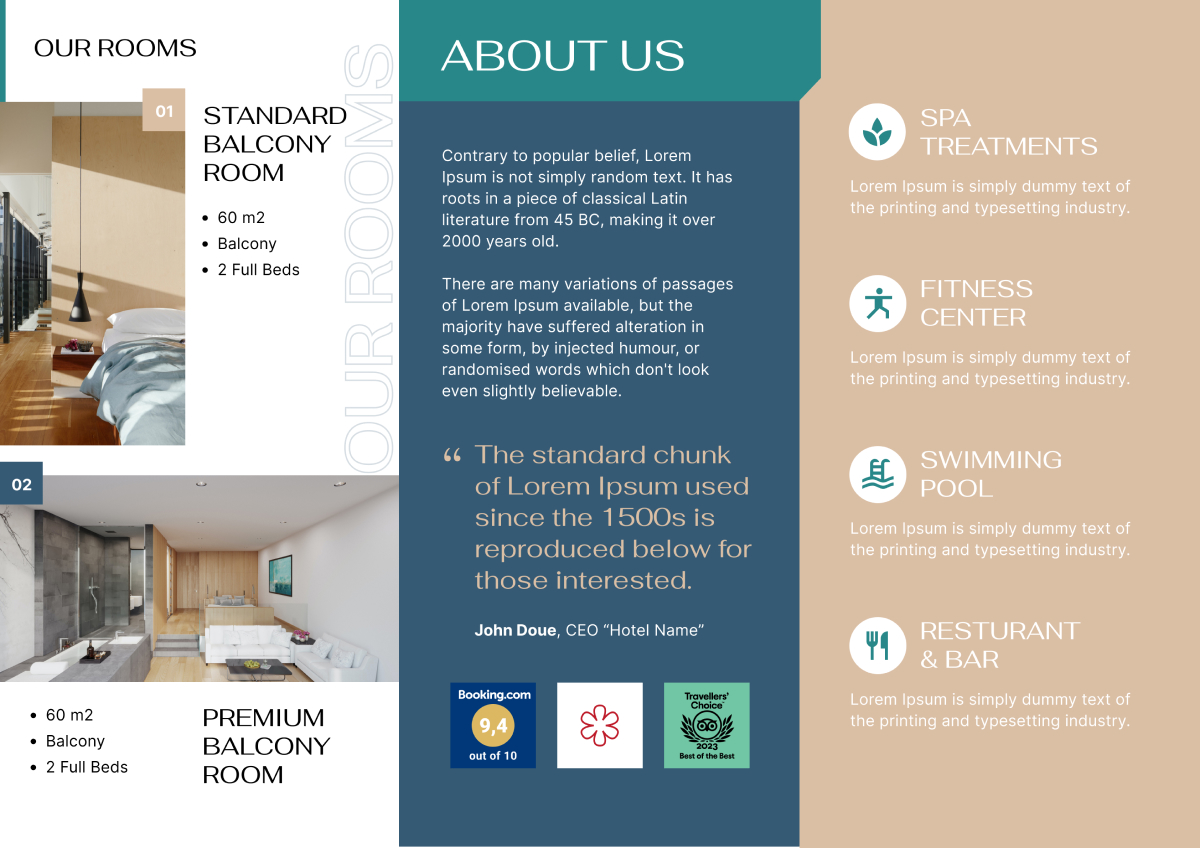 Other details such as your establishment's star rating, address, and logo, as well as any industry honors or awards, and rating from any online travel agency can also be included in this booklet hotel template.
As a bonus, we recommend showcasing testimonials from influential reviewers to entice potential customers. The booklet also details the types of rooms available, including amenities, rates, and capacity. Got more to promote? Showcase spa procedures, fitness centers, swimming pools, bars and restaurants.
How to edit these free hotel booklet templates in Figma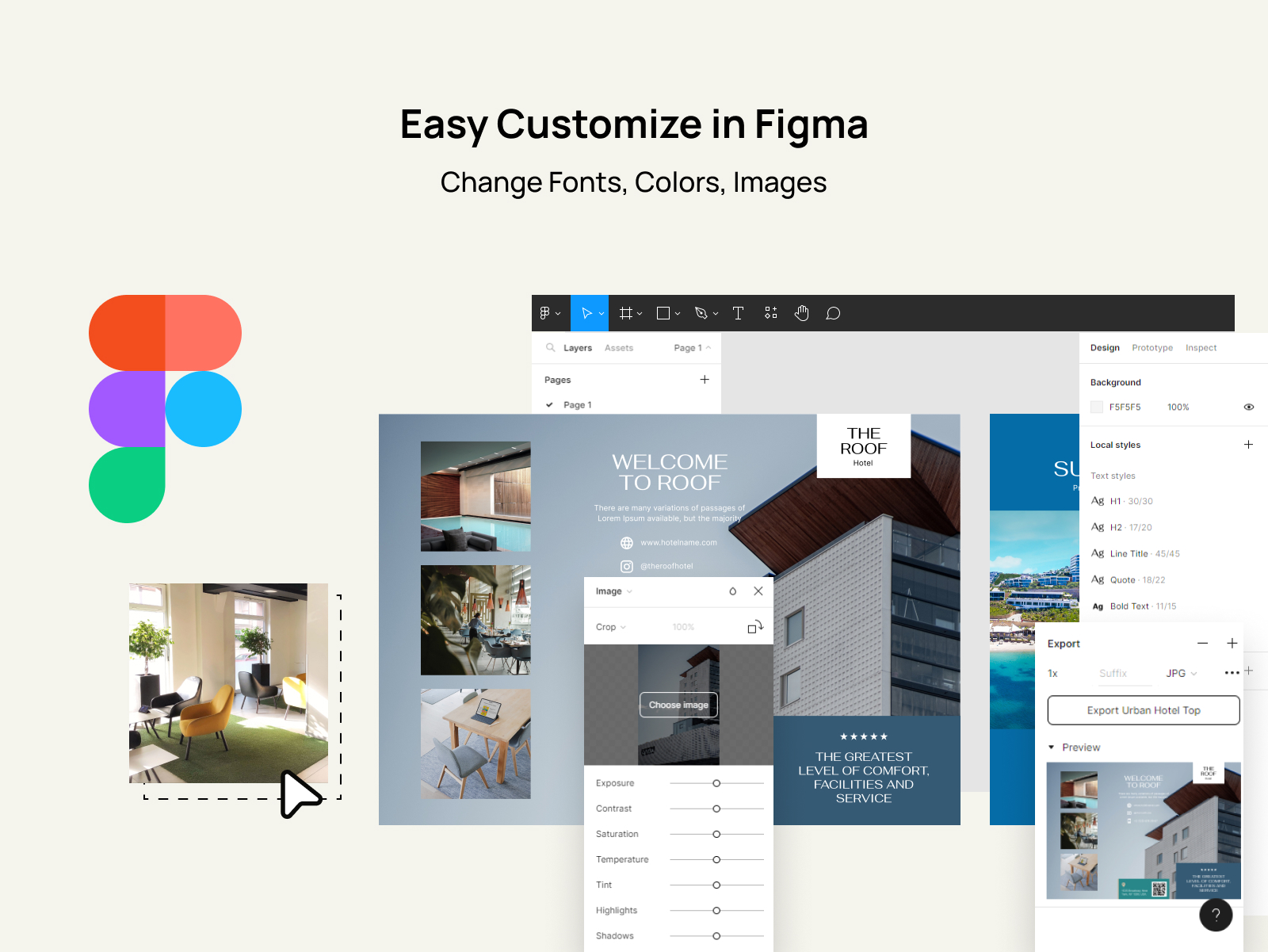 If you are not new to Figma, you can edit these hotel brochures right away.
But if you need some help, we cover the most important things in our quick Figma tutorial below.
Even though there is a small learning curve, the basics of working with the design layers are quite similar to those in Photoshop.
Sign up with Figma. It's free and if you are okay to use your Google mail account for registration, it will speed up the process.
Follow this link to access our hotel promo brochure templates.
Make sure to create duplicates of the files before transferring them to your personal Figma account to continue editing. For this, click on the 'Hotel Brochure' title > Duplicate to your drafts.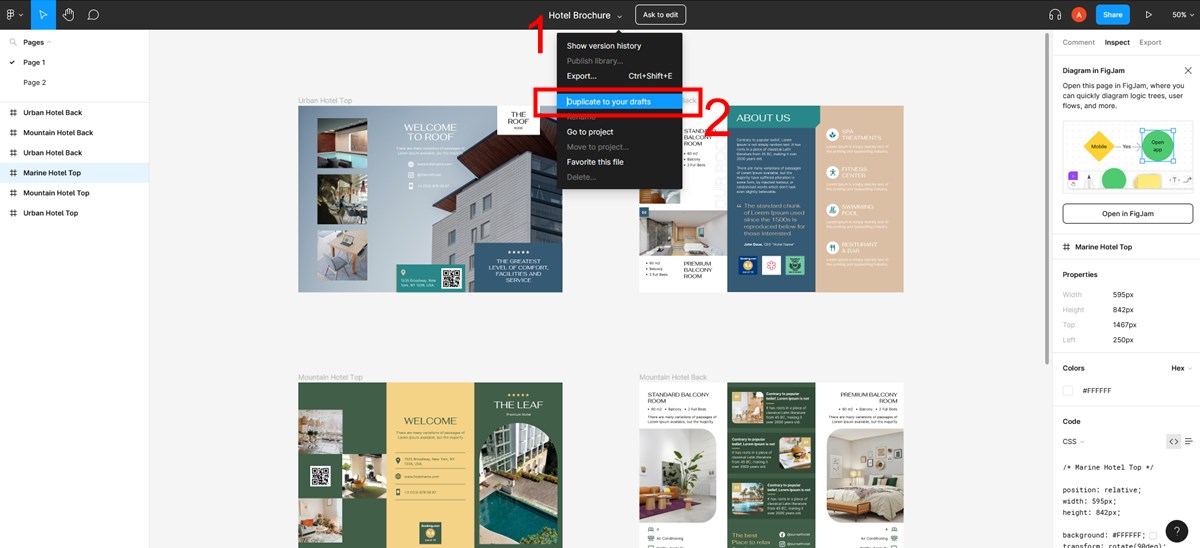 4. Go to your own Figma account and find copied files – choose the one you want to customize. Each template has a front and back sides. Now you can edit colors, fonts, images, texts and more.
5. When you are done, click on the needed part of the brochure in the left-hand menu, then click Export > pick JPEG or PDF (read further to decide which one you need) in the right-hand bar.
How to edit images?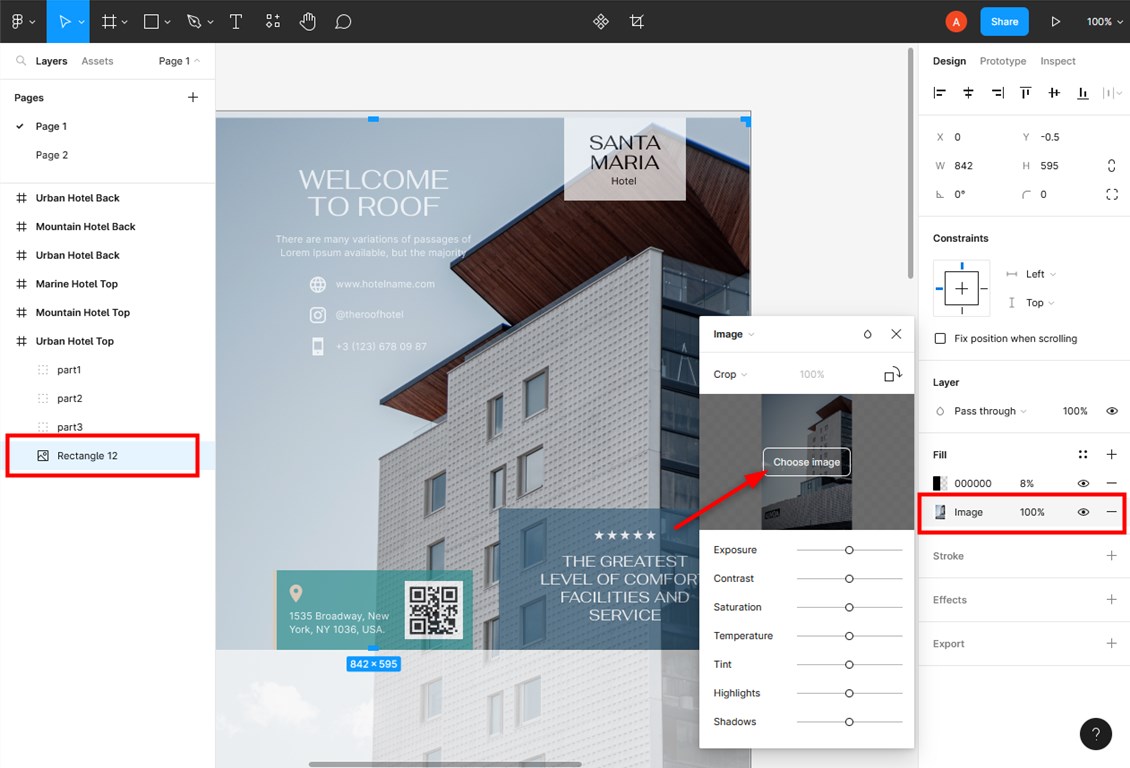 Choose a layer with an image > select Image from the right-hand menu > hover your mouse over the image > click Choose image. Then you can perform various manipulation with images, for example, add filters or customize the color scheme.
How to edit text?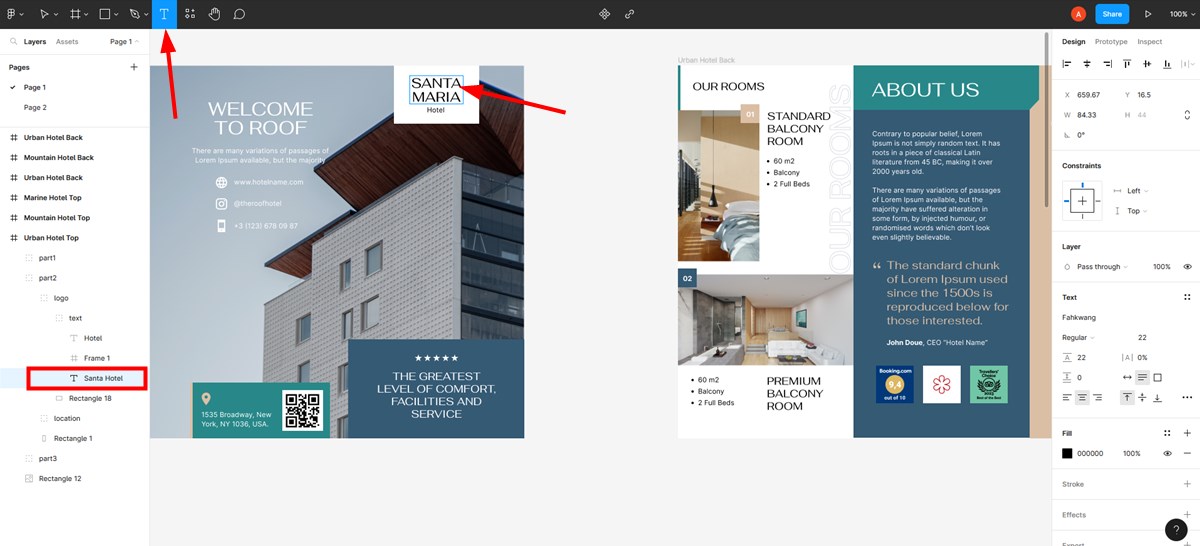 Click on the text you want to edit > click the text tool > get back to the piece of text and edit right on the brochure. Every piece of text has its associated title in the Figma editor, so you'll surely find the needed parts.
How to edit colors?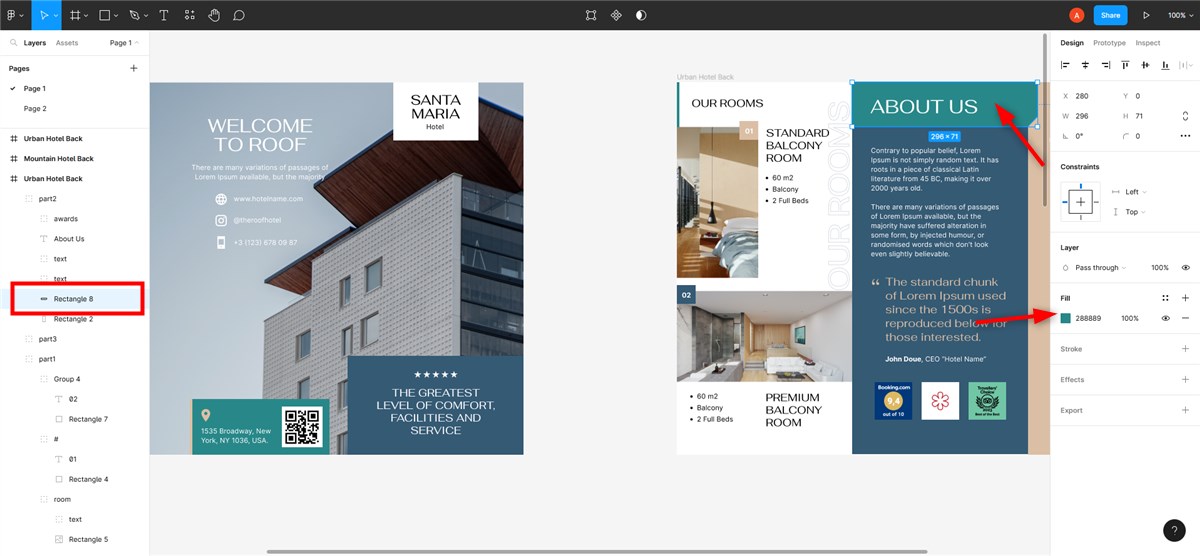 Choose an area where you want to edit the color > go to the design tab from the right > Fill > customize a color.
Note about colors for printed materials: there might be differences in the color shades on your screen and in printed versions. If you need to keep very specific color shades just as they are, we recommend converting colors to CMYK, since this color model is ideal for printed materials. For this, do the following:
After you are done with all your brochure edits in Figma, export the edited files in PDF: choose a file > click Export > select PDF from the drop-down.
Then open the file in the Illustrator graphic design application > Files > Document Color Mode > CMYK Color. Read a full guide here.
If you choose to not convert colors, you can simply export the edited brochures to JPEG in Figma and print them out.
Liked working in Figma and want to continue working with it? Nave troubles? Watch Figma video tutorials.
Boost your hotel business with three types of free hotel booklet templates, featuring diverse and fitting color schemes, that can help you advertise your services in the best possible way. With a convenient and vibrant design that's comfortable to hold, these booklets encourage customers to explore your offerings faster!