We understand that crafting the perfect hotel email can be tricky, so we've prepared a bunch of hotel booking confirmation email templates that are sure to work for any hotel, bed and breakfast, or vacation rental establishment.
In addition to providing you with a few professional hotel email templates, we've also got plenty of tips to help you write effective emails.
Plus, we'll even explain how email automation software works so you can streamline your guest communication and save time.
5 Reservation confirmation email samples for hotels
These hotel booking confirmation templates are just a starting point, a basic text. Feel free to add or delete information in every hotel confirmation email to tailor them to your needs.
Want to add some extra design elements like your logo or brand colors? Just make sure to check with your hotel booking software or email marketing software to see what options are available.
Booking Confirmation Template Example 1. Classic version email template of the confirmed booking
Listed below is a very basic confirmation template that have all the essential information visually categorized.
Subject: Your Reservation in [hotel name] Confirmed
Dear Guest,
We are happy to announce that your reservation in our hotel is confirmed!
Below are the complete details of your booking:
Booking details
Booking Number: [confirmed booking number]
Check-in date: [start date]
Check-out date: [end date]
Guest information
First Name: [guest first name]
Last Name: [guest last name]
Email: [guest email]
Guests: [number of guests]
Payment Information:
Total Amount: [the sum paid or payment due]
We anticipate your stay with us!
How to find us: [hotel address]
Got a question? Call us: [hotel phone number]
[hotel staff name] with [property name]
Booking Confirmation Template Example 2. Classic version #2 but with extended details
Just like in example #1, but uses a slightly different language.
Subject: Reservation Confirmation: Your Stay at [hotel name]
Dear [guest name],
Thank you for choosing [hotel name]!
You are staying [number of nights] in our property.
Booking number: [confirmed booking number]
Check-in date: [start date]
Check-out date: [end date]
Your down payment of [amount received] has been received, and the remaining balance of [amount] is due by [date].
House rules & Extra information
Hotel address: [address]
Check-in at: [check-in time]
Check-out at: [check-out time]
Amenities in your booked property: [list amenities]
Parking information: [parking information]
Discover the best local attractions: [link]
Read our policies regarding rates and cancellations: [cancellation policy]
We сan't wait to welcome you!
[hotel name]
[hotel phone number]
Booking Confirmation Template Example 3. Airbnb-styled booking confirmation email template
Friendly, catchy, and minimalistic email, with a focus on property photos and call-to-action buttons. Contains only the necessary information. If you have the option to use or design columns in your email, it can be helpful for visually dividing important information, such as check-in and check-out dates.
Subject: Your reservation is confirmed
Hi! You are going to [city name].
You've booked [room name] at [property name].
Arrival:
[weekday name]
[arrival date]
Check in after [possible check in time]
Departure:
[weekday name]
[departure date]
Check out after [possible check out time]
Address:
[property address]
Guests:
[number of guests]
Amount:
[booking cost]
Invoice:
[download invoice link]
Before your arrival, please take a moment to review our house rules and additional information, including the hotel address, check-in and check-out times, amenities, and parking details.
Policies: [website link button]
[Change your reservation button]
Looking forward to meeting you,
[property name]
Booking Confirmation Template Example 4. Email template example for a vacation rental
The following example is no big difference with hotel confirmation emails. In the vacation rental email we're offering below, you'll find all necessary information structured in a list.
Subject: Reservation Confirmation for Your Stay at [vacation rental name]
Thanks for your booking! We're excited to have you as our guest.
Your reservation is confirmed with the following booking number: [confirmed booking number].
Here are the details of your reservation:
Guest name: [guest name]
Check-in date: [start date]
Check-out date: [end date]
Number of guests: [number of guests]
Rental property type: [rental property type]
Rental property address: [rental property address]
Rental property amenities: [rental property amenities]
Payment information:
Total reservation amount: [total amount]
Amount paid: [amount paid]
Remaining balance: [remaining balance]
Payment due date: [payment due date]
Check-in: __:__ am/pm
Check-out: __:__ am/pm
Call us if you arrive earlier at [phone number]
[vacation rental name]
Booking Confirmation Template Example 5. Stripped-down confirmation email version
A short version of a confirmed booking hotel email.
Dear Guest,
Thanks for your booking in [property name]!
Find details of your reservation below:
Check-in date: [start date]
Check-out date: [end date]
Address: [rental property address]
Total cost: [booking cost]
Any questions? Call us at [phone number]
[hotel name]
Tips to write hotel booking confirmation emails
Whether you want to add your own personal touch or tweak the provided hotel booking confirmation email templates to better reflect your brand, the choice is yours.
We're here to provide you with a starting point, but ultimately it's up to you to make these templates your own. So here we give you even more email writing tips.
Essential elements of the reservation confirmation email templates
The guest's name should be indicated as it was submitted during the reservation.
The exact dates and times of check-in and check-out should be clearly specified.
The official address of the hotel should be provided to further verify information.
An explanation of the location of the hotel with nearby landmarks, direction, and a map image should be included.
If the guest has already paid, the amount paid should be specified, and if payment is on arrival, the exact amount should be stated.
Links to the hotel's official website and social media pages.
Any additional amenities ordered by the guest should be included, such as special requests or preferences.
A 'thank you' message for choosing the hotel.
Make your email even more effective with these elements
To make booking confirmation emails even more effective, consider including these additional elements:
In your reservation confirmation email, follow your typical brand voice (humorous, friendly, or formally elevated, etc.) in the email.
Provide clear instructions on your policies, as well as references on how to cancel or reschedule the reservation.
Divide the information in the letter into meaningful parts for easy understanding.
Add your brand logo to the letter for a more professional touch/customize colors to reflect your brand.
Sign the letter with the name of the hotel's administrator or owner to personalize the message.
Keep the language simple and easy to understand.
List any special services provided by the hotel and nearby attractions, including any notable celebrity stays.
Include a photo of the hotel and the specific room booked by the guest.
Add a motivational phrase or tagline to the letter to encourage a positive guest experience.
How to optimize email sending? Email automation software
Surely, at this time and date, you can't send all these repeat emails by hand. It's important to automate this process, saving your hotel business a lot of time and resources.
If you are looking for email automaton software for hotels, here is an important concept to understand here.
To make sure emails are sent automatically, the email software must be connected to the hotel booking software. You can't have email software that works by itself, it needs to be connected to the booking software or a third-party platform that processes your bookings.
Alternatively, you can use hotel booking software with built-in email sending functionality. Actually, speaking about just that…
Get the hotel booking software with emails automated
Here at BNBForms, we've got you covered when it comes to automated hotel booking confirmations.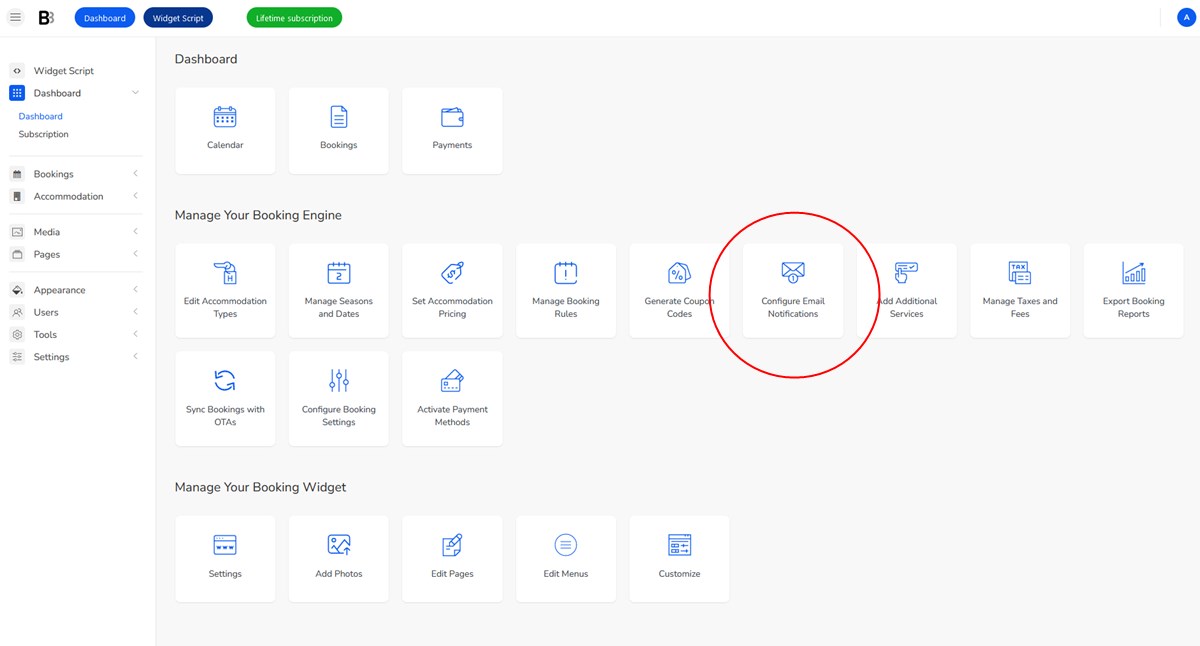 If you're using property management and reservation software like ours, automating essential emails, including booking confirmations, is a breeze – we're talking a 99% success rate (let's leave 1% of doubt for the philosophers out there).
Why is it so easy? Well, all the emails are linked to the property types, booking dates, and other relevant information, making the process completely automated. No need to manually input client and reservation data – it's all done for you.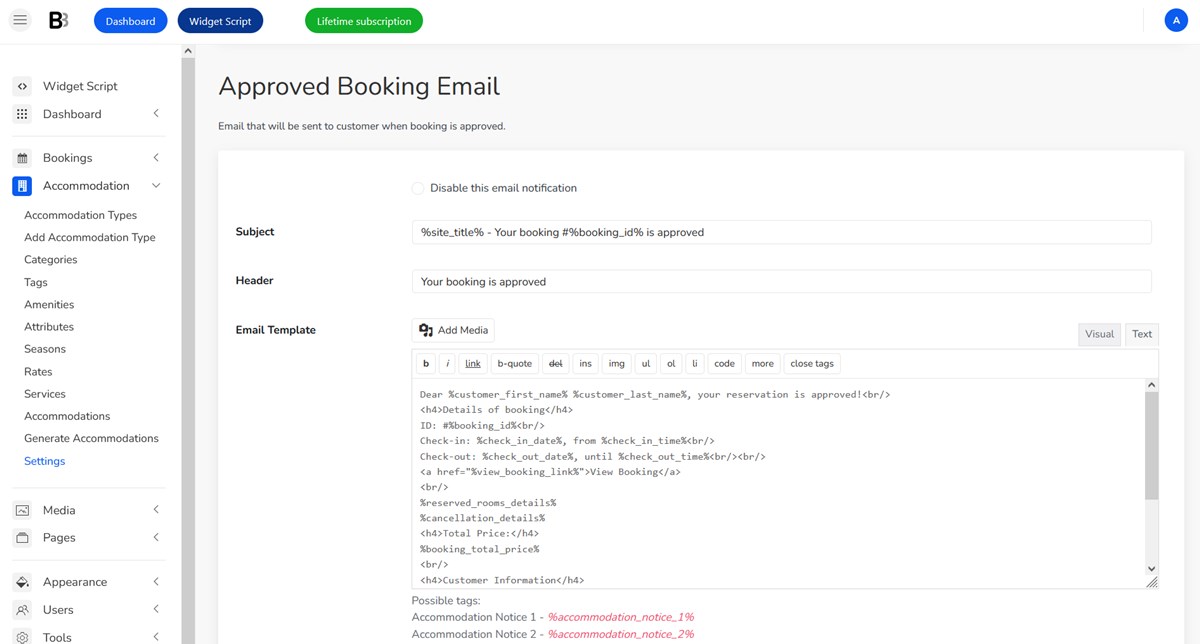 Furthermore, by integrating with popular email marketing software like Mailchimp or Campaign Monitor, you can take things to the next level and create visually stunning emails with their provided design tools.
Plus, with triggered email campaigns, confirmation emails are sent automatically to customers as soon as they make a booking. Just be sure to integrate your email marketing software with your hotel booking software first.
Integrate your site with channel managers
If you are on a third-party channel manager of some sort, you can integrate the channel manager with their email marketing software or hotel management system.
When a booking is made through a third-party platform, the confirmation email is automatically generated and sent to the customer.
To sum up, here are three common ways to automate hotel booking emails:
Integrate the hotel booking software only. It normally does the job, no need for extra email software connections.
Integrate the hotel booking software + optionally email marketing software for wider email customization options and marketing opportunities for hotels. You need to make sure the core hotel booking software supports it.
Use third-party channel managers to automate bookings and emails altogether.
Final word: So how to write a confirmation email for room booking?
Improve guest communication with our hotel booking confirmation email templates or alter them the way you want.
Here are a couple of tips to create an effective hotel reservation confirmation email:
Clearly specify the mandatory elements, such as the guest's name, dates of stay, room type, and booking number.
Consider adding optional elements, such as information about amenities, nearby attractions, or any special requests the guest has made.
Furthermore, be sure to automate your emails. By sending an email with all the necessary information for records automatically, you can instantly provide your guest with a booking confirmation. With automated booking confirmation emails, your staff and guests can say goodbye to unnecessary hassles and nerves.