Give travelers a reason to book with you.
Offering various promotions, including early bird deals, can be a fantastic way to attract bargain hunters and keep your occupancy rates up even during slow seasons.
Especially if you're looking to build a sustainable and profitable hospitality business strategy, early-bird pricing can be a huge help.
So in this tutorial, we're going to dive into the topic of early-bird pricing and how it can help you boost your bookings. We'll cover everything from how to promote these deals to potential travelers, to an easy way to create an early-bird discount using the BNBForms booking service.
Let's go.
What is an early bird discount?
But let's define the term first.
Early bird pricing refers to time-limited discounts applied to reservations made well in advance of the check-in date. 
The date range can also vary, it's common for hotels to offer discounts for bookings made in 30, 60 or even 120 days in advance. They allow hotels to create attractive deals for guests who are looking for value.
Early bird rates are often a part of the strategic marketing planning hotels usually prepare for low seasons.
Why should your hotel offer early bird promotion deals
The answer is rather simple – they encourage travelers to book early. By offering these discounts, you can generate additional revenue that can give your business a much-needed cash flow boost.
Plus, planning out your entire season ahead of time will allow you to better allocate your resources and have long-term revenue strategies for your hotel.
These deals are loved by both business travelers and holidaymakers alike, so you're sure to attract a wide range of customers.
Here are some truly unique benefits to offering early bird promotion that you don't want to miss out on:
Benefit your business during any period of the year, allowing you to boost sales during slow seasons.
Implement a better strategy for planning out your entire holiday season.
Provide incentives for your loyal customers.
Increase brand awareness.
What is the best time to offer early bird discounts?
There is no one-size-fits-all rule when it comes to early bird promotion strategy.
It depends on which seasons are considered low and high for your particular hotel or vacation rental, as well as how it corresponds with other marketing strategies in your establishment.
To seal the deal with early bird discounts, there are a few crucial things to remember:
Communicate value. Make sure to frame your early bird discount price in a way that clearly communicates that it's lower than the regular or current property rate. However, be careful not to price it too low or you may risk devaluing your property.
Create a sense of urgency. Clearly state an expiration date or any limits of the early bird discount to encourage people to book quickly. This can help create a sense of urgency that motivates people to take advantage of the offer.
Provide peace of mind. Some travelers may feel apprehensive about booking with an early bird discount, so it's important to address any concerns they may have. Make sure to have proper cancellation policies in place and be upfront about the refund and cancellation options. By addressing these concerns upfront, you can give your guests the peace of mind they need to book with confidence.
How to create an early bird discount in BNBForms
BNBForms is a hotel booking widget for accepting online reservations on any website.
In addition to the actual widget, it ships with the fully-featured backend, where you can manage bookings, clients, and payments. It gives you all the needed automation and productivity tools you'd expect from the hotel booking software.
Among other great tools, it allows you to have flexible rate management tools, including the use of discounts.
There are multiple types of hotel discounts you can create with BNBForms, including:
Early-bird discounts.
Last-minute discounts.
BNBForms allows you to create a discounted accommodation price based on the criteria of early booking.
Then follow these steps to create an early bird discount coupon for a hotel: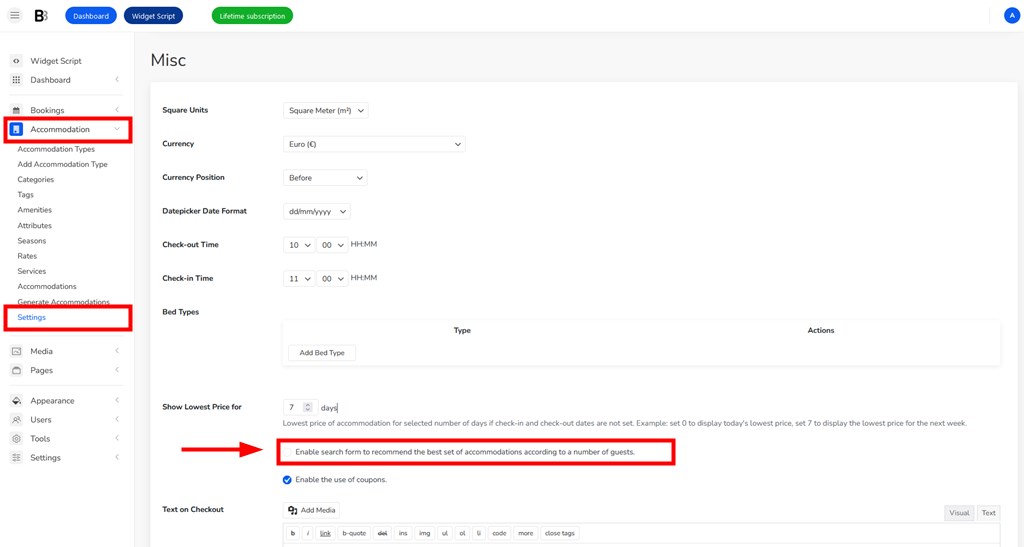 Make sure that you enabled the 'Enter a coupon' field at checkout: go to Accommodation > Settings > Misc section > tick 'Enable the use of coupons' box.
Go to Bookings > Coupons.
Create a new coupon code and set its parameters: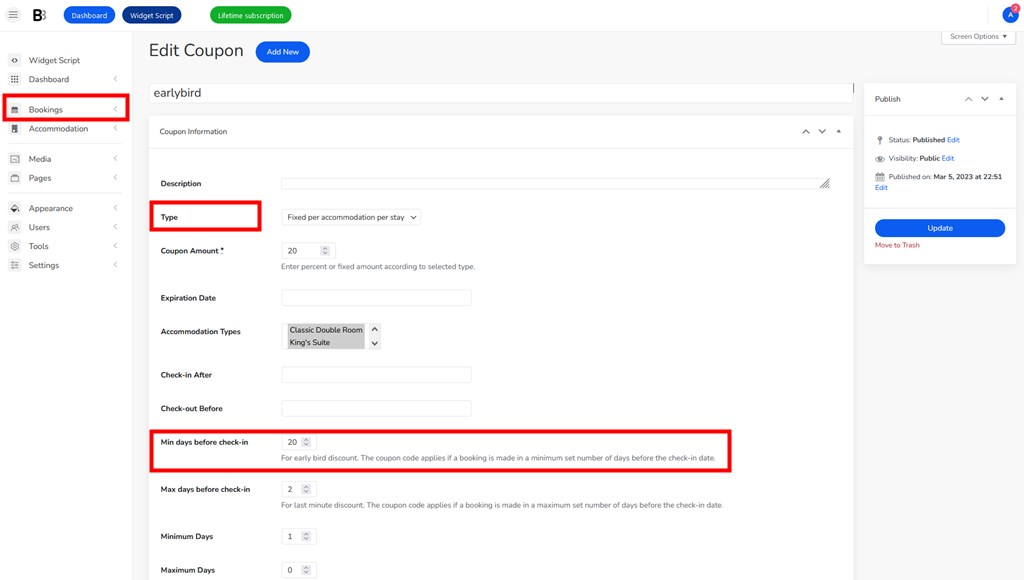 Fixed per accommodation per day
Fixed per accommodation per stay
Percentage
Pick accommodations this coupon works for.
In the 'Min days before check-in' field, set the number of days for an early bird discount. Note that there are also settings for creating last-minute discounts.
Select the minimum and maximum days for the stay-in period.
Optionally set the usage limit.
Save coupon.
Note: A discount will not be applied to the total cost of the booking, but rather to the cost of the accommodation.
Important: For the early bird discount coupons to work, guests need to manually enter a coupon at checkout.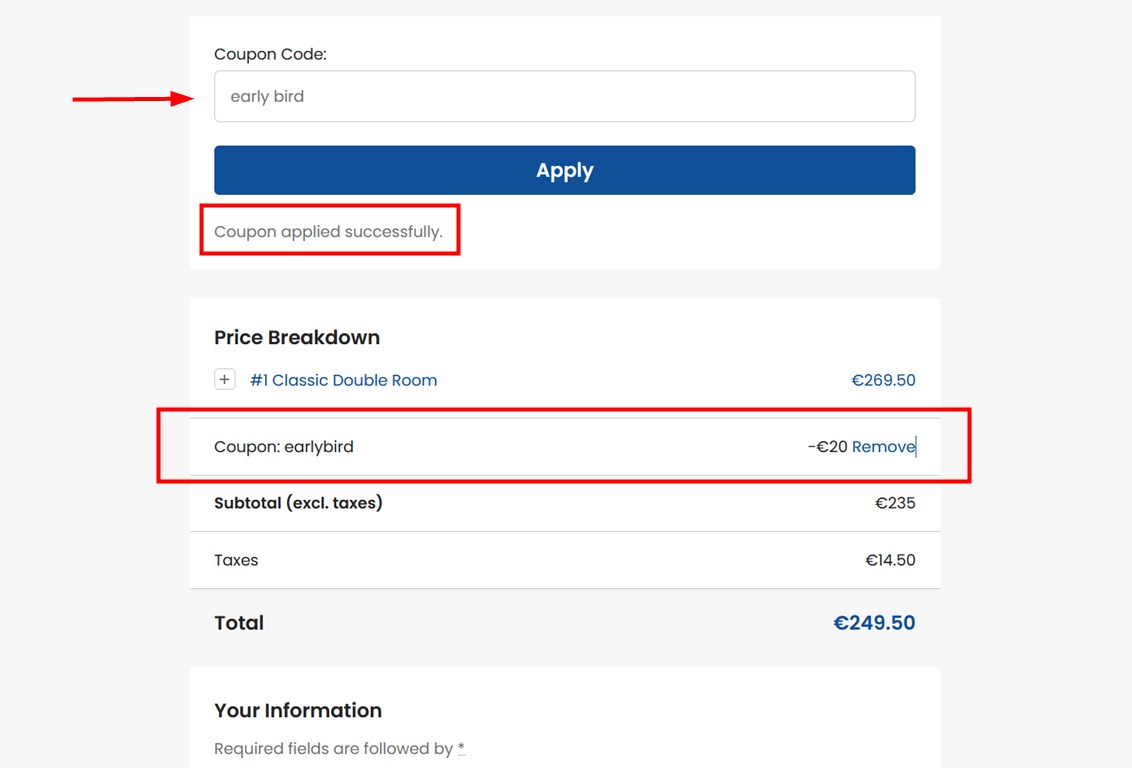 Thanks to the usage count feature, you can track the number of times this particular early bird pricing coupon code was used with the BNBForms booking system for hotel.
If you are new to BNBForms, see it works for different platforms:
Where to promote your early bird hotel discounts?
So how to reach deal-seeking travelers? How to entice them to book with you so ahead of the time?
To attract potential customers to your early bird deals, it's crucial to have a visible presence in the places where they are likely to be browsing. We also have a few early bird promotion ideas for your hotel.
We'll break that down into two categories: your independent website and external platforms where you can promote your early bird hotel deals.
As for your independent website:
Create a dedicated landing page to promote your early bird discounts and launch an advertising campaign in social media to attract the target audience to it.
Add banners to your website to communicate that you offer a valuable deal.
Notify repeat travelers via SMS or email about your early bird promotion deals.
As for external platforms:
Set early bird promotion rules on the OTAs platforms that you use. Booking.com, Airbnb or any other. Some of them, especially during and after the COVID-19 pandemic, started providing more tips and pricing flexibility for encouraging travelers to book. For example, read about seasonal pricing rates in Airbnb for hosts.
Promote your hotel deals in your Google Business profile, which is a great option since travelers can see the deals right from the search results, without even browsing any website. See how to manage rates and availability using Google Business profile.
Partner up with local travel and activities companies that have popular travel apps (buy ads, offer cross promotion, etc.).
And what is just important in implementing these early bird promotion ideas? Have the time to analyze data and use insights from whatever strategy you use to boost sales and performance.
Final remarks: Three takeaways on creating early bird promotion deals
To sum things up, If you want to create a great early bird discount that will benefit your hotel or vacation rental in the long run, there are three key things to focus on in your early bird pricing strategy:
You need a flexible discount system that can be tailored to align with your marketing strategies. We've got you covered with the BNBForms discount settings
You need to promote your early bird discount aggressively and intelligently across various channels to reach as many potential customers as possible.
Make sure to provide a clear coupon code value for travelers to encourage them to take advantage of your amazing offer.
Try BNBForms today with no upfront cost.