Are you ready to drive direct bookings to your rental business site with an online booking system for hotel? We've got you covered.
In this article, we'll guide you through the ins and outs of how the accommodation booking system operates, highlight its major benefits that can transform your rental business, and more.
Not to mention, we'll walk you through the process of adding a booking system to your website in a simple, user-friendly manner, regardless of how your website was created.
Let's dive in and see how you can create a seamless booking experience for your guests.
What is a hotel reservation system?
From a hotel owner's perspective, a hotel reservation system enables hotels to directly accept bookings on their website, cutting out the middleman like travel aggregators or big property management platforms.
The result is a seamless booking experience for guests, just like they'd have on popular platforms.
Needless to say, your independent site and OTAs are not mutually exclusive and you can gain benefits from both. Win-win.
Sometimes there is no added fee for either the hotel or guest when bookings are made directly, which makes many hotel brands think of going independent and completely moving away from pricey OTAs.
A hotel reservation software simply streamlines the online reservation process by processing bookings made through the hotel's website and sending the information straight to the hotel's dashboard so that the hotel staff can manage bookings and clients.
A simple hotel registration form on the site is not in the past, but it should not be the only way you can accept bookings in our time and day.
How does a booking system for hotel work for direct bookings?
A hotel booking system is a software tool that automates the booking process for hotels or other types of accommodations.
This system typically operates as a booking widget or an online form that is integrated into the hotel's website.
The system has user-friendly fields for guests to enter their information, such as check-in and check-out dates, and then guides them through the process of selecting room rates, adding services, applying discounts, entering contact information, and making payment if necessary (for example, you can opt for payment after arrival).
The reservation system is designed to process and record all reservations on the hotel's own website, and to send confirmation emails to both the hotel and the guest.
Additionally, the reservations management system may be linked to a channel manager, allowing the hotel to distribute their availability to online travel agents in real-time.
The use of a booking automation system can streamline the booking process for hotels and increase efficiency by eliminating the need for manual bookings.
There are many more tools and integrations you can think of that in various ways optimize the work of a booking system, travelers, and hotel staff, but that will vary from software to software.
Don't miss out on benefits of using a hotel reservation system
So what are the benefits of using a hotel room booking system on your website, I hear you ask?
Take full control of your bookings
As a hotel owner, you want control over your bookings and the guest experience. With an independent reservation system, you can do just that.
Set your own pricing, manage your own inventory, and have direct access to guest data and bookings to analyze and improve your offerings, all under your own independent and centralized backend.
And most importantly, you can build a strong relationship with your guests and provide a personalized experience
Make your workflow more efficient by reducing errors and embracing automation
An independent reservation system helps you reduce errors and embrace automation, that's for sure.
For example, it will make your hotel managers more productive and reduce manual bookings that can lead to costly mistakes.
At the same time, we advocate for software that gives you the flexibility of both, manual and automated scheduling, with focus on the latter, of course.
Typically an automated system will process your bookings efficiently and accurately, freeing up time for you to focus on other important tasks.
Get more flexibility in managing pricing policy
Having a hotel booking system on your site means you are no longer tied to the strict rules and regulations of third-party aggregators.
You can now be like a boss, setting your own prices and adjusting them according to demand. Want to run a flash sale for the weekend? Go for it. Want to offer a discount for repeat guests? Why not? You're in control and you can make your pricing policy work for you.
Build an independent hotel brand identity your way
An independent website with a powerful hotel booking system is a way to take control of your brand image and create a unique experience that truly reflects your hotel's personality, being technologically convenient for travelers, needless to say.
Just look at successful hotel brands like Hilton, Marriott or Four Seasons. They've all built a strong independent brand identity that sets them apart from the competition.
By having control over your own reservation system and website, you can do the same, creating a memorable guest experience, building your brand image, and gaining returning customers.
Get closer to your customers and understand them better
Build stronger relationships with your guests.
Once they made a successful booking on your site, some of them would want to bookmark and follow you. By having a hotel website and the ability to follow your hotel on social networks, your guests can stay connected and up-to-date with you.
You'll also have access to more ways to gather customer information, such as email addresses, which can be used for effective email marketing campaigns.
And with connections via messengers or SMS, you can provide a convenient and accessible way for guests to reach out to you with questions or concerns.
All these tools give you valuable insight into your guests' needs and preferences, allowing you to tailor everything in pre-vacational experiences and further.
Improve your hotel positions in local search in Google
With a Google Business Profile, you can boost visibility of your hotel and reach more potential guests in an effortless way, thus attracting more people to your website thanks to handy Book buttons.
By managing your rates and availability directly from Google search results, you have the opportunity to make it easy for travelers to book directly with you.
The added benefit of free booking links means that hotels can connect with a wider audience and drive direct bookings that save on commission costs.
The rates added by hotels will appear on Google Search, Google Maps, and YouTube, where millions of users search for hotels every day.
Easier store, collect and analyze data on your hotel business
This information can include booking details, guest information, and sales data, among others.
By having all of this information in one centralized location with a booking system for hotel, you can better understand your business operations and make data-driven decisions to improve your bottom line.
Additionally, with features such as automated reporting and data analysis tools, you can quickly identify trends, track performance and work to your fullest potential.
Manage your hotel loyalty and discount programs as you wish
With a hotel management system online and its settings, find your way to retain guests, build your own loyalty program and get the maximum out of your marketing strategy.
Build your own hotel reservation program and increase brand loyalty, driving maximum results.
What is BNBForms booking system for hotels and how will it help you?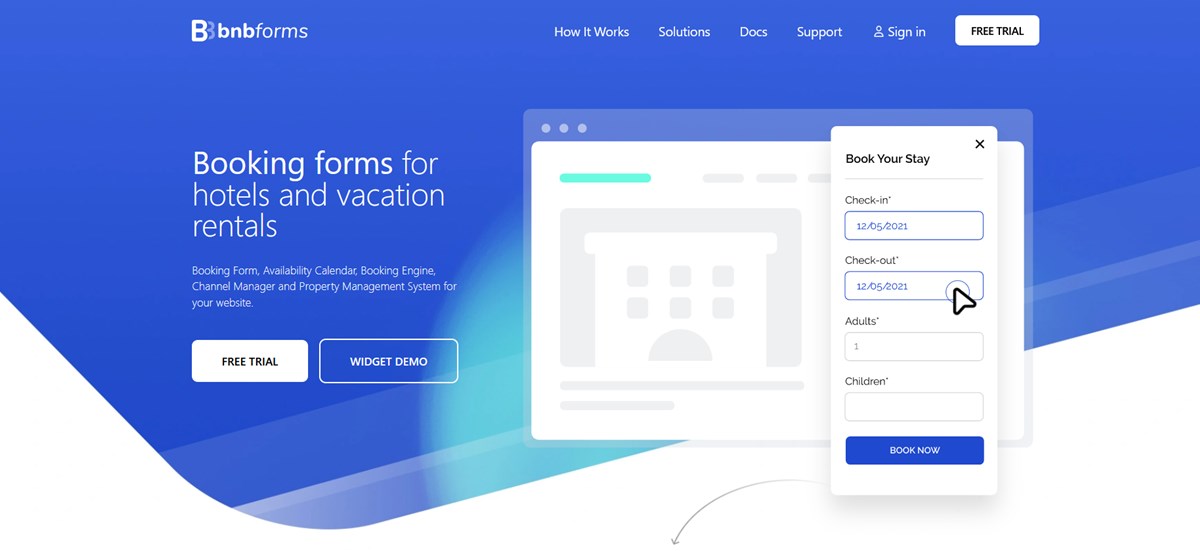 It's the hotel software that speaks the same language with your customers and staff.
One of the most obvious perks that BNBForms delivers to hotel owners is that they don't have the burden of extra commissions either per property or per booking.
Secondly, it takes no time to add a booking widget to your site, regardless of the CMS (WordPress, Wix, Squarespace or any other).
You basically need to set up system preferences in your BNBForms account (e.g. how many rooms you have, their prices, booking rules, room capacity and descriptions, etc.), and then insert the booking widget to your site.
Here are a few key points about BNBForms:
Made for: single or multiple properties rented out by property owners.
Cost: $16 per month, no extra fees.
Free trial: one month, accept your first bookings for free.
Booking system for hotel requirements: works with any CMS.
Live demo: BNBForms demo
Register for free: Sign up
Backend at a glance: BNBForms dashboard
How it works: Set up your account to your liking and then insert a booking widget to your site.
Let's now take a closer look at its major benefits.
Easily adjust rates and availability for every property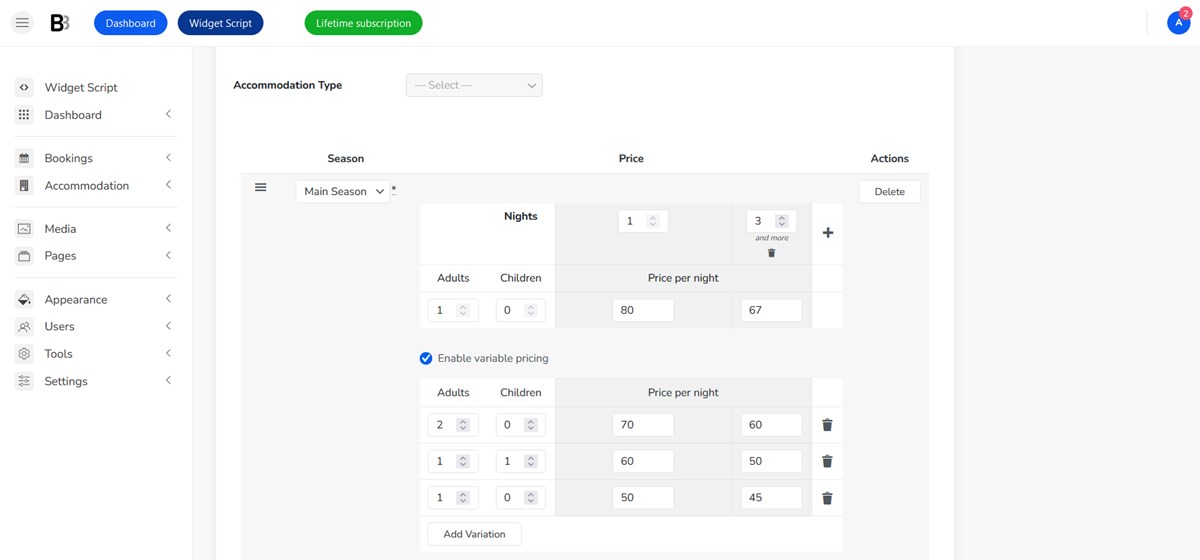 The BNBForms online booking hotel system allows flexible pricing options through the use of tier-based pricing, rates, and discounts.
You can set pricing based on factors such as the number of guests, time of year (holiday period, high or low season), and length of stay.
The discount settings are highly adaptable, enabling you to offer personalized discounts for travelers as well.
Keep track of all bookings, centralized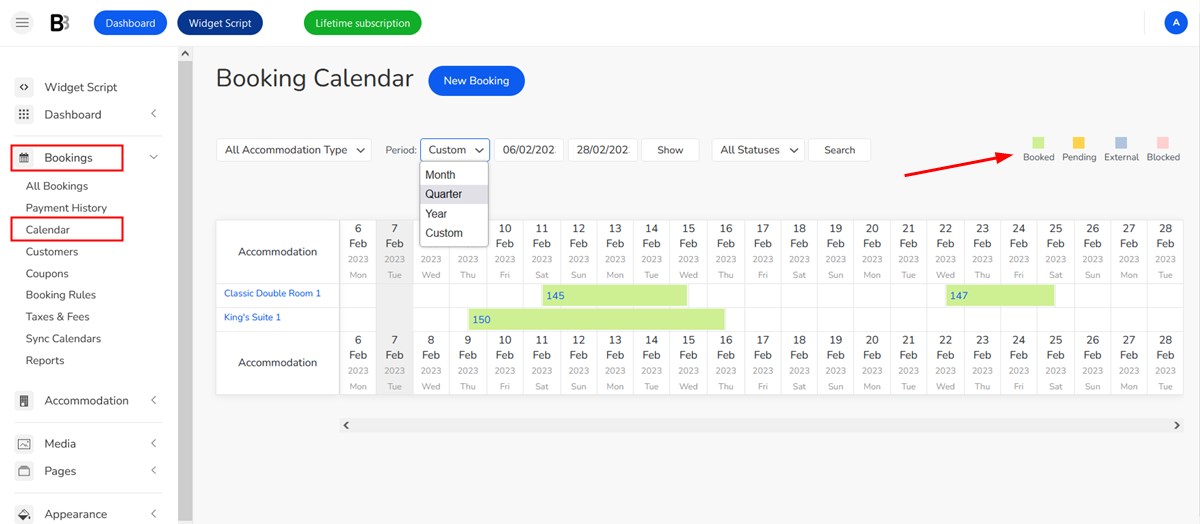 BNBForms allows you to consolidate all reservations in one place, for the ease of management and preventing possible overbookings.
Even more so, there are many ways to view and manage them: in a handy visual calendar with color-coded available and booked days/properties, the bookings menu, where you can go about details of each particular reservation, and more tools.
It's especially helpful for those managing multiple properties and using multiple distribution channels.
Since it facilitates the distribution of availability information across various channels, you can easily connect to online travel agencies to sync availability and focus on revenue from each room.
Multiple bookings for group events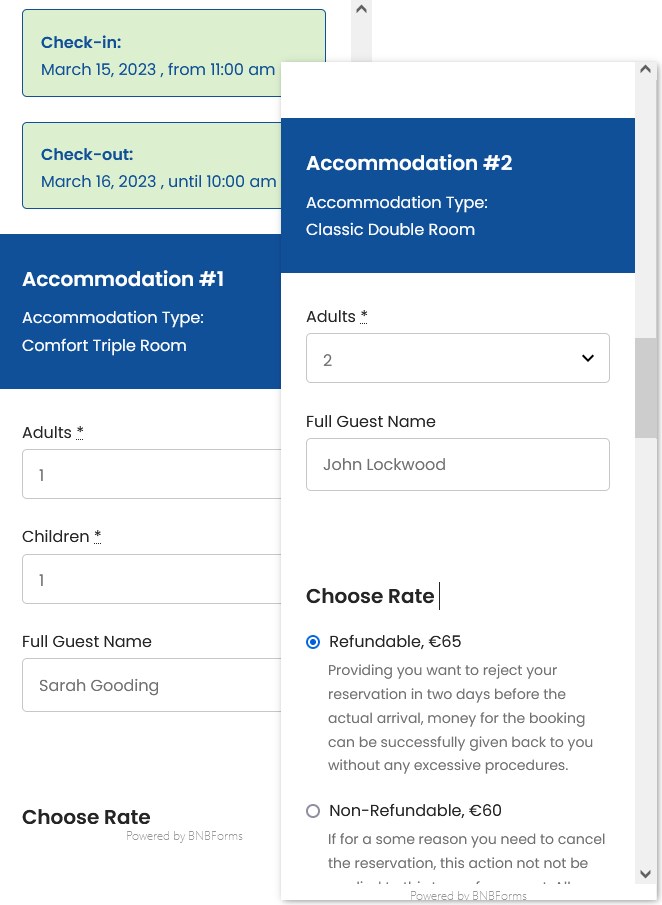 BNBForms is ready to streamline the management of room assignments and group bookings for events like weddings, banquets, and corporate gatherings.
Thanks to the multi-room booking feature you can offer your clients (they can book as many rooms as needed at one go), you can efficiently allocate multiple rooms and update availability instantly, thus avoiding overbooking and maximizing revenue from room sales.
Keep availability up-to-date across channels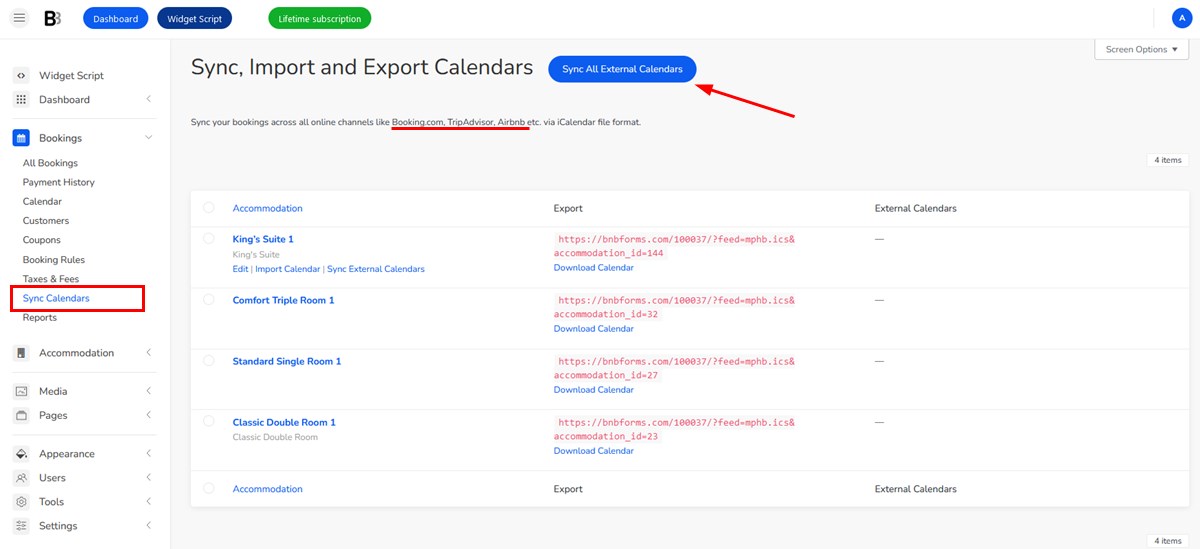 Love them or hate them, Booking.com, Airbnb and other platforms are a massive marketing power, namely, travelers trust them and find them truly convenient.
Domestic and international OTAs are on the rise, embracing change and taking the travel industry by storm more and more.
They're attracting more inbound tourists, revolutionizing the way we book private accommodations and reaching their customers through the power of the internet. OTAs are making their mark, showcasing their ability to connect with travelers and drive demand for unforgettable experiences.
BNBForms also has a simple yet powerful channel manager via the iCal format. So you can easily distribute your hotel rooms across those channels where you list properties while keeping the availability synchronized in your account.
It's a great tool for crafting multi-channel strategies and seeing how they impact reservations. Plus, it helps you keep an eye on market conditions and adjust your strategy accordingly to stay ahead of the trends.
Have confidence in managing cancelations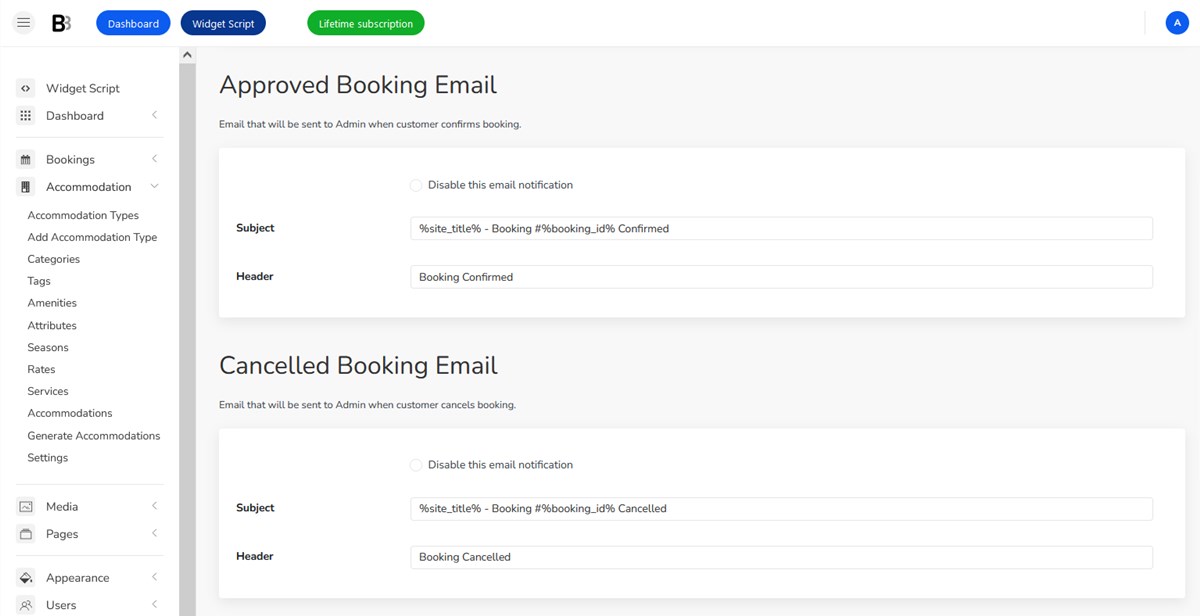 With an independent hotel reservation system integrated via BNBForms, you can also take full control over your cancelation policies.
It's very easy to enable and customize the cancelation options and allow guests to cancel the booking when needed so that you can instantly have the availability of a canceled room back.
Automated messaging and notifications
With BNBForms booking CMS, you can streamline your communication and take the load off your team by automating notifications for all bookings.
It's also easy to customize email templates to match your brand's aesthetic, including color scheme, subject line, and message content.
Payment processing via the CMS hotel booking system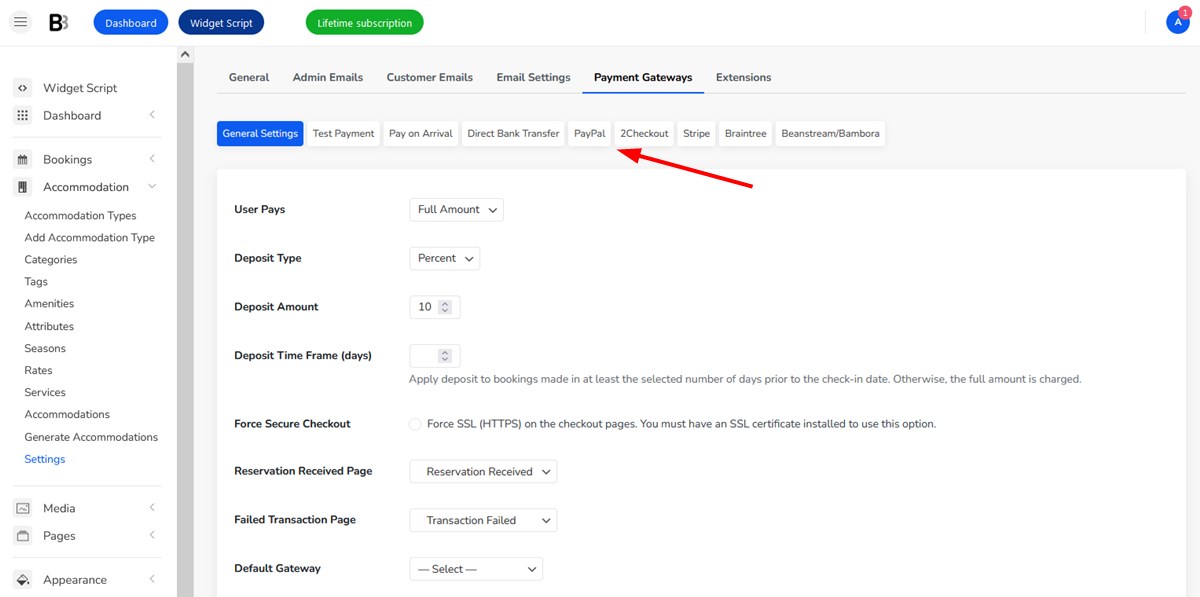 Effortlessly enable globally recognized payment methods through the BNBForms booking widget, providing your guests with seamless booking experiences.
Choose from a variety of options, including PayPal, 2Checkout, Stripe, Pay on Arrival, Direct Bank Transfer, and more, all of which can be activated with just a few clicks – no additional extensions or fees required.
Earn more on selling extra services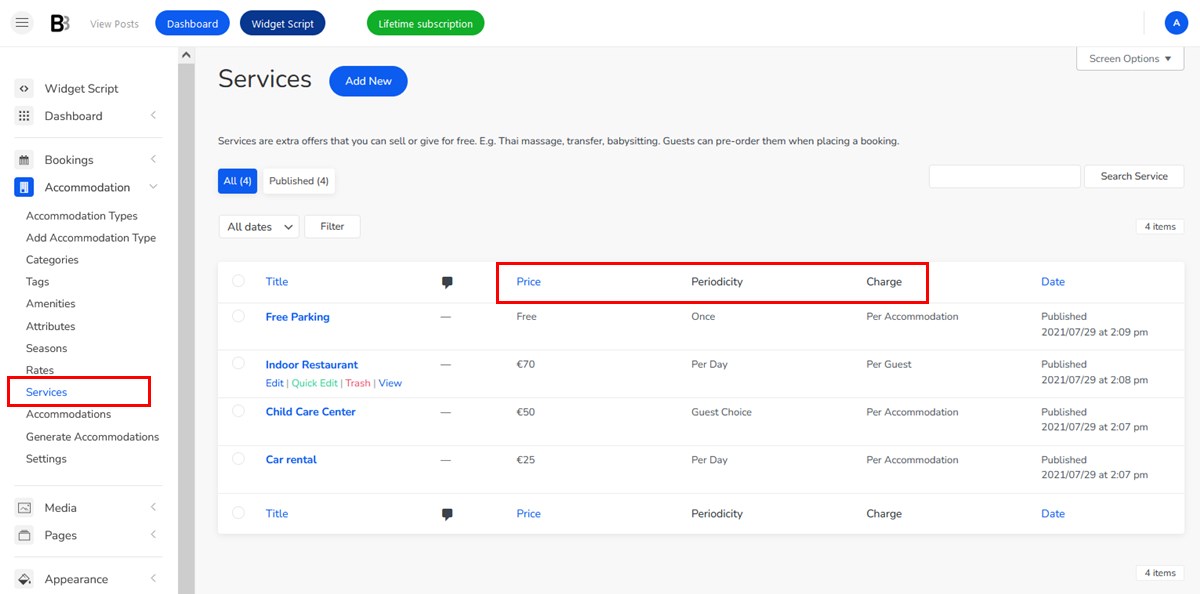 The extras menu allows guests to enhance their reservation by selecting free or fee-based services that you offer at your hotel at checkout.
As the owner, you have complete control over the pricing, frequency of charge, and whether the fee is per guest or per accommodation. The ancillary revenue is just around the corner.
And there are many many more tools that are optimized for the hotel business with BNBForms, but how do you test it?
How to get started with BNBForms booking system for hotel?
Get started with BNBForms and create your free hotel booking form account in just a few simple steps:
Sign up with BNBForms – no credit card information required.
Verify your registration through the link in your email.
Log in with your provided login credentials.
You're all set! The system has preconfigured some key pages and settings that can easily be tailored to your needs.
For every platform, it's going to be a different processes, here are the main ones:
Closing remarks: Get started with a cost-effective booking system for hotel
We've listed the main capabilities and benefits of an independent booking system for hotel, and hopefully, you'll be able to apply them to your business.
Plus, we've covered how easily you can add a booking widget to your existing site and start accepting bookings online.
With the robust capabilities of BNBForms, property managers and hotel owners can easily create comprehensive short-term rental websites, allowing for increased bookings with minimal effort and expense.
BNBForms serves as a versatile rental system that can be used for any type of property, with a single embed code and a full property management platform available.
Try BNBForms today with no upfront cost.