A hotel booking datepicker allows travelers to select check-in and check-out dates right in the calendar. It's intuitive and meets the user's needs.
If you run a hotel website, it's a common practice to integrate a booking form that doesn't just display available and booked dates but also allows travelers to interact with the calendar, such as choose the dates they need and instantly proceed with a booking.
So how do you add a clickable booking calendar to your hotel, villa or bed and breakfast website?
In this brief tutorial, we explain how to do just that on any website using the BNBForms hotel booking system, a universal booking app.
Curated articles for you:
New to BNBForms?
Then we'll explain the basic things about it here.
BNBForms is a web-based hotel software system that allows property owners to list all of their accommodations, from inns to campsites, in one account and accept any number of bookings for a flat fee, with no commissions. It's a modernized app that is built on top of multiple industry best practices supported by hotel use cases.
It takes a single code embed to connect BNBForms to any existing domain and website, whether you are on Drupal, Wix, WordPress, or any other CMS.
With BNBForms, you can turn on direct bookings, manage availability and rates, discounted prices, connect to third-party online travel agents, enable various payment methods, keep records of clients and payments, and so much more.
Whether you're managing one property or multiple accommodations, BNBForms streamlines the entire rental process, never charging you extra fees.
Create an account with BNBForms and start adding your accommodations with images, capacity, pricing, details, amenities to see how it works. You can use it for free for one month – and then pay for your subscription if you like it and want to continue using it.
Among other things, BNBForms adds real-time availability calendars to your site for every hotel room or property. They also function as booking calendars, enabling travelers to secure themselves a place.
Why use a hotel booking calendar with a date picker?
Is it a common use case to integrate a hotel booking calendar with a date picker? The short answer is yes.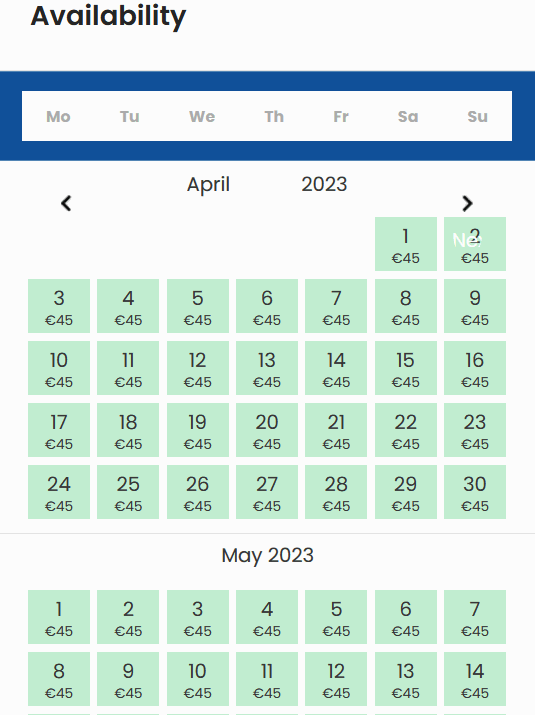 These hotel booking date pickers will let users select a date or a range of dates to specify their arrival and departure times from any device really easily.
And here are some more benefits of adding a clickable calendar to a hotel site:
People simply got used to such functionality, whether they are booking a table in a restaurant, scheduling a meeting, or booking a hotel.
The visual format reduces the likelihood of errors and booking mistakes.
Improve performance and speed the hotel booking procedure on your website.
Increase the number of direct bookings by making your reservation calendar more convenient.
How do I integrate a booking calendar to my website?
It takes the following steps to integrate a booking calendar to your hotel website:
Create an account with BNBForms.
Add your properties and services. Quick start guide.
Establish pricing and booking guidelines.
In the Widget Script section, copy the BNBForms code snippet. (Widget Script – Copy).
Add a code snippet to your site. Tutorials for different site platforms:
After the widget is properly inserted, the Book Now button should appear on your site. If you go through the steps of the booking widget, you can click on View Details in specific rooms or properties and find the real-time availability calendar.
Here is an example in Wix: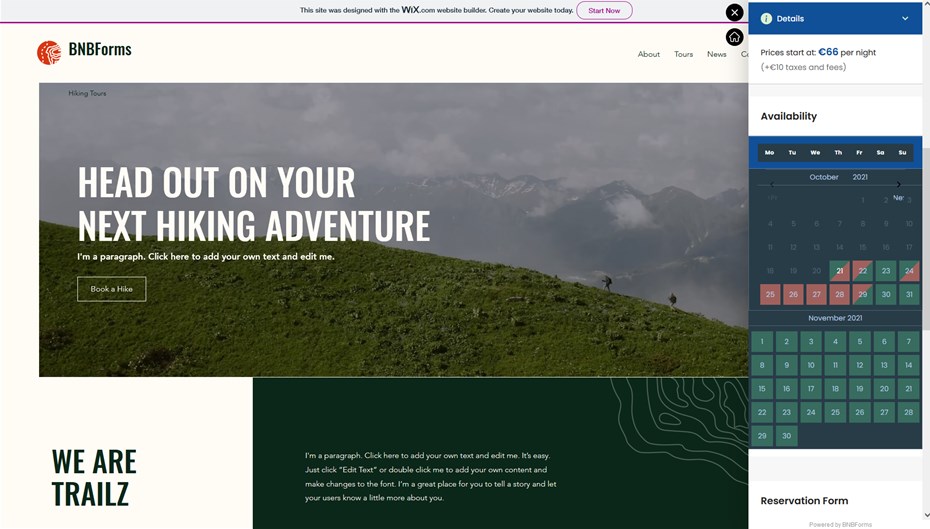 How to make a hotel calendar clickable?
In this section, we're specifically looking at how to make the default availability and hotel booking calendar clickable.
To enable a date range picker for the hotel availability calendar, follow these steps:
Navigate to Accommodation > Settings.
Check the box that says "Skip search results page and enable direct booking from accommodation pages."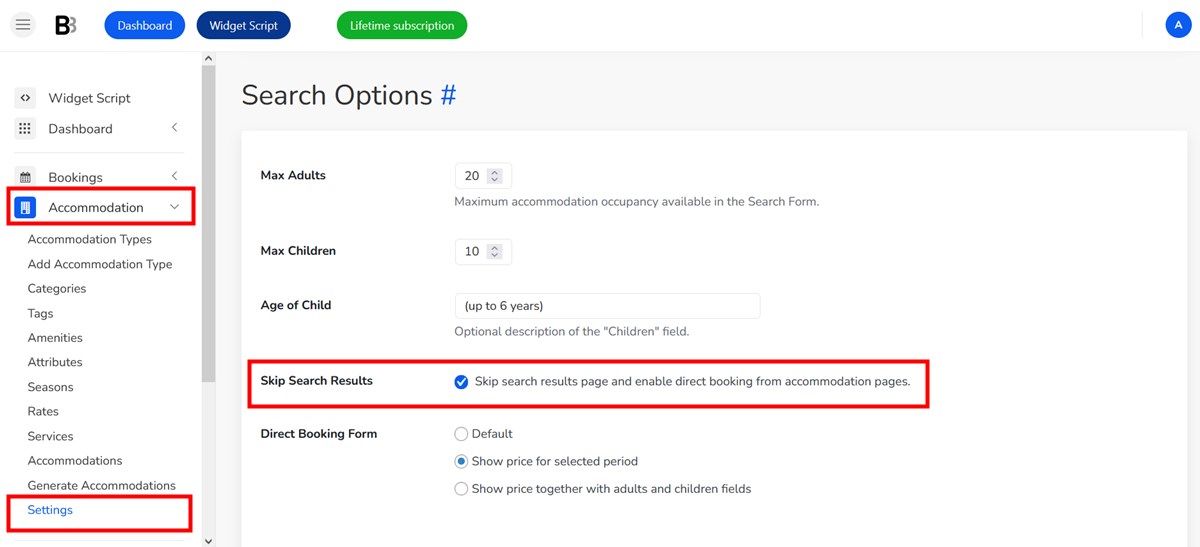 Enabling direct bookings allows guests to book directly from the property page. So it makes sense to make the hotel calendar clickable when reservations are made from individual pages.
When a guest selects dates in the calendar using the hotel booking datepicker, those dates are automatically duplicated in the associated search form.
In the "Display Options" section of the same menu, you can find other helpful settings related customizing your calendar:
Display per-night prices in the availability calendar.
Display the currency sign.
Truncate prices.
To sum up: How to add a clickable calendar to your hotel site?
A clickable booking calendar is much more convenient for travelers as it helps to clearly indicate the current and selected days. This intuitive feature is specifically designed to meet the needs of users and streamline the booking process.
Moreover, with BNBForms, you can easily add a clickable hotel calendar to your existing website, display prices in the calendar, and enable travelers to enjoy a seamless booking process. It takes just one code embed and a few button clicks in the hotel system settings! So why not give it a try?