An original Wix booking calendar you can see in your Wix dashboard works only for appointments.
But you want to accept bookings on Wix for a hotel or short-term rental property website, right?
You can do that easily using our BNBForms service.
It's important to highlight that the BNBForms booking calendar is not native to Wix and operates as a third-party addon, but it will work for hotels, while the Wix booking calendar in your dashboard is optimized for hourly appointments in the first place.
Despite the fact that Wix offers multiple templates for hotels, it's not so easy to establish a dedicated booking system and drive direct reservations.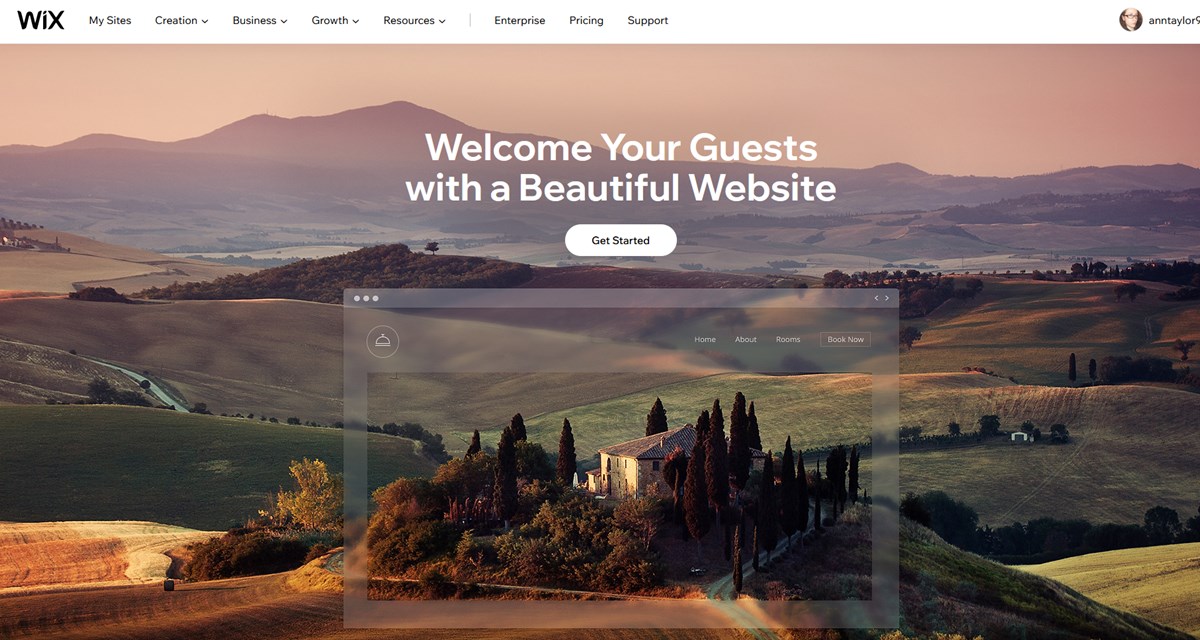 So, if you are looking to add a Wix booking calendar for hotels, we're going to guide you through the main steps of how to do that with BNBForms.
You'll see that it's as easy as embedding a piece of code to your Wix website. This code will create a fully-functioning booking widget, a Wix booking calendar and availability calendar for all accommodations you might use (hotels, vacation rentals, campsites, pet boarding entities, etc.).
Note! You can add the BNBForms booking widget to the already existing Wix website, with a connected custom domain name.
What is BNBForms? In questions & answers
Let's start with making it clear what the nature of this solution is.
What is BNBForms?
It's a service for short-term rental owners who want to automate direct accommodation bookings on their websites (and optionally sync bookings to online travel agents like Booking.com).
How does it work?
To start, you create an account with BNBForms and add all your accommodations with their rates, details, capacity, services, payment systems, etc. Having done that, you copy a specific code generated for your website and paste it to your Wix. This will create a mobile-friendly booking widget and availability calendar on your existing website. Get ready for bookings to pour in!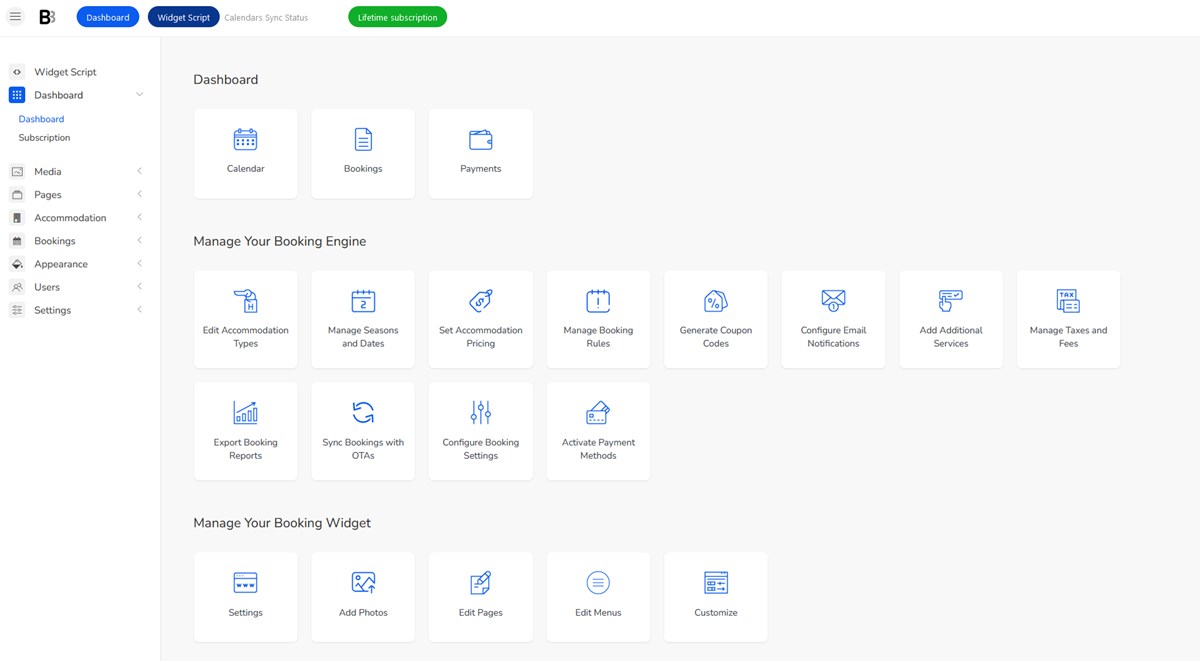 What is required to start using it on your Wix website?
You need to have an up-and-running Wix website with a custom connected domain name. That's it!
How will you manage bookings and clients?
In your private BNBForms account.
What payment methods are available?
To enable your clients to pay online, you can use PayPal, 2Checkout, Stripe, Braintree, Bambora, direct bank transfer, and payment on arrival methods free of charge. Deposit and full payments are supported.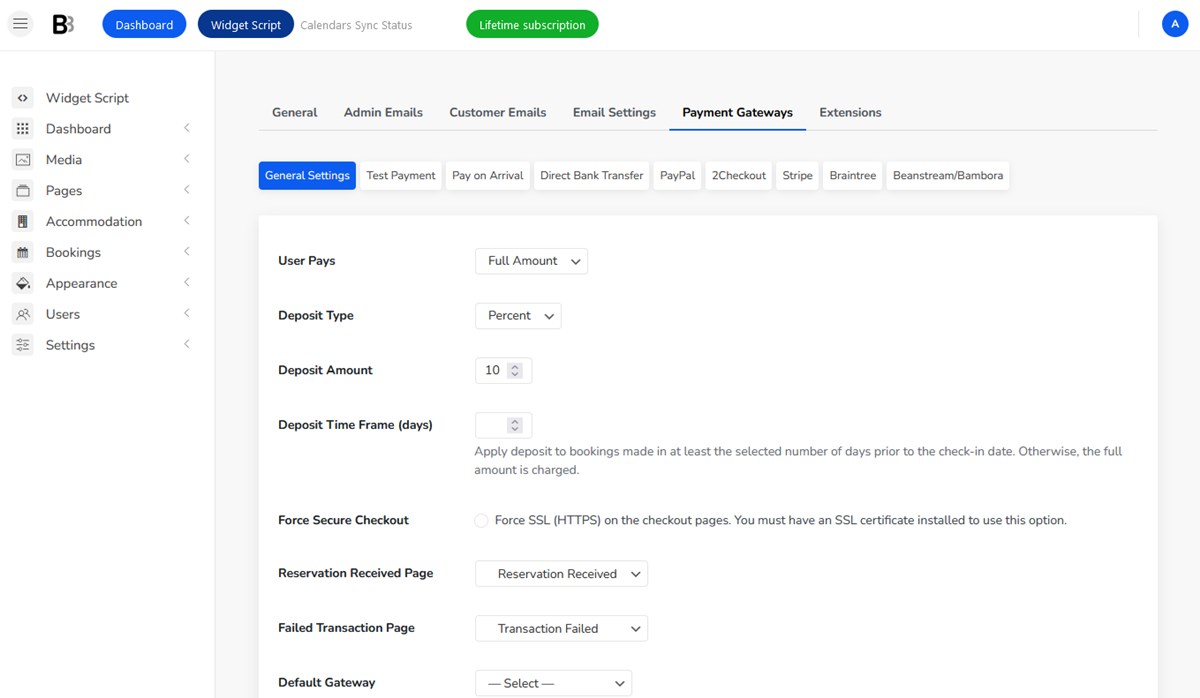 What pricing strategies are available?
You can differentiate prices and rates for your properties based on how long the guest is staying, the number of people, amenities available, as well as whether the discount coupons are used. There are tons of tax and fee settings, plus various booking rules to build individual pricing strategies for properties.
Can you connect the booking calendar for website to Airbnb?
Yes, and to other platforms, aka OTAs (online travel agencies) that support iCal. There is a built-in channel manager you get with BNBForms. Sync all your site bookings with multiple third-party websites and have all bookings centralized under one roof.
Can you customize the look of the Wix booking calendar for hotels?
Yes, BNBForms allows you to change all the colors, rename or remove search filters as well as add new ones.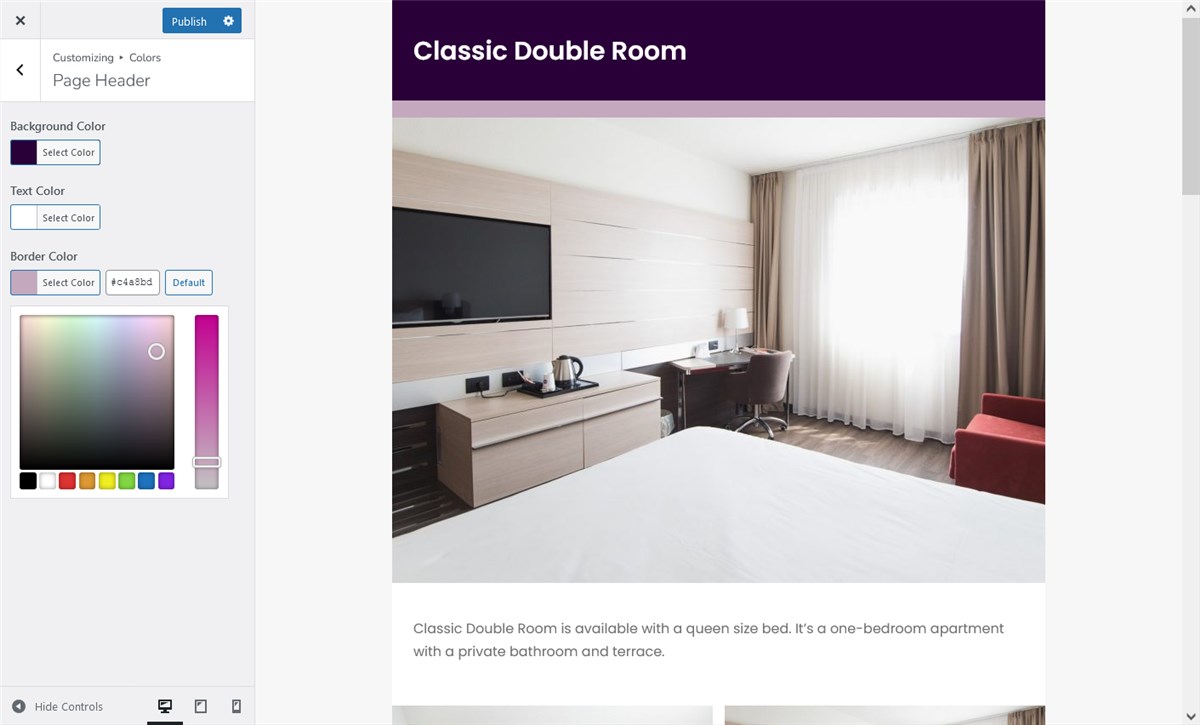 What's the cost?
It's free for a month. After that, it's $16/month, no commissions for properties or bookings. Just one fixed price.
How to create an account?
Just fill in the form and confirm your intention via email. No credit card information upfront. You pay only if the service meets your needs.
Now we are ready to move on to the next step. It's telling you how to make the Wix calendar booking work on your website.
How to add a Wix booking calendar for hotels?
So how do you add booking calendar to Wix?
Before you proceed, make sure you copied the BNBforms code in the Widget Script section (Widget Script – Copy).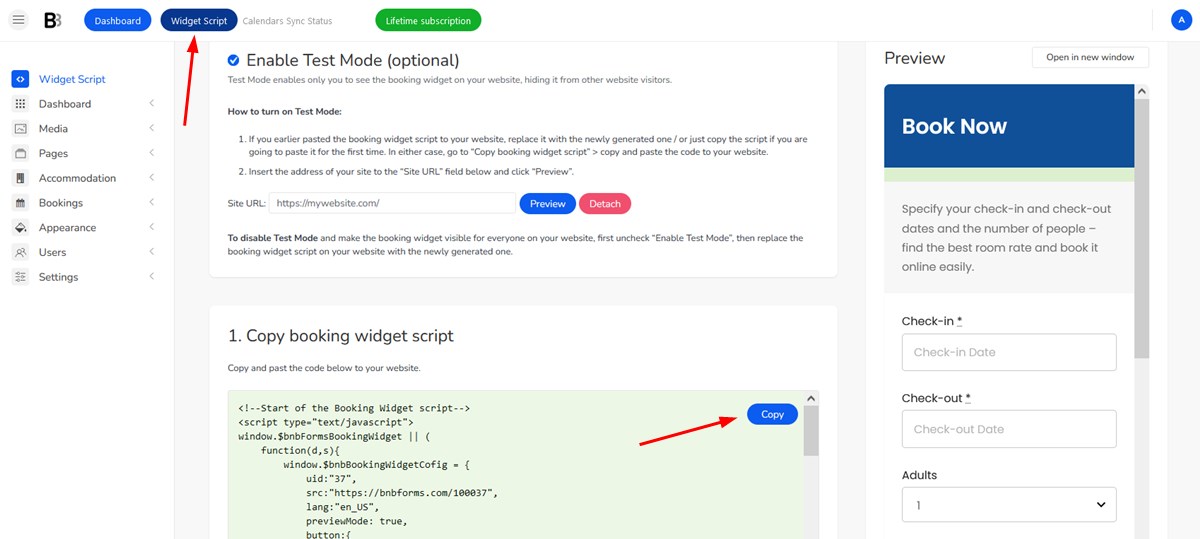 Go to your Wix Dashboard > choose Settings from the left-hand panel > Advanced > select Custom code.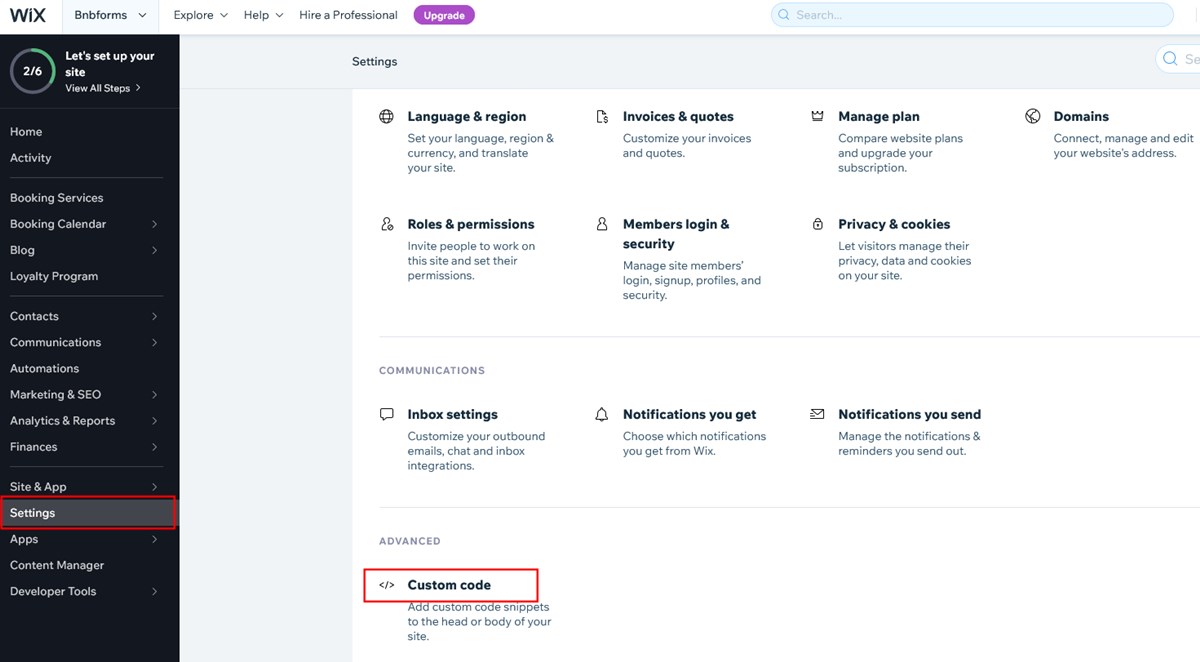 2. Click on the "+ Add Custom Code" button.
3. Paste the BNBForms code snippet in the text box in Wix.
4. Name your code and choose where to paste it.
5. Save the changes – this should add the widget to your website.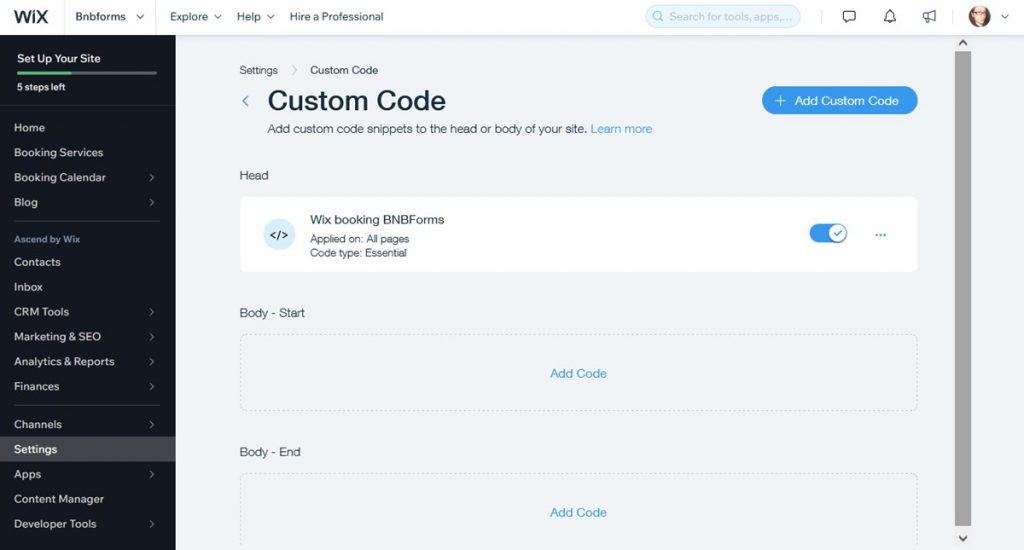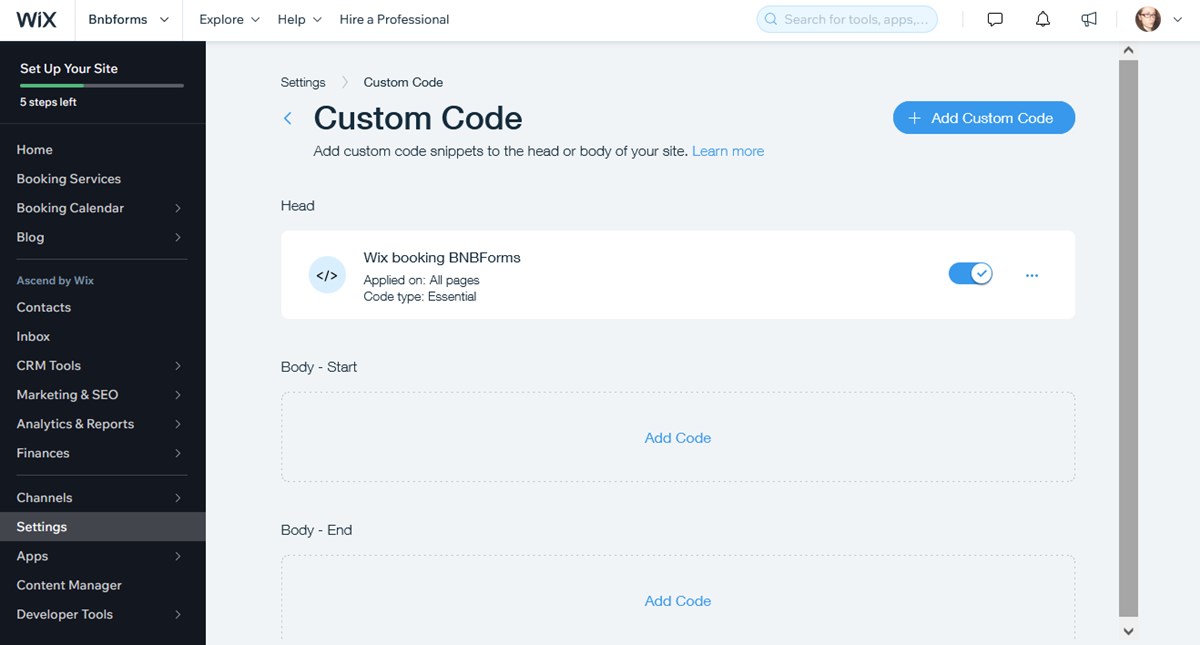 6. Go to your Wix Dashboard > Site & App > Website > Edit website > Preview. The Book Now should be added to your website.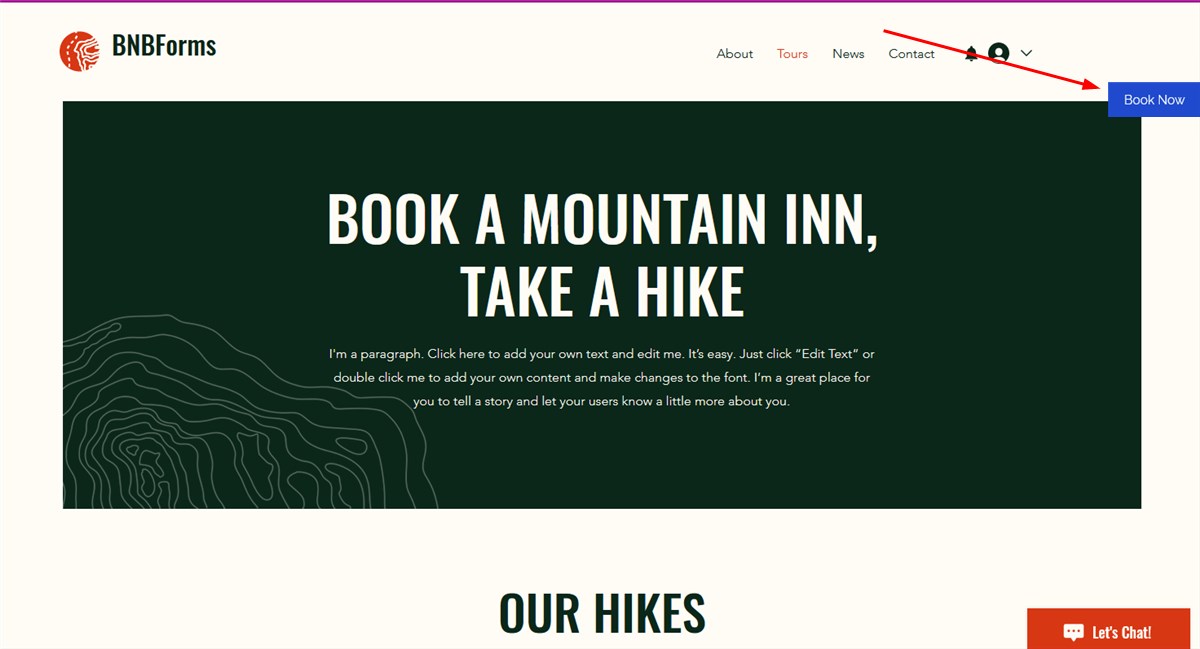 People can search for the property using a handy arrival/departure and the number of guests fields.
Still you can change these filters or add more ones.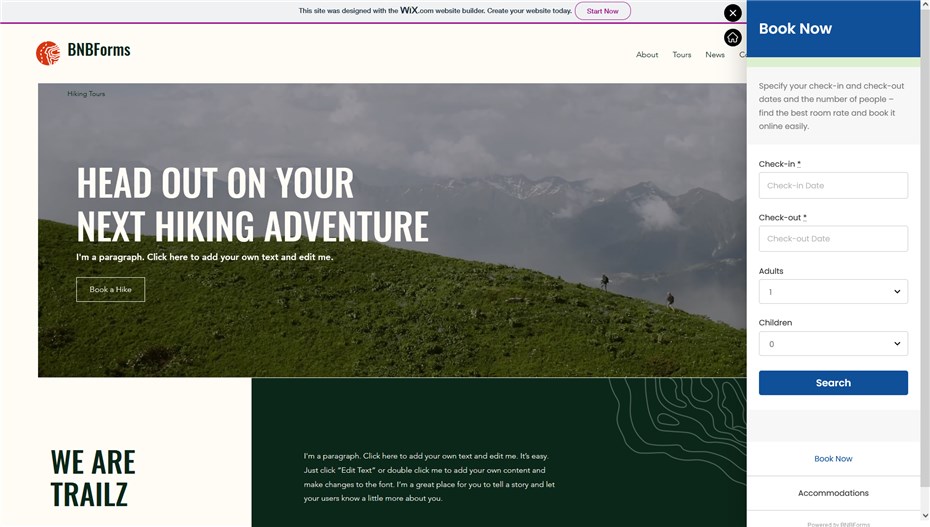 They can also see all available rooms or houses, browse individual availability calendars and property details.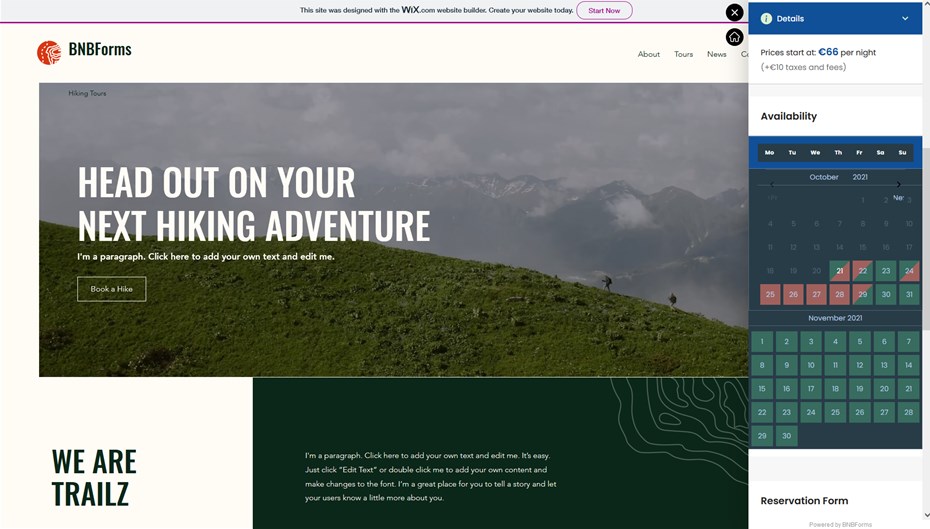 On the final page, a guest must provide their contact details and choose the rest of the preferences, for example, opt for a desirable rate, add extra services to their reservation, etc.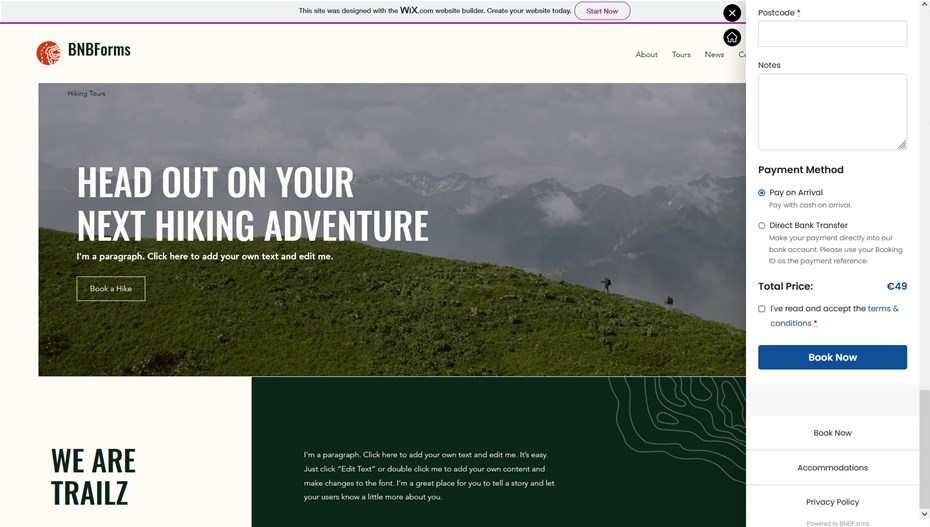 If you want to use online payments on your Wix hotel website, guests will be able to choose the most suitable one and pay instantly for their reservation, a full cost or just a deposit (based on what you offered).
It's that awesome!
See the BNBForms in action to see how it will work on your website.
See the BNBForms dashabord in details.
Manage bookings & clients
All the bookings you get via the website are recorded with the client details, booking status, payment information, and more. You can edit details of each booking, such as switch a property or dates, add or delete services.
In addition to reservations made online on the website, you can add bookings to your dashboard by hand, if a guest contacted you in a way other than via your website.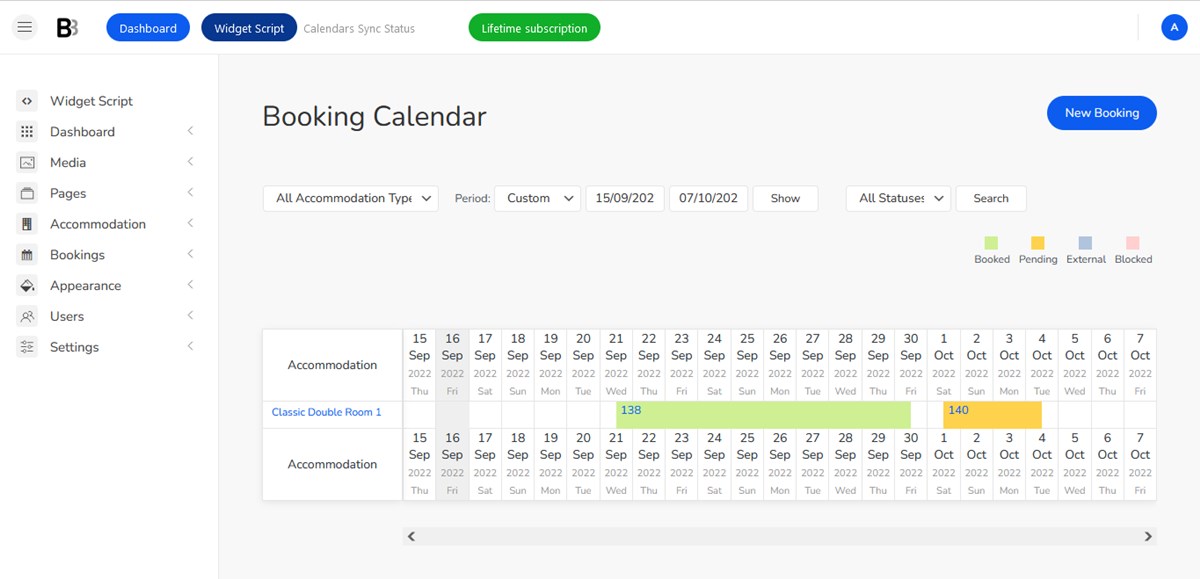 It's easy to view bookings in the administration calendar, they are color-coded and every one can be opened for details.
There are tons of intuitive tools to manage bookings and clients via the dashboard, including the ability to add payments done later after arrival, edit client details and booking statuses, viewing the history of interaction with a client, adding extra notes, and more.
It's worth mentioning that all emails associated with the interactions with clients are automated, too, you can brand them and customize their content.
You can analyze your booking activity
Via the dedicated Reports menu provided by BNBForms, it's easy to see and analyze your business performance in numbers, including bookings, clients, revenue, etc.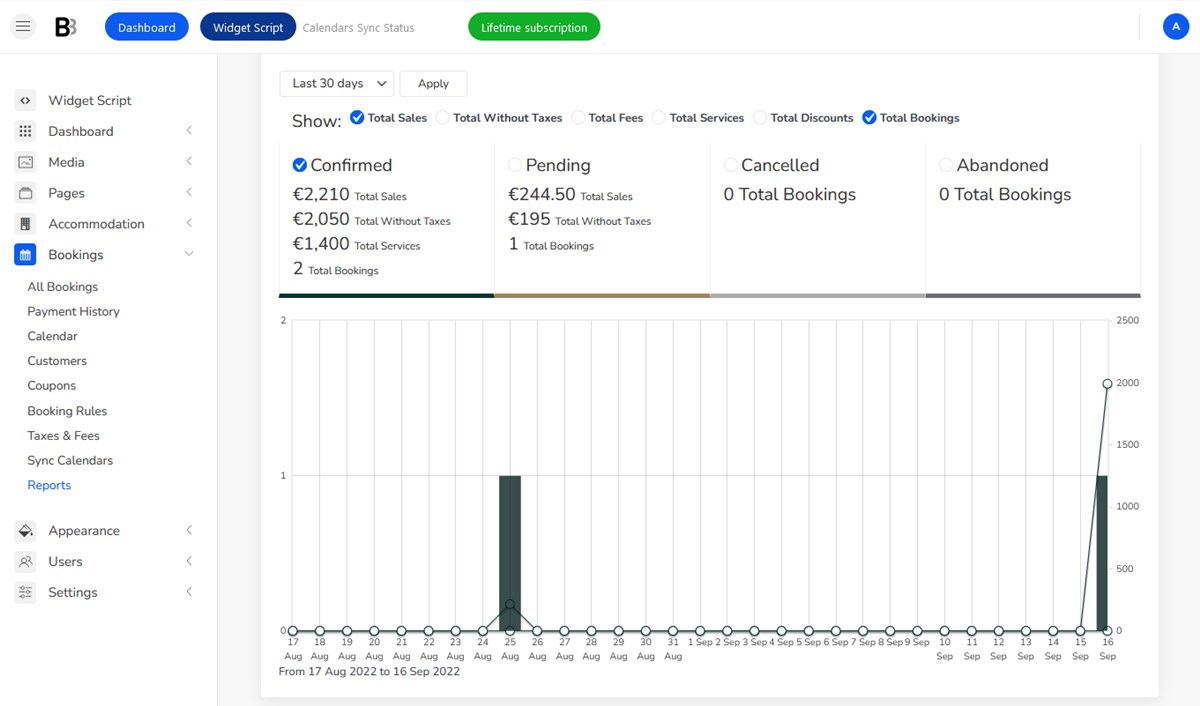 To further study this insightful data, you can download all the reports in handy formats and print or analyze using extra tools and apps.
And this is just a brief walk-through! Tons of other useful options and possibilities of driving more revenue and bookings to your Wix hotel website are awaiting with BNBForms. Why not try it, it's free.