Are you a hotel or rental property owner keen to add booking forms to your website? No matter which CMS your site is based on, we have a versatile solution for you! This article has got you covered, as you'll learn how to embed a reservation widget for website step-by-step. It is provided by BNBForms.
What is BNBForms?
First things first, let's point out which software we're going to work with. BNBForms makes it easy to arrange an online fully-operating hotel booking system on your website. It enables you to manage unlimited properties, show real-time availability calendars, accept payments online, and sync bookings with third-party travel platforms.
You get not only a WordPress hotel reservation widget but the widget that integrates with any CMS you use: WordPress, Wix, Squarespace, GoDaddy, Shopify, etc. This way, your guests will be able to make a reservation via a responsive booking form right on your website.
You can find detailed information on each of them by reading our blow-by-blow guides:
Since BNBForms is a subscription-based service, you and your guests don't have to pay any commissions on properties or bookings. The fixed subscription cost is $119 per year. What's more, there is a one-month free trial to check whether BNBForms suits your needs.
So, once your website is built on one of the site-building platforms, start using BNBForms right away!
Note that BNBForms and its booking forms work for units rented out for at least 1 night.
Get Started with BNBForms
While dealing with BNBForms to integrate a hotel booking widget for website, you need to create a personal account. Take the following simple steps to do that:
2. In your inbox, you'll find the link you should follow to confirm your email address.
3. Use the received credentials to log into your account.
4. That's it! You'll see pre-crafted system pages and sample data in the BNBForms dashboard. Delete or just edit them – it's up to you.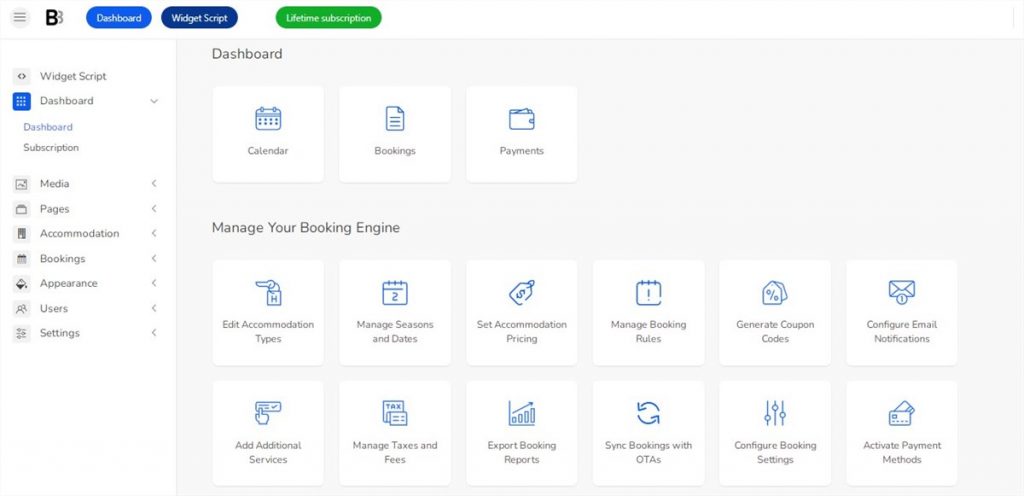 How to Add BNBForms Booking Forms to a Website?
Before adding a hotel reservation widget, you should come through some setups. In this guide, we've included the main steps only.
Add Unlimited Rental Accommodations
In the 'Accommodations' tab, add rental units of any type, including their description, photos, category, bed types, and more details.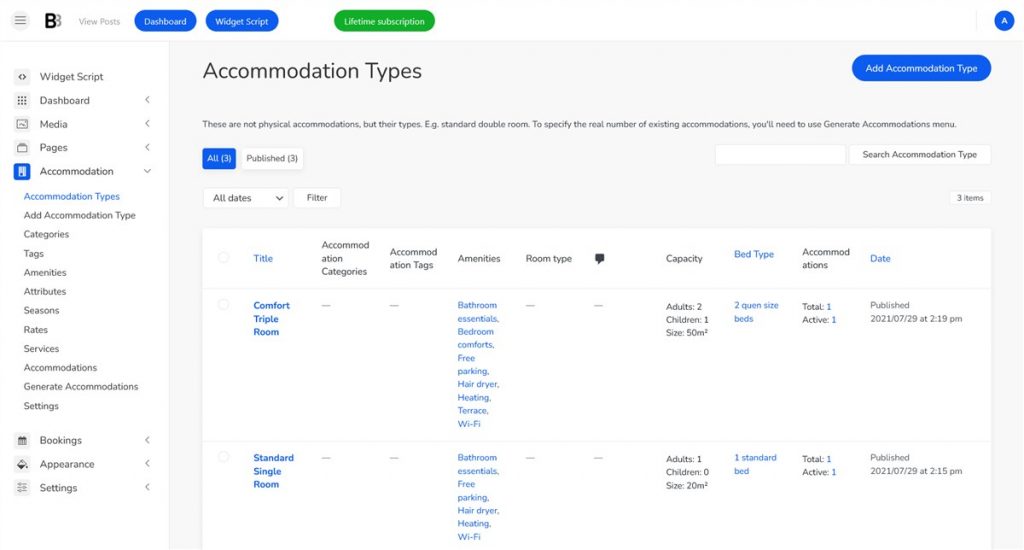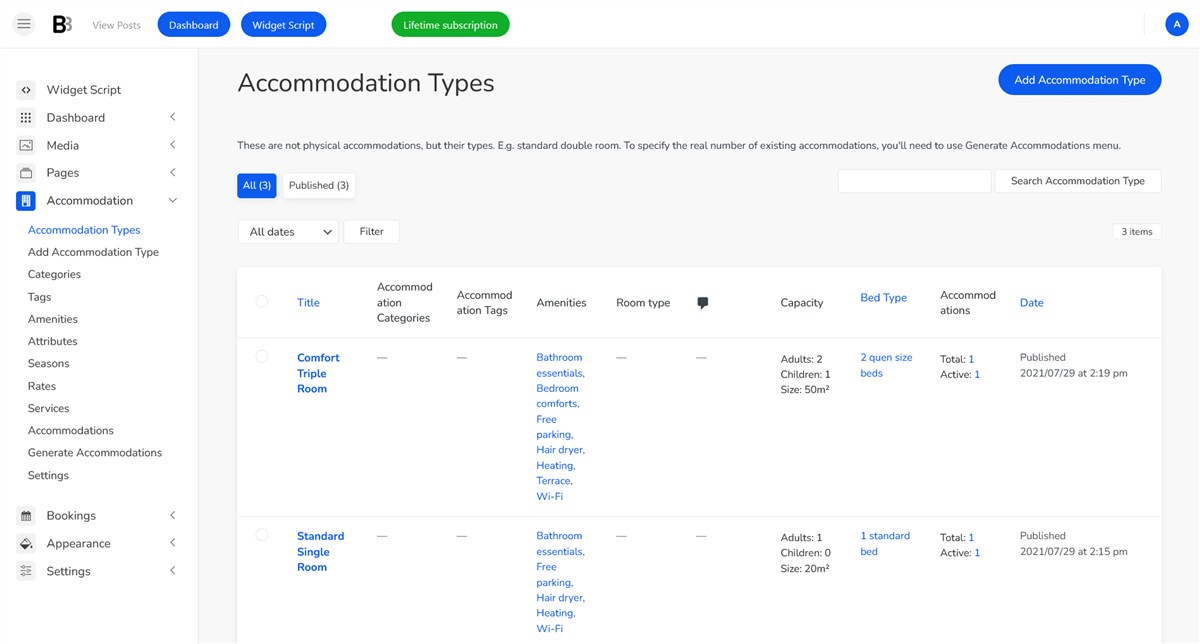 BNBForms lets you specify paid & free extras (parking, car rental), amenities (towels, Wi-Fi, heating, etc.), and property capacity (adults/children). Also, it's possible to add a custom field to display all the required information.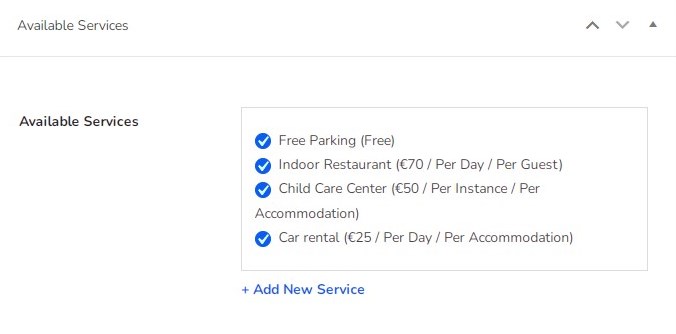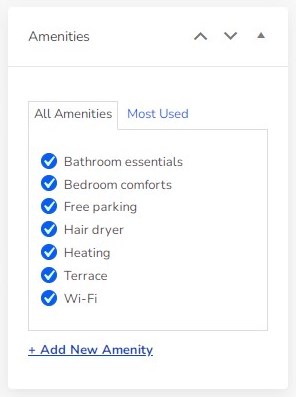 Add Seasons
Go to the 'Seasons' menu to create seasons before setting up rates. For example, weekends, summer, main season, etc.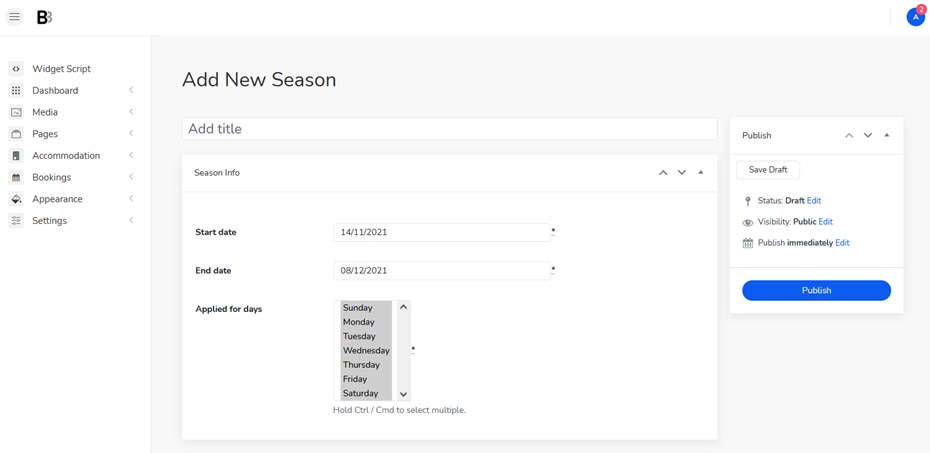 Set Up Rates
At this step, you are free to configure dynamic rates based on the season, extras not included in the property rate (e.g., breakfast), the number of guests, or stay duration.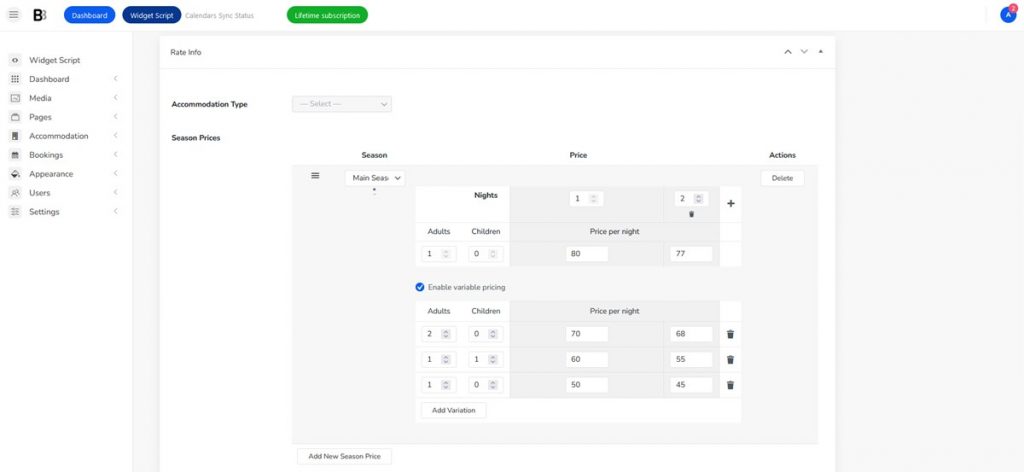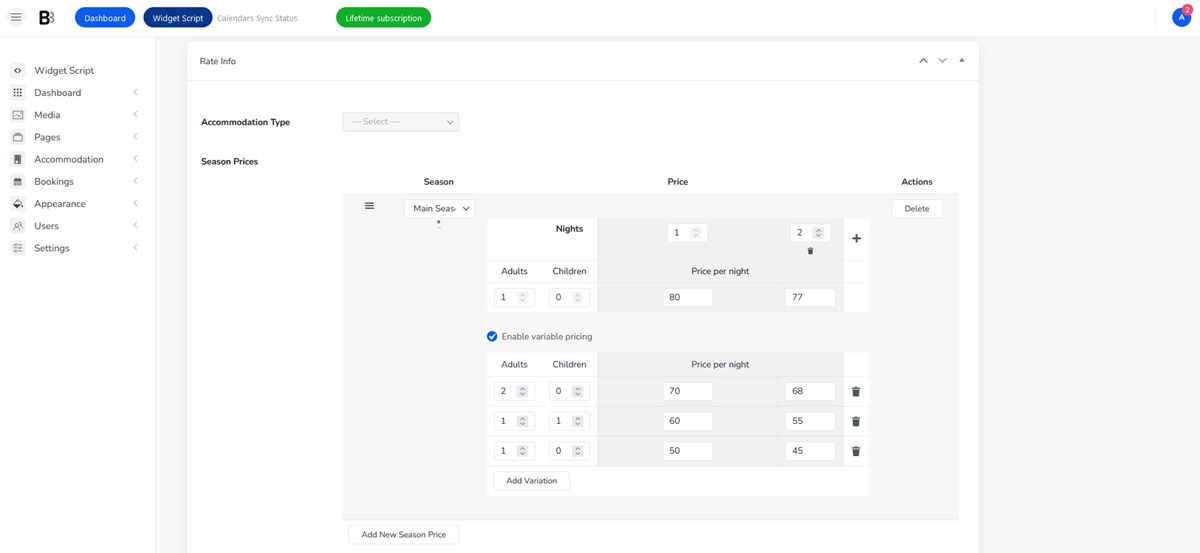 BNBForms makes it possible to add custom coupon codes and offer discounts to your guests.
Add Taxes & Fees
If necessary, you can include taxes and fees to the property cost and inform guests about them. These charges will be displayed at checkout in the price breakdown table.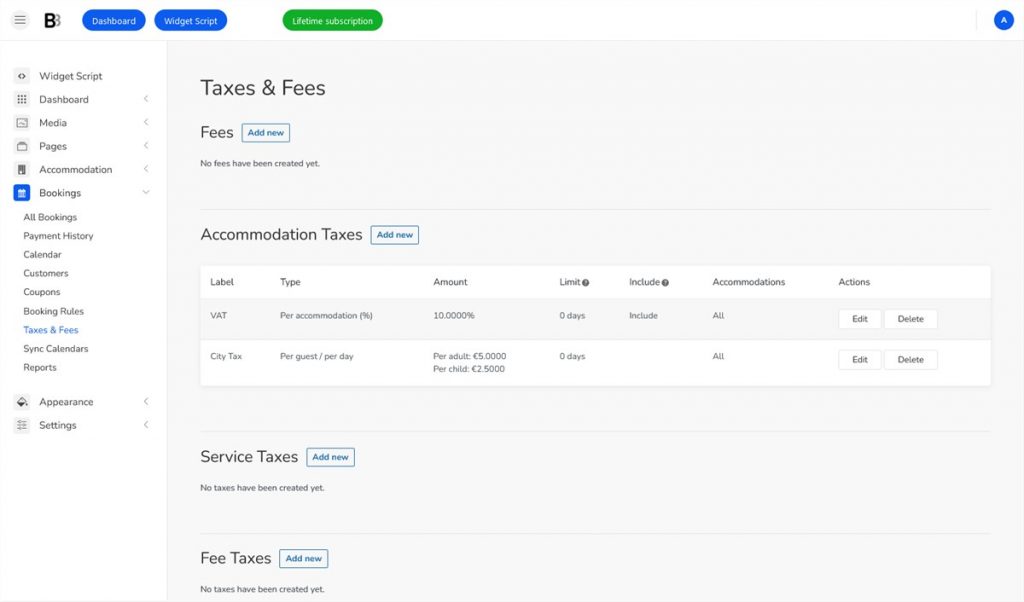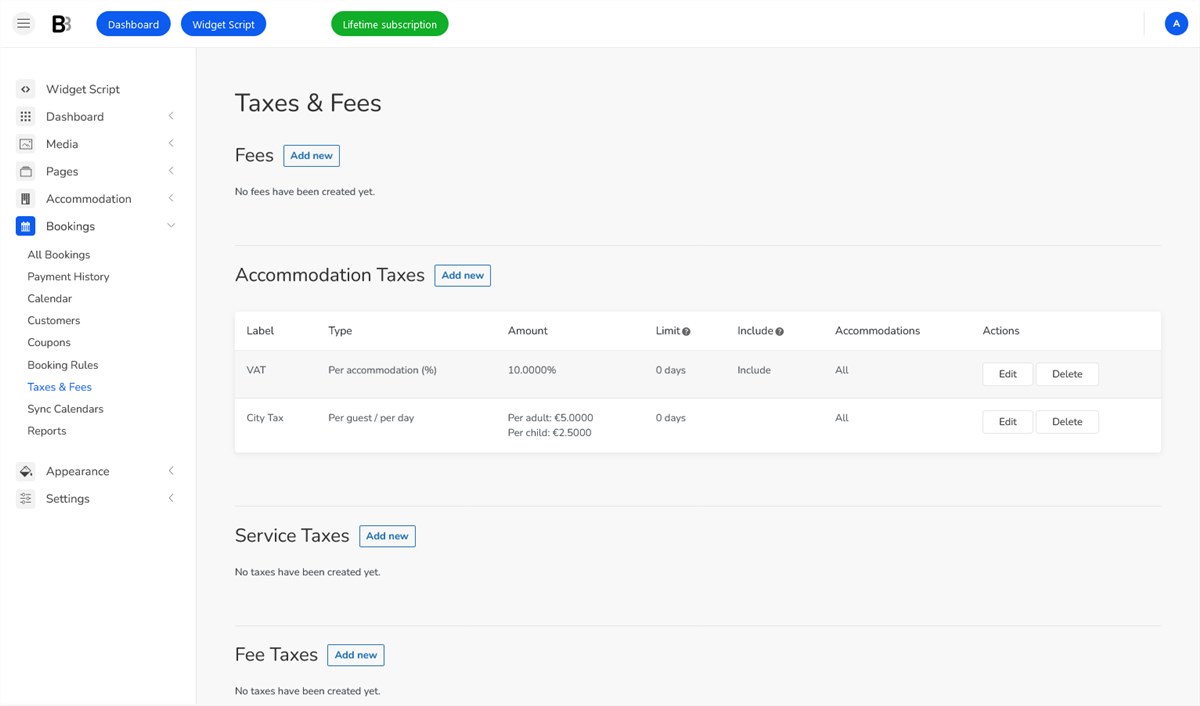 Enable Payment Gateways
Go to Accommodation > Settings > Payment Gateways. Then, choose and set up the needed gateways: Pay on Arrival, Direct Bank Transfer, PayPal, 2Checkout, Stripe, Braintree, and Beanstream/Bambora. Thus, you'll make the step with payments available in the booking widget for website you enhance.
Also, there is a Test Payment option to check how the gateways work on your website.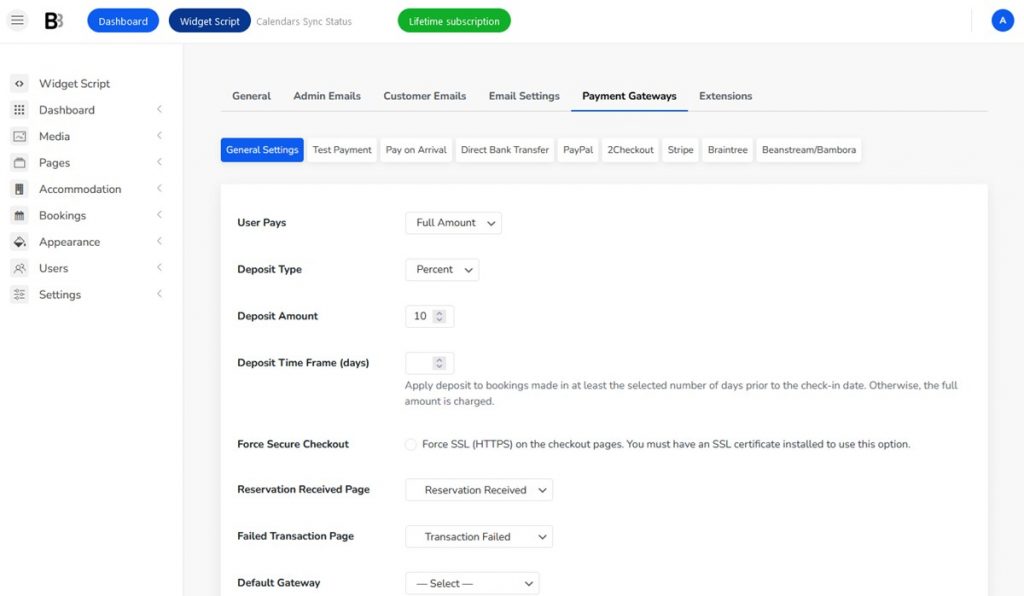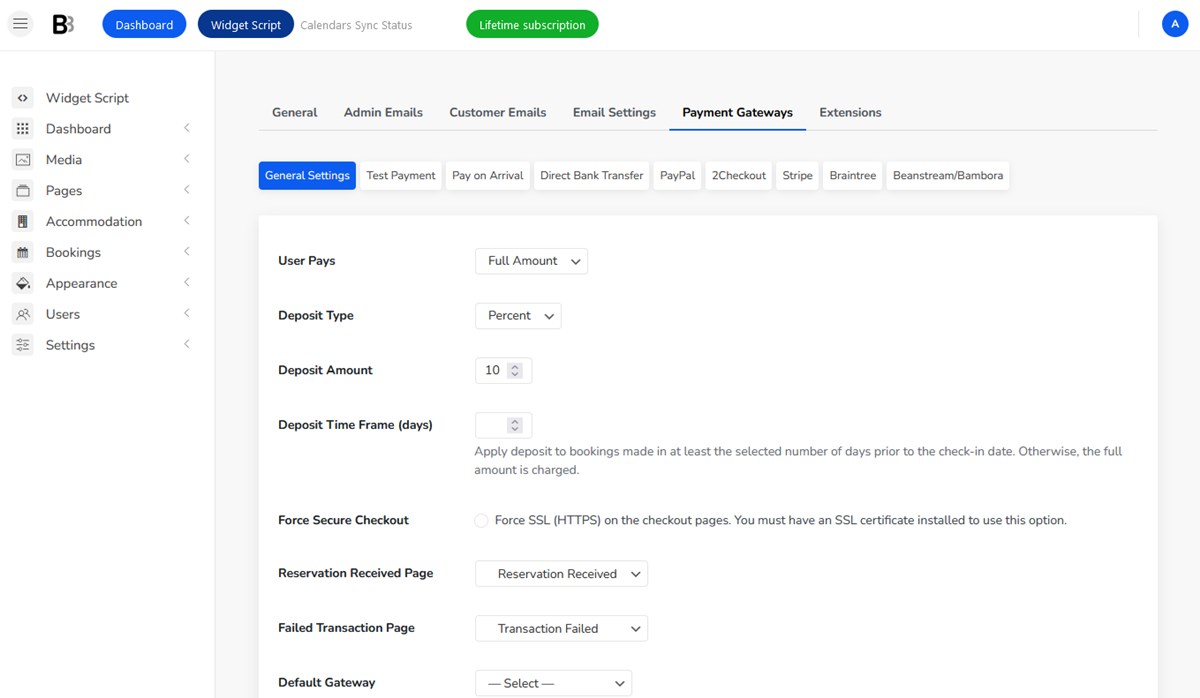 Select a Confirmation Mode
The BNBForms system offers you three booking confirmation modes to choose from:
Manual confirmation by admin.
Confirmation by a customer via email.
Automatic confirmation upon payment (full/deposit, fixed/percentage).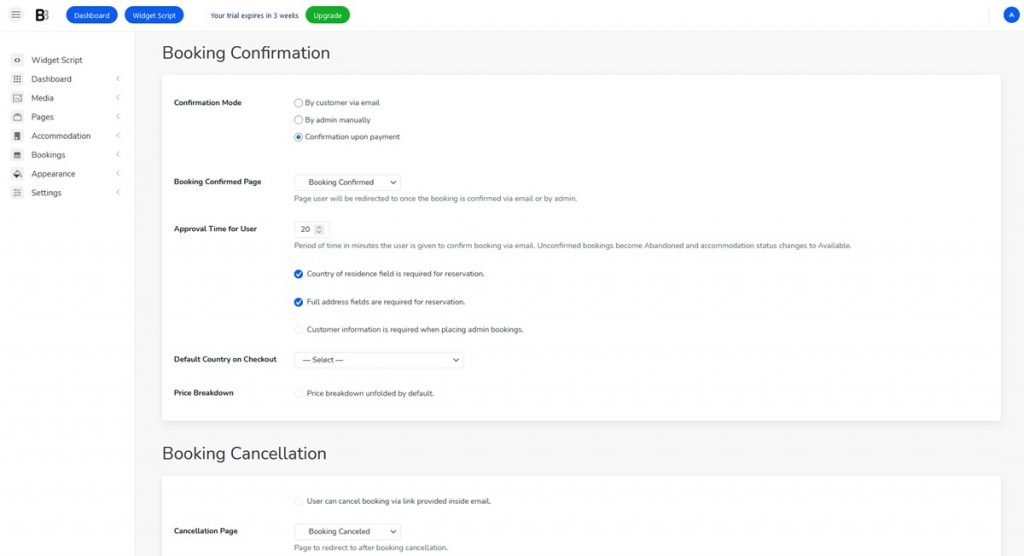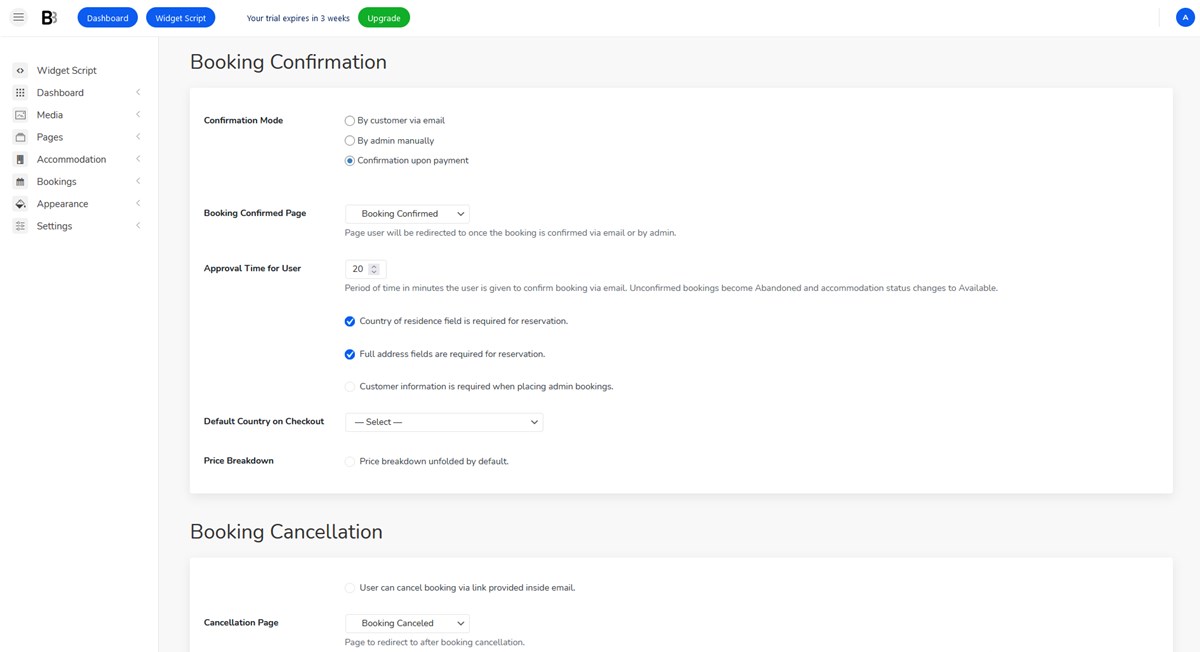 Customize the Email Templates
If you go to the Settings tab, you'll find pre-made email templates sent to admins and customers. You can use them or create your own. It's easy to edit their headers, subjects, colors, and other elements to make branded emails.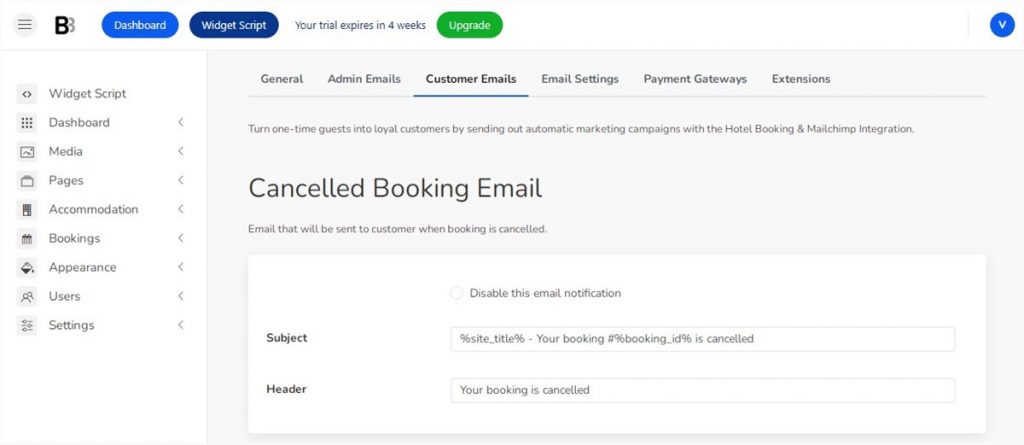 Configure Booking Synchronization
With BNBForms, you'll be able to sync availability data with that received from other channels' booking forms – OTAs, such as Booking.com or Airbnb. This feature helps you avoid overbooking across all platforms that support iCal because synchronization is nearly real-time. The minimal frequency is 15 min.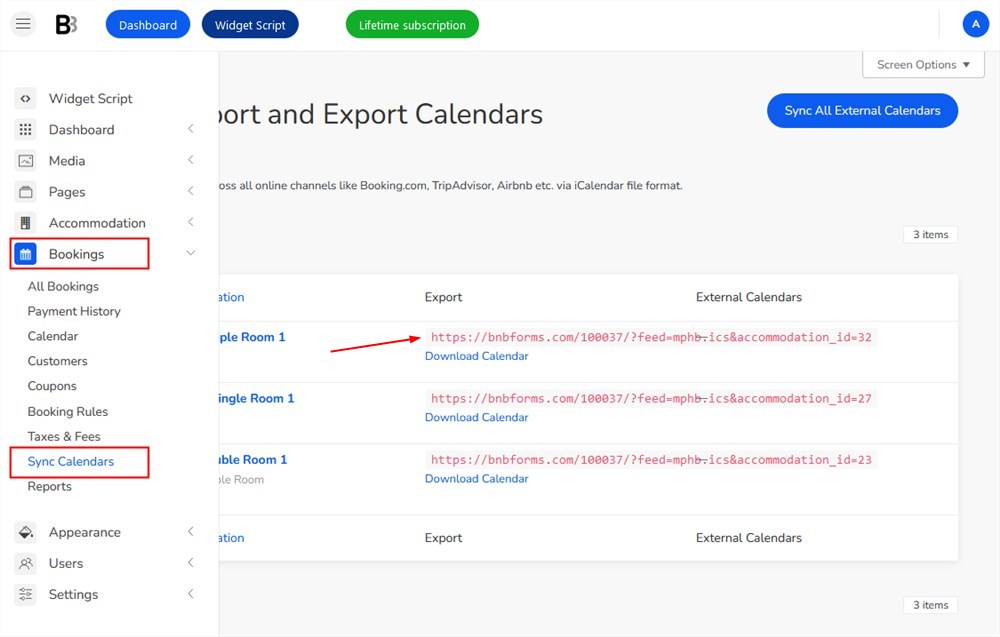 Also, you can connect your website to Google and Apple Calendars applications to get notifications about bookings right there.
Set Up Booking Rules
You're allowed to set booking rules for your rental property:
Arrival and departure periods by default;
Minimum and maximum days to stay in;
Or even block booking for selected rooms for a certain period.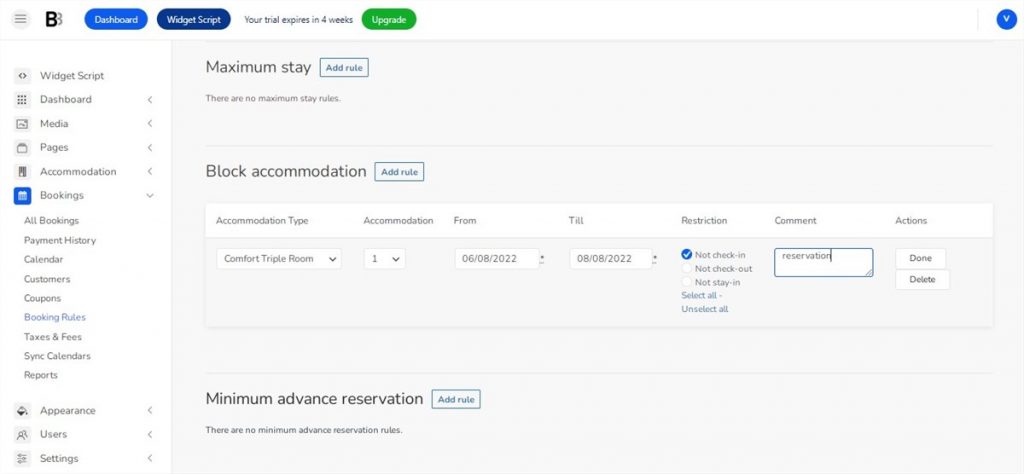 Customize a Mobile-Friendly Search Property Form
It's possible to use the standard search property form or create a custom one by:
Editing children's age;
Removing any field except for arrival and departure time as they are compulsory;
Deleting the "Children" field if needed;
Changing labels from "Adults" to "Guests";
Adding custom fields.
Add a Hotel Booking Widget
Once all the settings are configured, you are ready to generate a code and paste it into any section of your hotel site.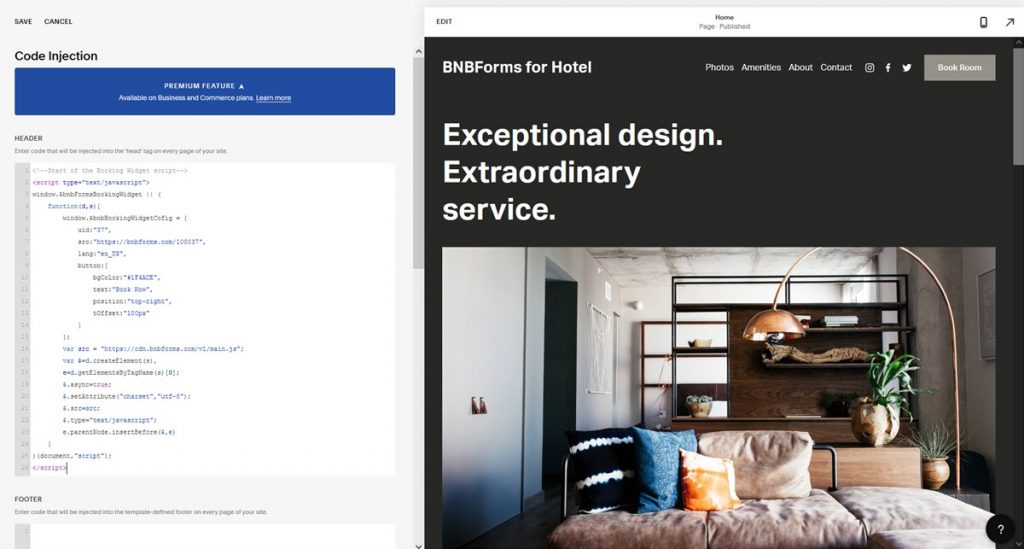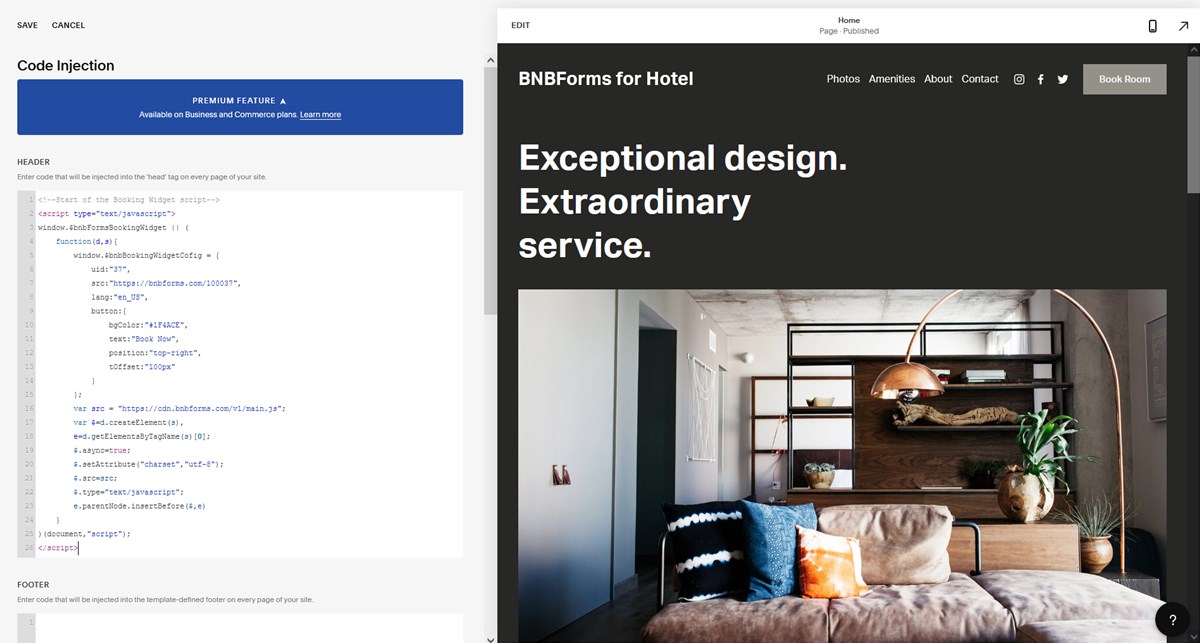 Thus, you create a responsive hotel booking widget to add to website sections where the "Book Now" button appears.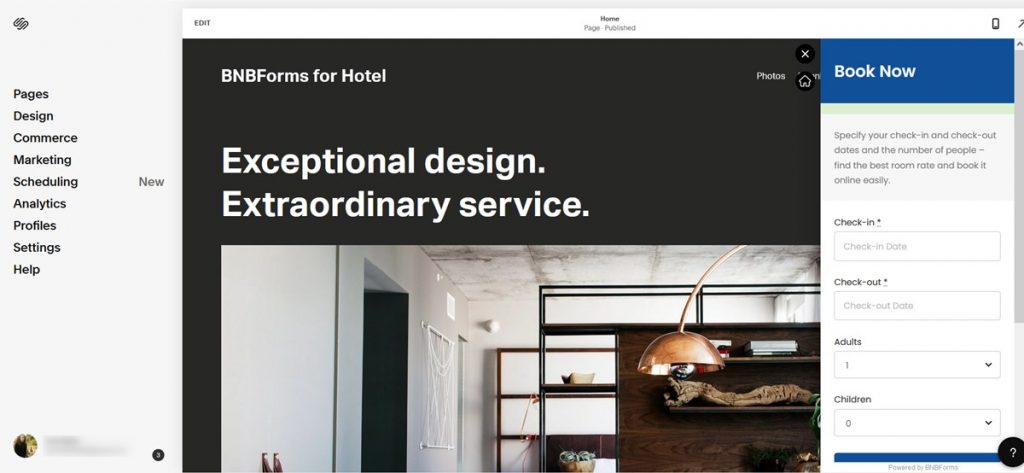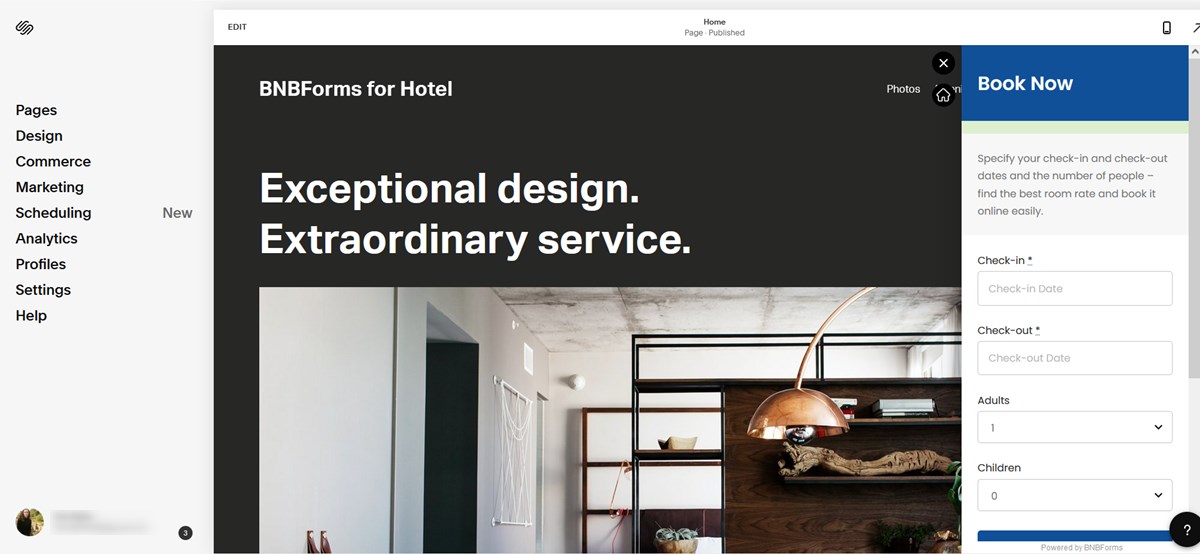 Feel free to customize BNBForms widget colors to fit your site's style. You may use dedicated tools such as Canva.
There is a booking widget demo to check how it looks.
Manage Bookings from the Dashboard
There are several sections to manage bookings in the BNBForms dashboard:
View a centralized admin calendar and search bookings applying different filters;
Check the payment history of every booking;
Or add new bookings manually.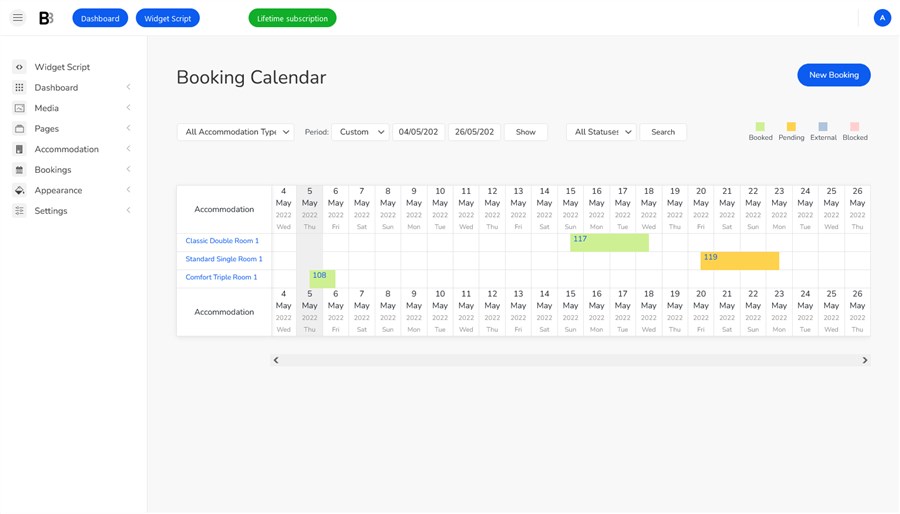 In the Reports menu, you can track your revenue from accommodations or services during certain time frames. It takes a few clicks to export the reports in CSV format to any device.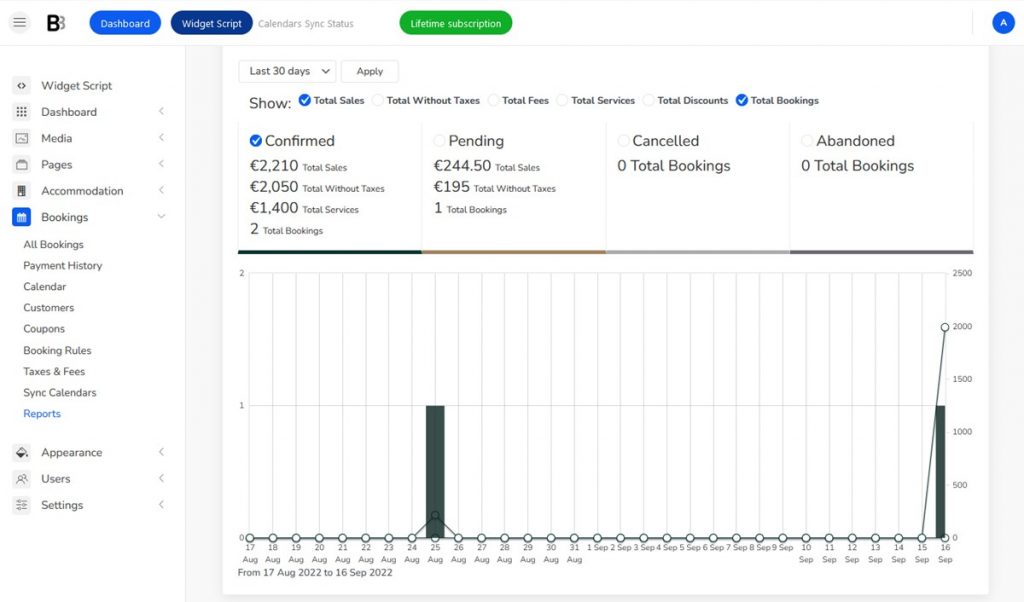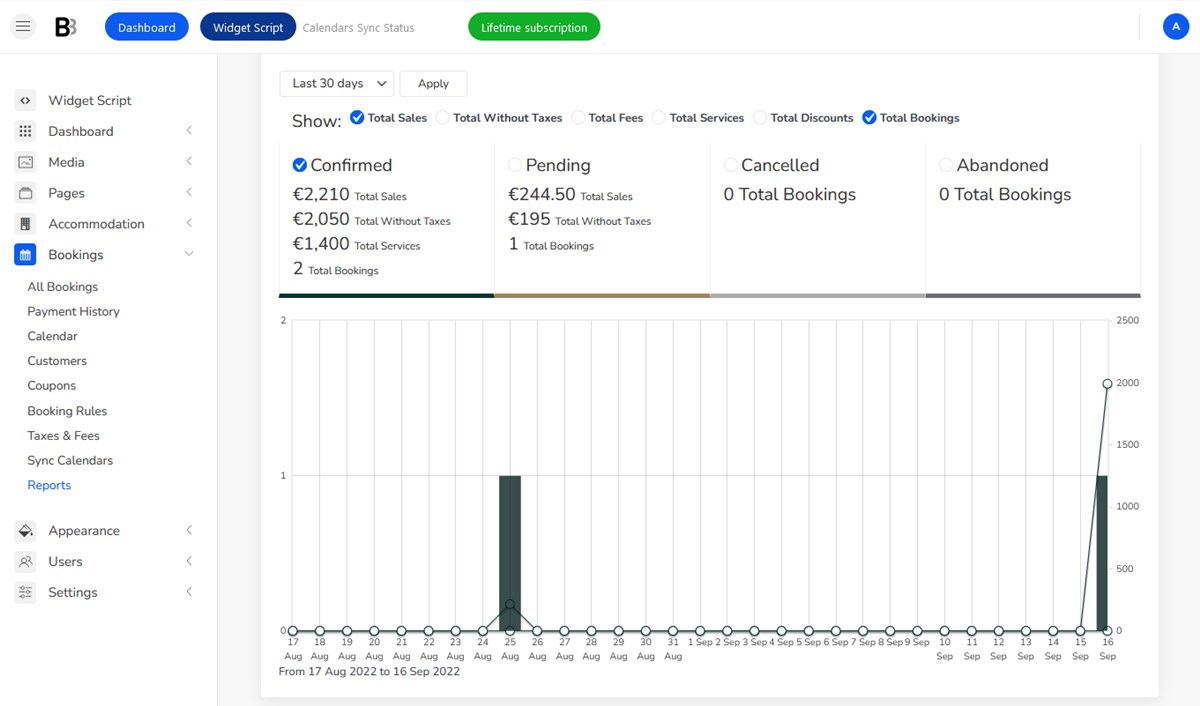 Conclusion
So, BNBForms lets you integrate a hotel booking widget Wix, WordPress, Squarespace, Drupal, or any other website-building platform works with. Even more so, you can build a fully-featured hotel booking system.
Do you want to be independent of third-party companies and drive direct reservations? Get started with BNBForms right now and try out a free booking widget for website available for one month during the trial period!