In the latest release of BNBForms 4.7.0, we have introduced numerous new features that matter to hotel and short-term rental owners. These features are aimed at streamlining your workflow as a business administrator and at the same time simplifying the booking process for your guests.
In this update article, we will be discussing how you can enhance your booking calendar by adding a date picker, access additional settings for the direct bank transfer method, create early-bird and last-minute discounts, and automate payment request links.
We will provide you with a detailed guide on how to access these settings through the BNBForms dashboard.
So let's take a closer look at these features and show you how to utilize them to their fullest potential.
Free download resources for you:
Introducing a clickable booking calendar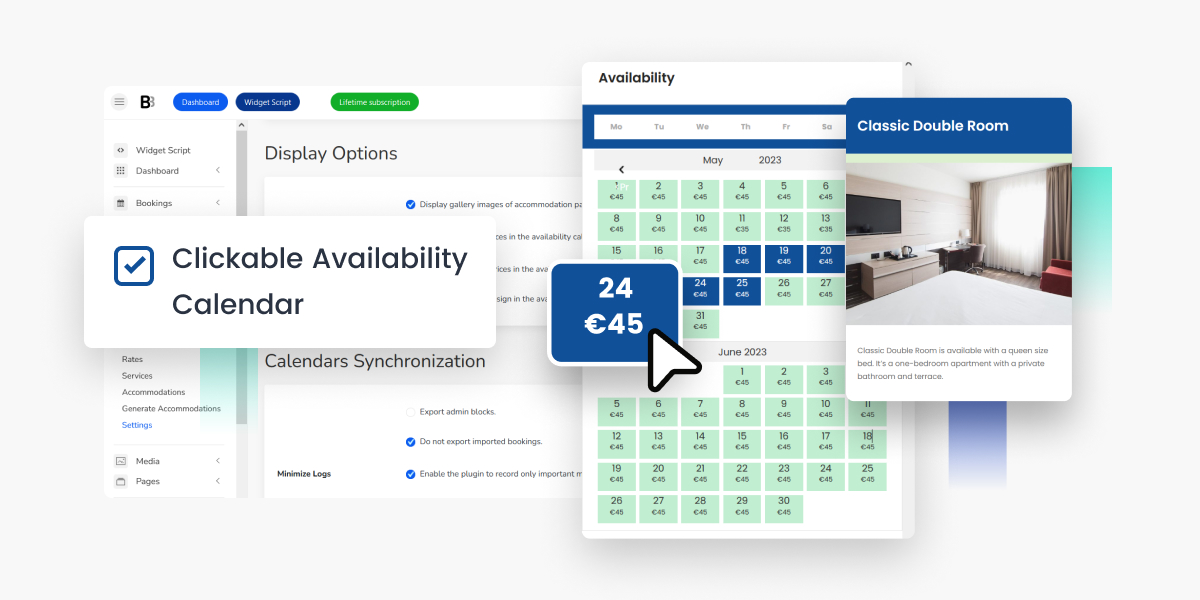 We've added a date picker tool that lets your to-be guests click on a calendar to choose a date range for their booking.
By using a clickable booking calendar on your website, you can minimize the chances of errors and booking mistakes for guests, while also expediting the hotel booking process.
It actually takes just one configuration in your BNBForms backend – you need to enable direct bookings, which means enabling guests to book directly from individual accommodation pages.
For this, Navigate to Accommodation > Settings > Check this option: "Skip search results page and enable direct booking from accommodation pages."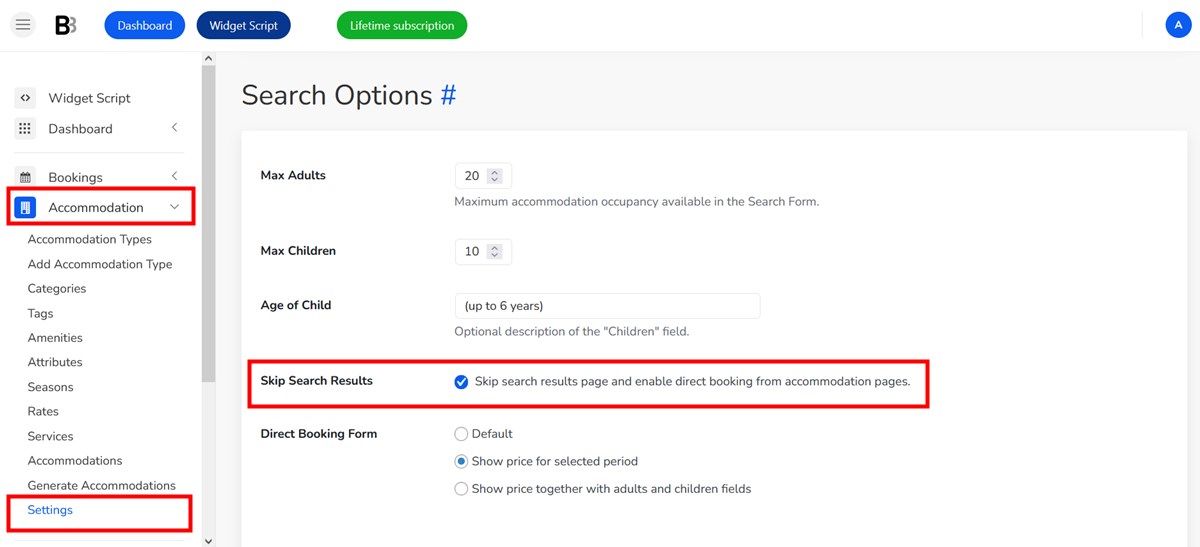 This will make an availability calendar on individuals property page details interactive and clickable.
You can also go to the "Display Options" menu to apply even more customization settings to your booking calendar, such as:
Display per-night prices in the availability calendar.
Display the currency sign.
Truncate prices.
Read a more detailed tutorial on how to make a calendar clickable in BNBForms.
Better direct bank transfer method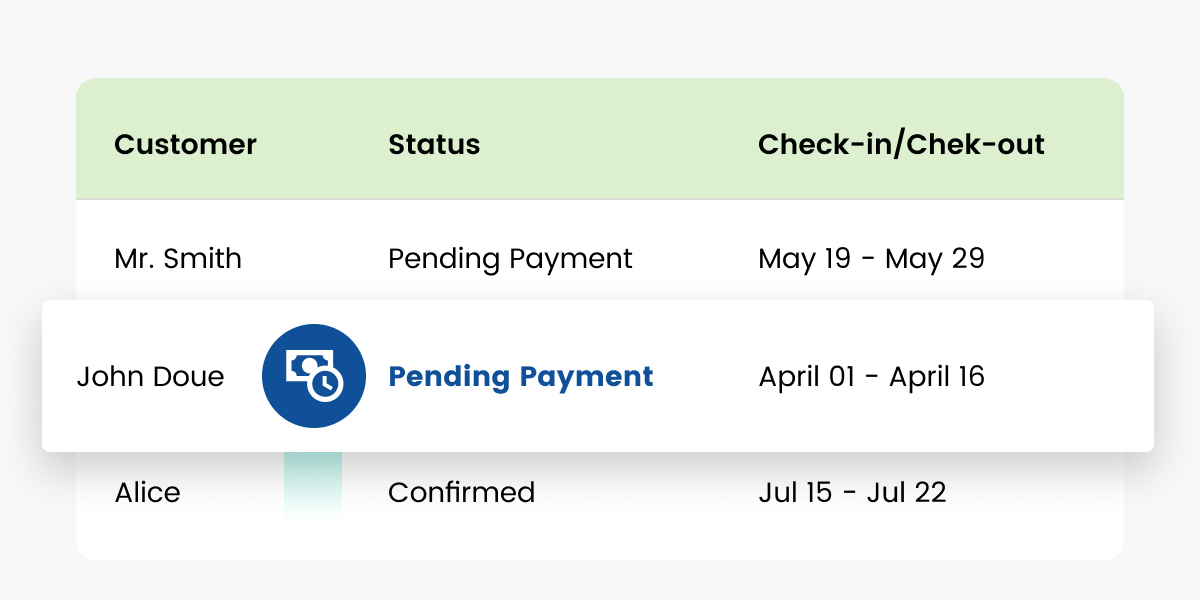 BNBForms allows you to accept booking payments in various ways, and a direct bank transfer method is one of them.
In the latest platform update, we have enhanced the operational logic of the Direct Bank Transfer method to enable more efficient management of bookings, minimize the risk of delayed payments, and reduce the likelihood of no-shows.
The focal point of the update is that all bookings received via BNBForms using the Direct Bank Transfer method now have the 'Pending payment' status (instead of 'Approved' as it was before).
One notable addition is the optional 'Enable Auto-Abandonment' checkbox that has been incorporated into the Direct Bank Transfer method settings.
This checkbox provides an additional layer of control for bookings made using this method.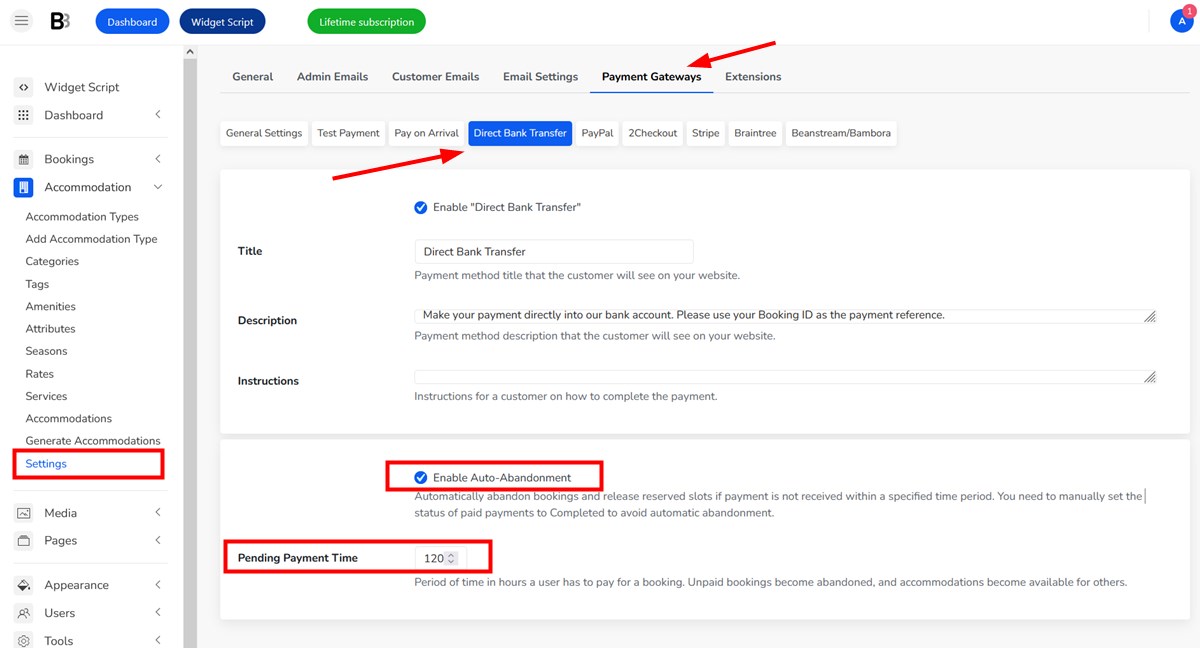 It allows you to set a timeframe for customers to make payment for their reservation.
If a customer fails to make a bank transfer during this time, the booking status will automatically change to 'Abandoned', and the slot will be released.
On the other hand, if a customer makes a direct bank transfer within the set timeframe, you will need to manually change the payment status to 'Completed' to avoid automatic booking abandonment and secure the booking for the client.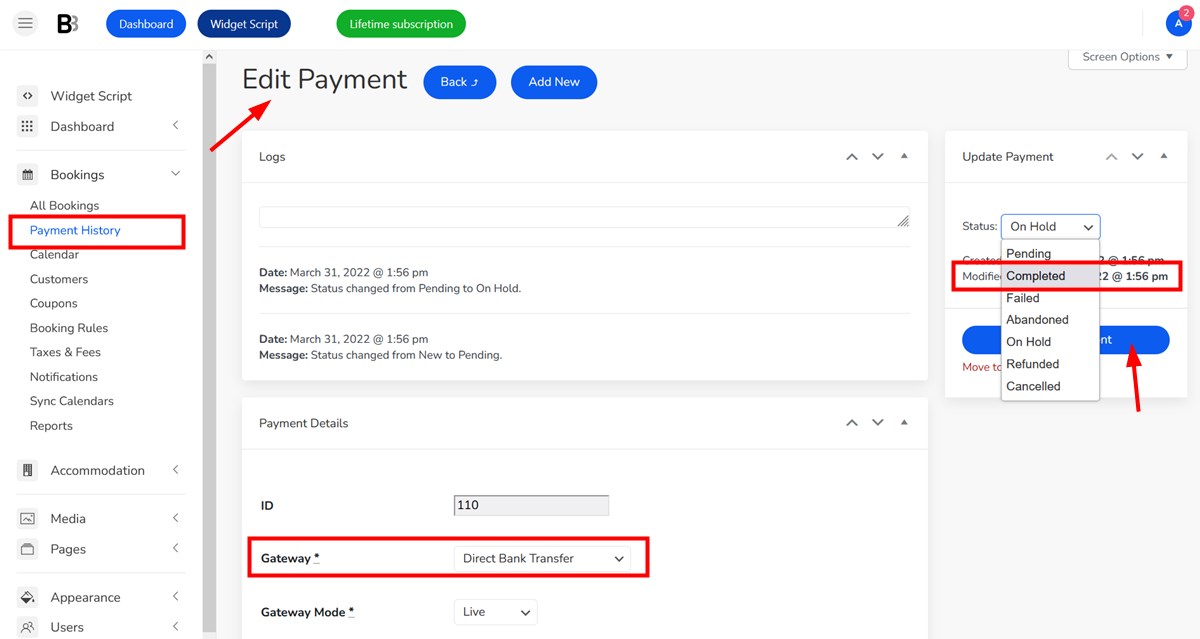 It is essential to ensure that your customers are aware of the timeframe for making payments for their bookings. To achieve this, we recommend adding this information in a separate email.
To simplify this process, we have created a dedicated email template called the 'Payment Instructions Email' in the Direct Bank Transfer method settings.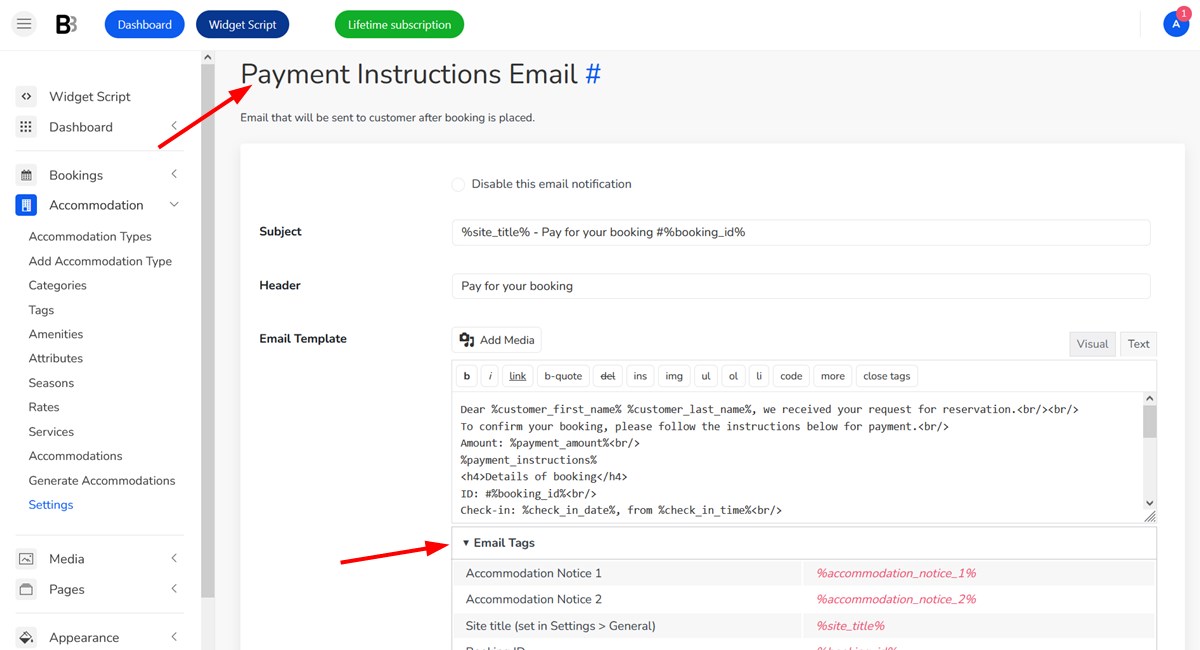 You can customize this template by adding the required text and using 'email tags' to automatically embed the relevant information. For more information, read the Direct Bank Transfer method docs.
Create early-bird and last-minute discounts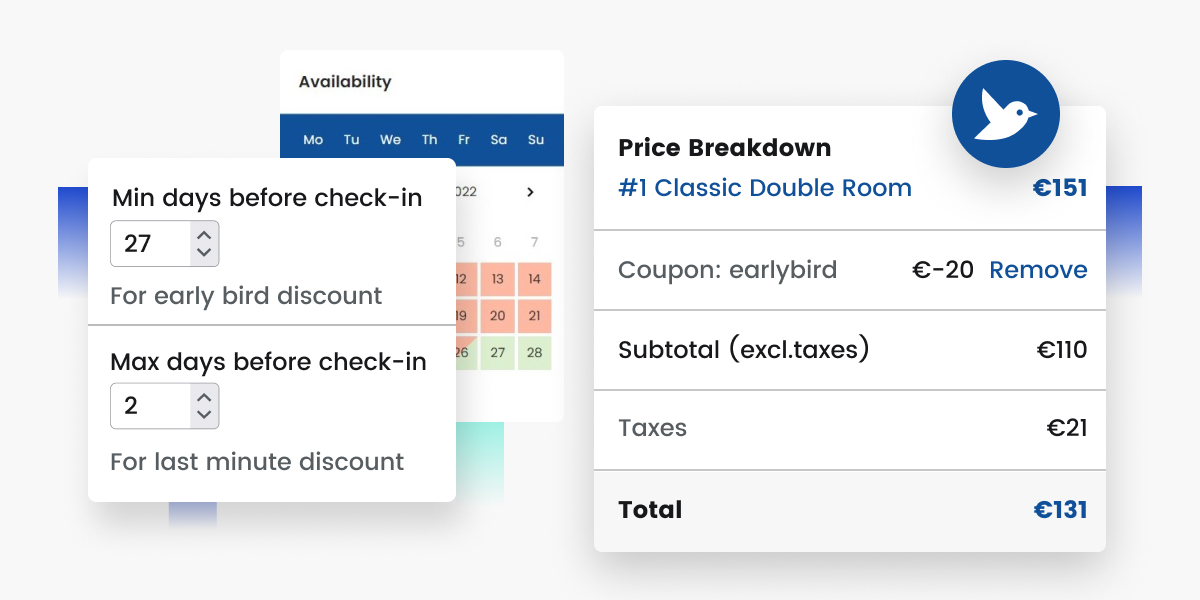 In BNBForms, you can now create last-minute and early-bird discount conditions in addition to regular discounts based on a percentage or a flat fee.
These types of deals are perfect for maintaining a high occupancy rate, even when there are fewer visitors during low seasons.
To create them, go to the Bookings > Coupons menu and create a new coupon.
Then go through all the needed settings to designate the coupon value:
Fixed per accommodation per day.
Fixed per accommodation per stay.
Percentage.
Then scroll down to set the needed discount: early-bird, last-minute or both. Just set the number of days before the arrival date to make these coupons eligible.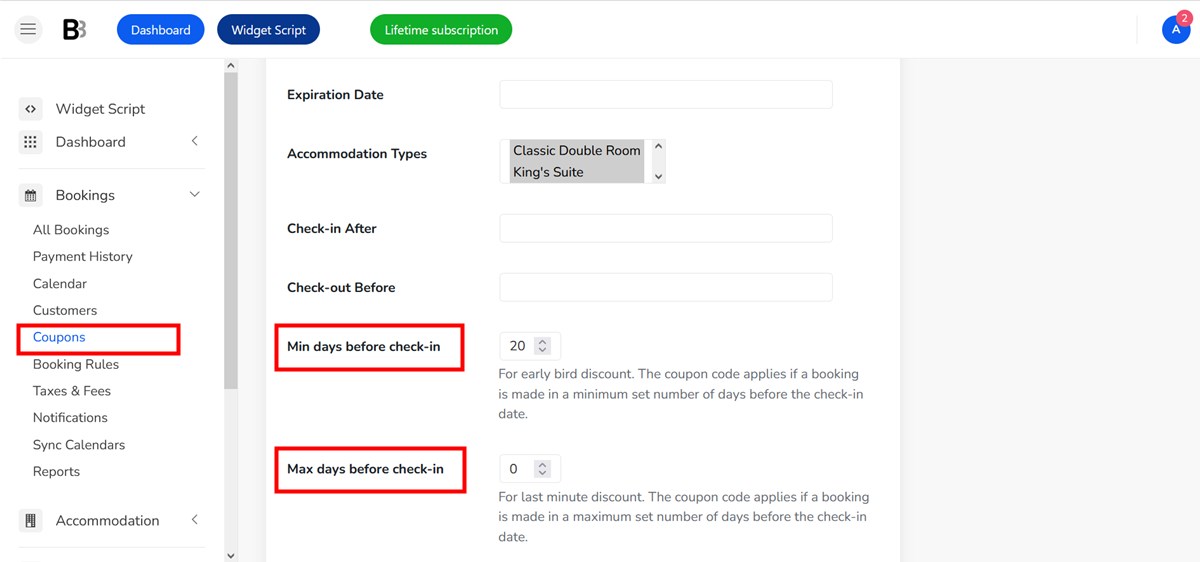 The discount will be applied to the total cost of the accommodation, and guests will be required to manually enter the coupon code in the designated field during checkout.
Make sure that you enabled the 'Enter a coupon' field at checkout. For this, go to Accommodation > Settings > Misc section > tick 'Enable the use of coupons' box.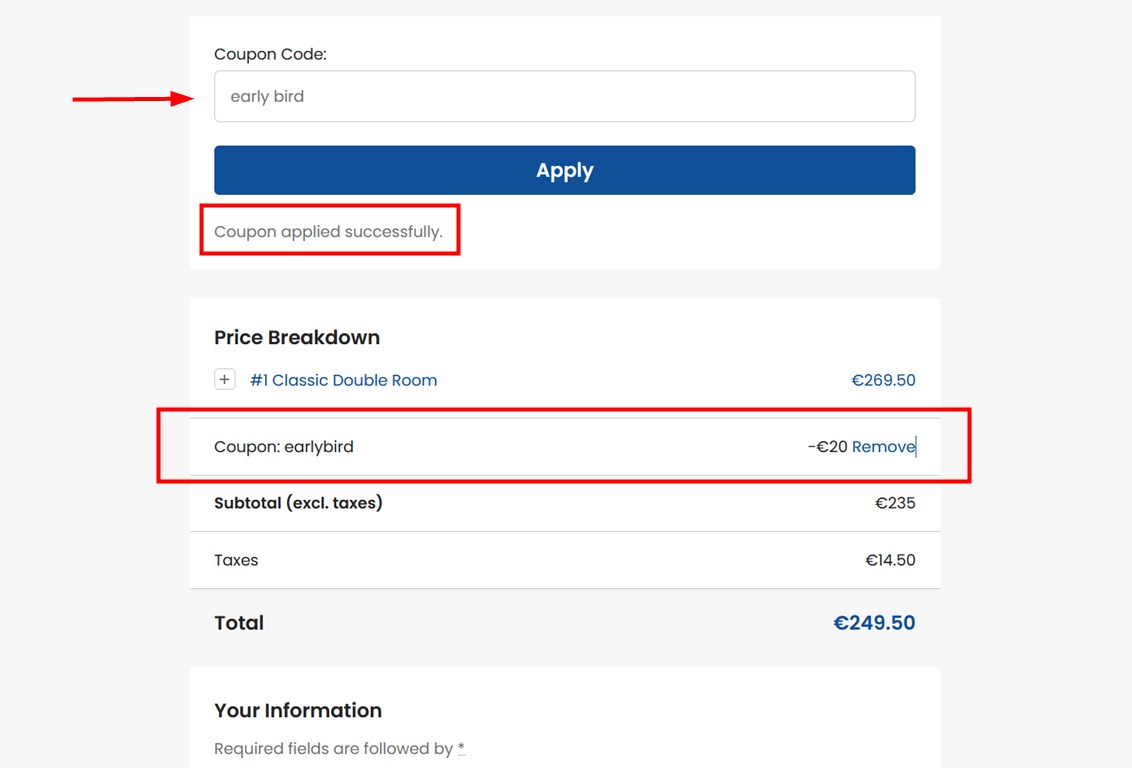 Read a more detailed tutorial on the coupon settings and benefits of hotel early bird discounts.
Meet new extensions to automate payment due requests and customized emails
Another great news is that we're starting adding extra helpful extensions to BNBForms, which are optional and free to use.
You can always find the current list of available extensions by navigating to Accommodation > Settings > Extensions.
In the latest version, we've added two extensions and have many more in the pipeline!
Payment Request: Automated payment links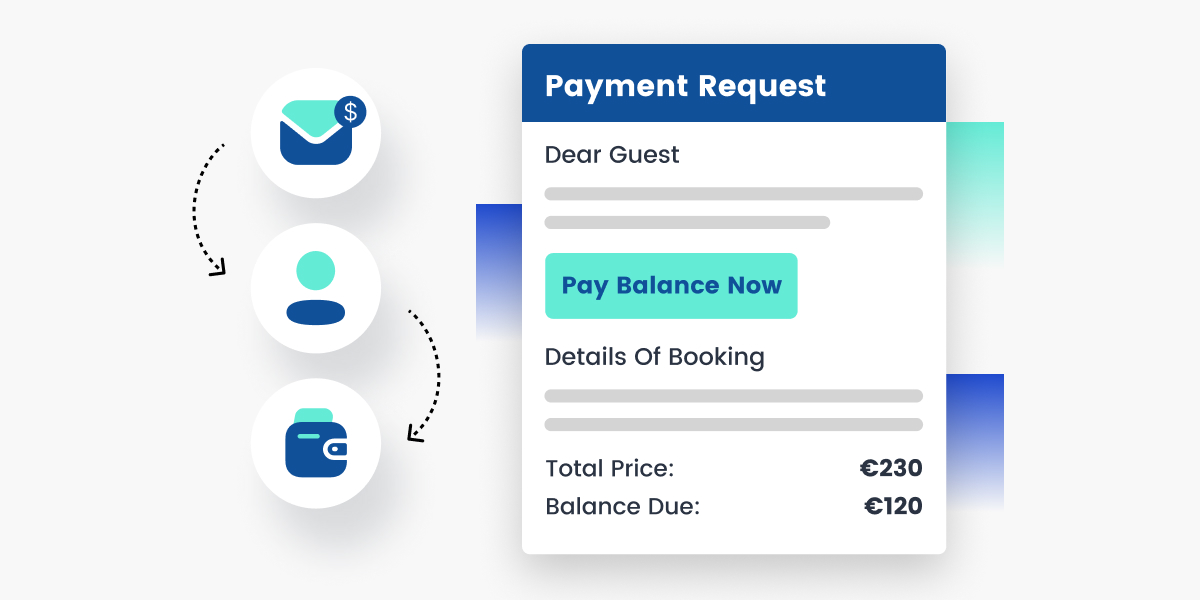 With the Payment Request extension, you can now send automated payment requests to clients who have not yet paid the full reservation cost. This extension not only requests payment but also collects full or remaining payments, making the process fully automated for you.
All you need to do is designate the number of days before the arrival date when a payment request email should be sent to the client.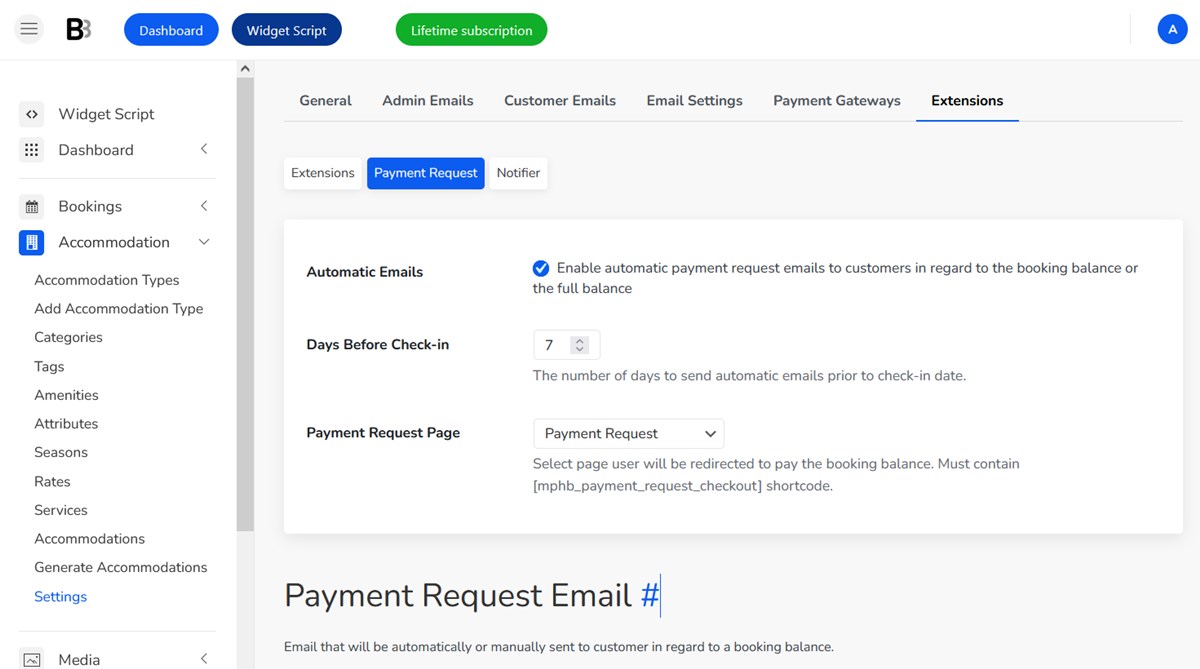 What else does this extension do?
It requests, processes, and records payments automatically through your website's booking widget.
It allows you to set up branded payment request emails.
Use any payment gateways available in BNBForms to collect payments.
You can also manually send the same payment request links with a button click.
You can enable automated email notifications to the website admin when the requested payments are made.
This is how it works:
You create an email and designate in how many days prior to check-in it must be sent.
The email contains a link to your site, where all the payment information is generated booking-wise, and the payment method options are offered to the client.
The client selects a suitable payment option and pays.
The payment is automatically processed and registered in the BNBForms system.
Note: Follow-up payment requests are sent only for bookings with the 'Confirmed' status.
Notifier: More Automated emails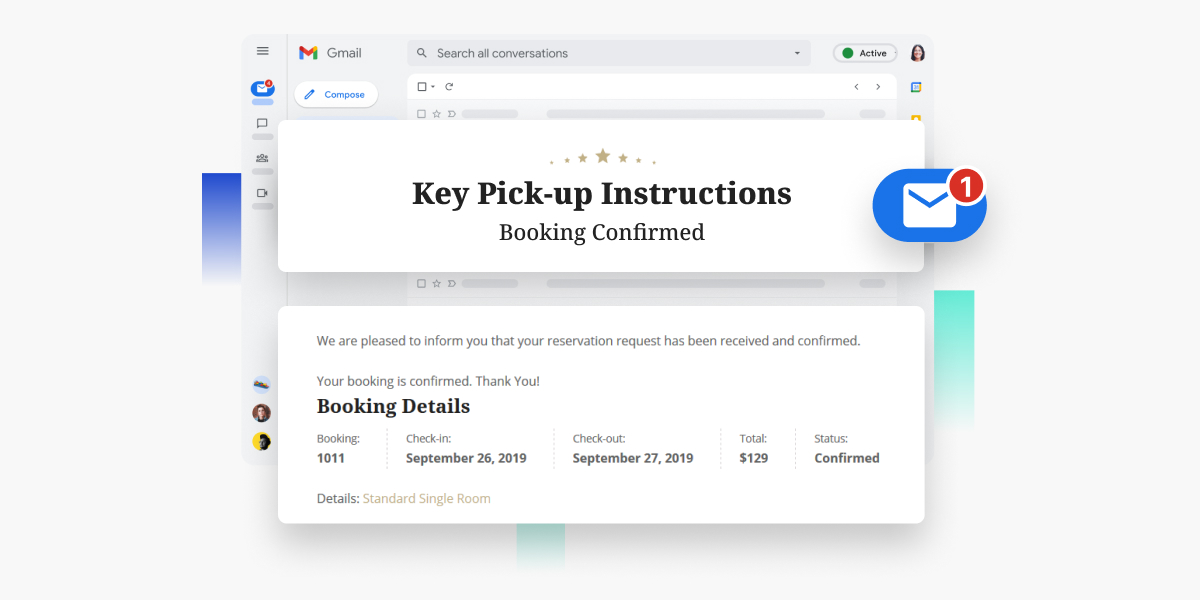 With this extension, you can create an unlimited number of relevant email notifications and send them automatically to clients.
This means that you can easily send a key pick-up instruction email before the check-in date or a thank-you email after check-out, among other types of emails.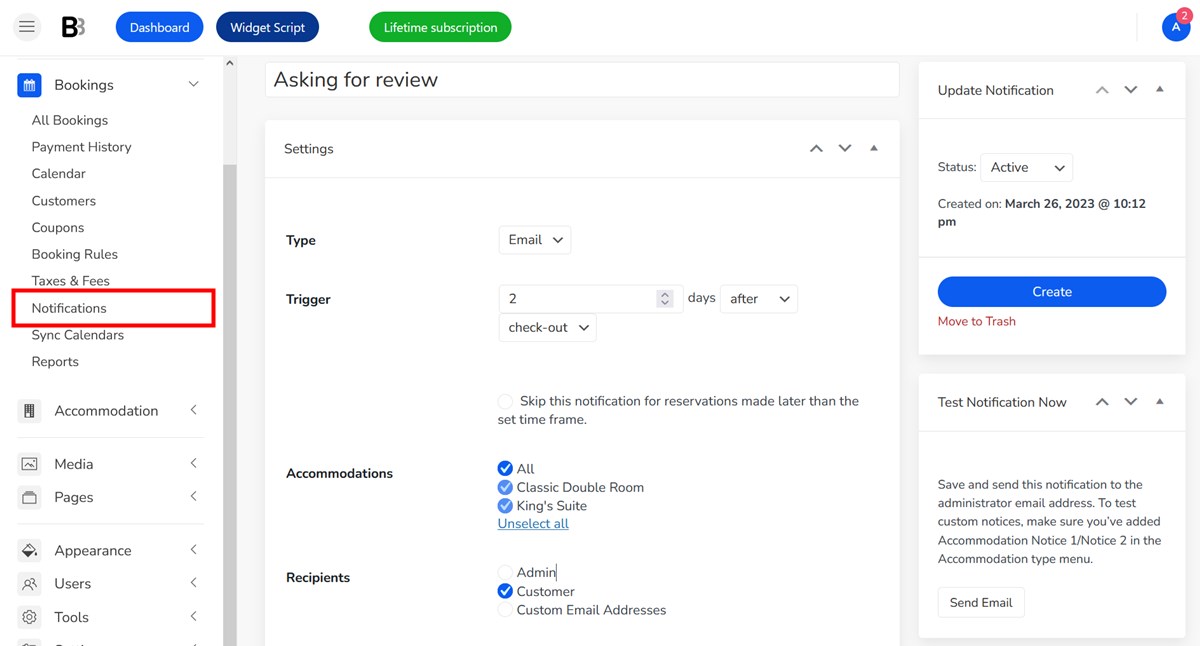 Start creating notifications via Bookings > Notifications > Add New. To apply extra rules to sending notifications, go to Accommodation > Settings > Extensions > Payment request.
How it works:
Add a new notification, add the sending rules and create a relevant email template. Important: Use accommodation Notice 1/Accommodation Notice 2 tags if you need them to be automatically replaced with the relevant property information (see #3).
Select the recipients: email addresses of guests who have a confirmed reservation, the website admin's email, or any other email addresses.
Go to the needed Accommodation type, find the Accommodation Notice 1/Accommodation Notice 2 fields and fill them in with custom information that you want to be sent in the email.
Test the notification (click 'Test Notification Now' in the right-hand bar).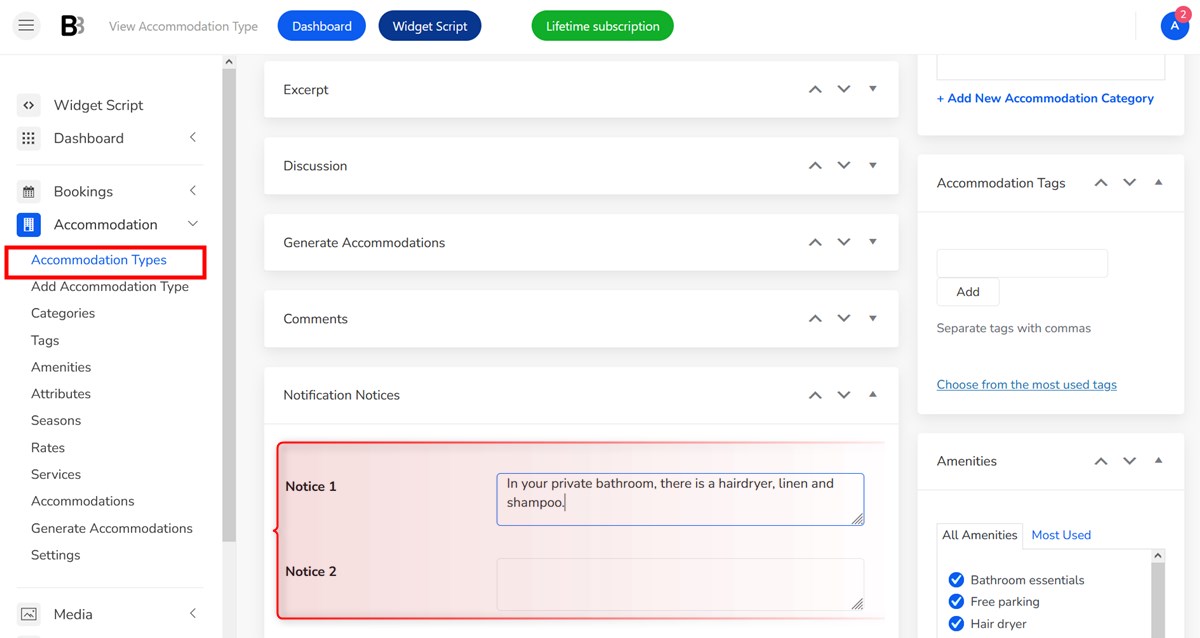 By sending relevant email notifications automatically, your guests will receive the information they need at the right time and tailored to their booked room type.
Final word on the new features of BNBForms
The incorporation of new tools, such as the date picker and payment request extension, streamline the booking process for guests and minimize the risk of delayed payments and no-shows.
Additionally, the ability to create unlimited email notifications tailored to each guest's booking adds a personal touch that enhances the overall guest experience.
Hopefully, this update will help you optimize the workflow in many ways. We are open to hear your feedback and work hard on integrating new features. So let us know what you think!
New to BNBForms? Browse Widget Demo or Start Your Free Trial.