BNBForms is the CMS hotel booking system for any vacation rental type. You can connect it to any current website you already have or just plan to build and run.
This platform will help you add a stylish and inviting property booking widget that will boost bookings on your independent website.
BNBForms is an all-around booking CMS platform that encompasses multi-calendar tools, reservation management instruments, rate and availability synchronization with external platforms like Airbnb, payment integrations, booking engine, and many more essential tools. 
In broad strokes, it gives short-term rental owners all they need to take their business to the next level. So you might really consider it a universal hotel booking system that can be connected to any website.
Let's put the essentials in a clearly readable list.
Most suited to: property owners with a single or multiple listings; hotels, holiday homes, inns, bed & breakfast and other short-term rentals
Cost: one fixed yearly subscription price ($119 per year)
Free trial: one month free
Commissions: no per-property or per-booking commission for you or your guest
Hotel booking CMS requirements: add a booking widget to any CMS
Live demo: BNBForms demo (test the booking widget by clicking on the Book now button)
Register for free: Sign up
Quick dashboard guide: BNBForms dashboard
Learning curve: the platform is user-friendly and functional, property owners can use it without hiring a developer or designer
Requirements: to start using BNBForms, you need an up-and-running website on any CMS
How it works: BNBForms allows you to generate a booking widget and place it on any website you already have or plan to build.
Let's now discover more details of how you can use the CMS hotel booking system for the best with the sophistication of any required level.
Getting started with the BNBForms CMS hotel booking system
The registration process won't take a lot of time.
Sign up with BNBForms (free, no credit card details needed).
Confirm the registration via email.
Your account is created! Log in to your BNBForms with the credentials received.
Start adding your listings!
The CMS hotel booking system by BNBForms will install some of the key system pages right away, you'll just need to configure your preferences and add your listings.
How to work with property listings
When you get started, there are already sample accommodation types that you can delete or edit.
Since they contain some basic details, e.g., capacity, amenities, size, bed types, extras available with the room/home, you'll be quick to tick all the boxes to create your properties.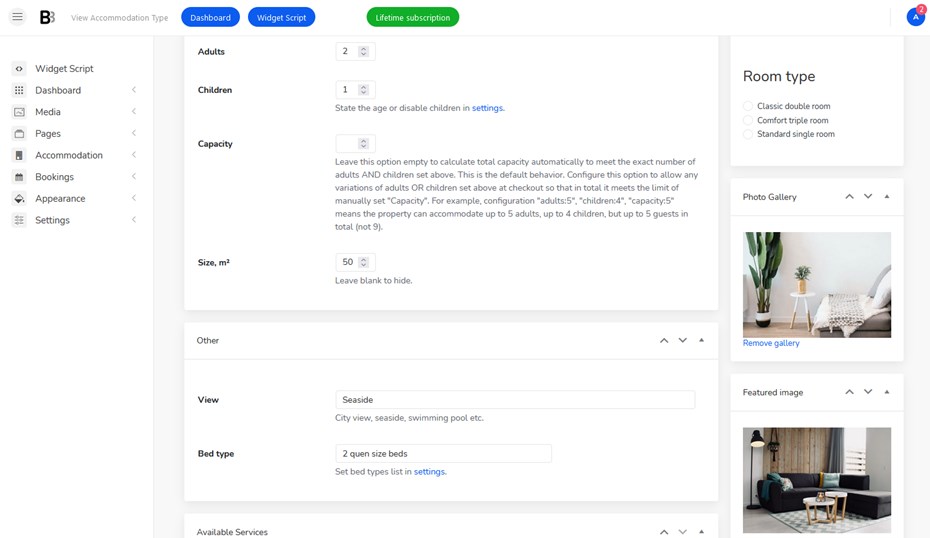 You can add photos to your accommodation types and various extra categories for better taxonomy, e.g. double room, luxury rooms, etc.
Pricing tires, taxes and & fees
The pricing strategy for your rental properties is of course of key importance. There are different rules you can base accommodation prices on:
Season (any period of the month)
The number of guests
The stay-in length
Amenities and extra services available for a property
Custom discounts (if available – both monetary value or percentage are acceptable).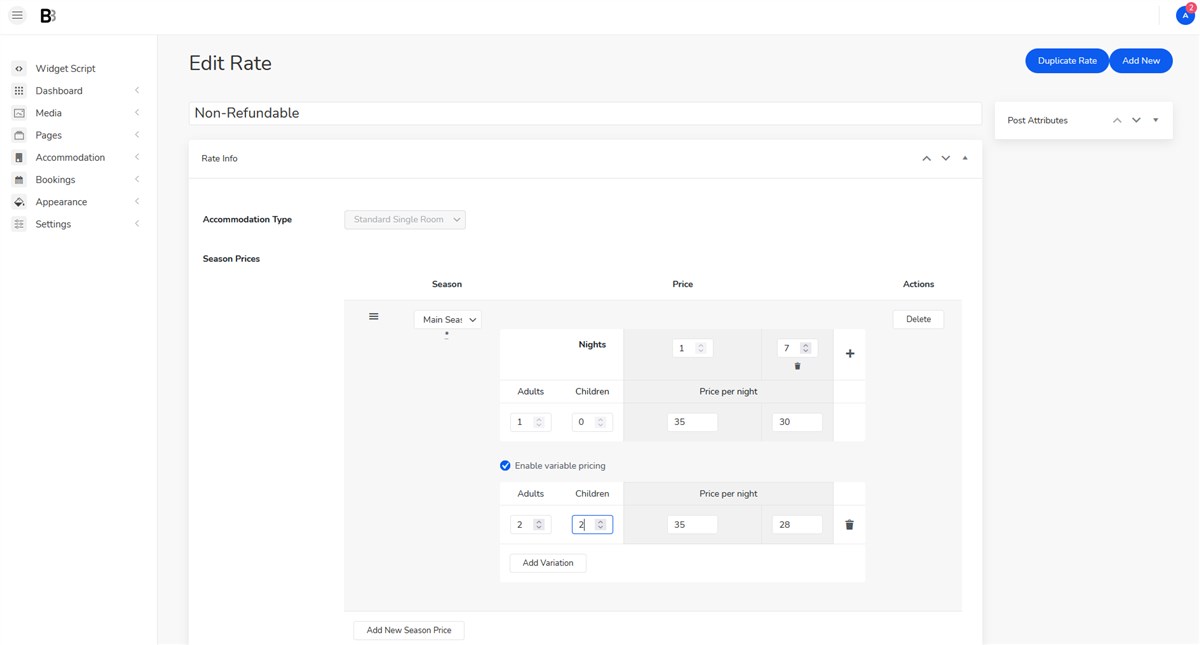 Based on these criteria, you can make property prices dynamic so that the prices change depending on the dates/the number of people chosen.
To record all the extra charges, you can set various types of taxes and fees, optionally showing them on the website next to the base property price.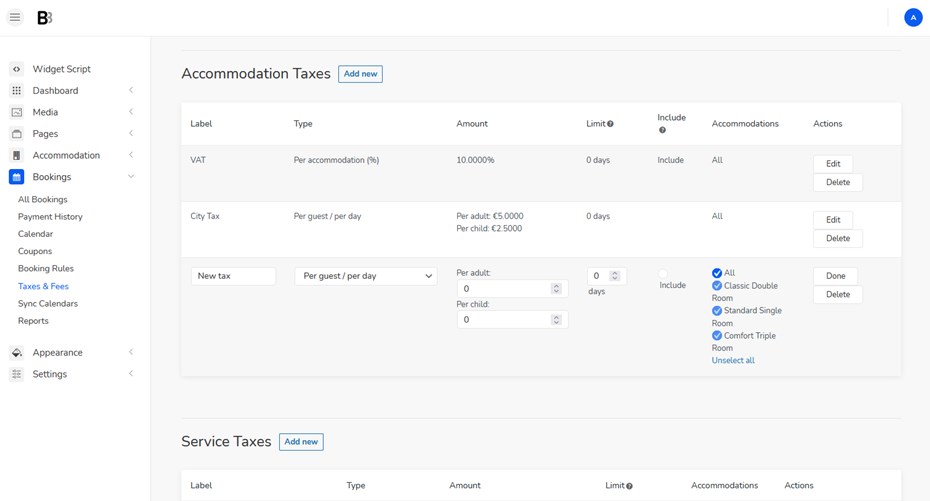 Booking rules
There are tons of settings to add more flexibility layers to how guests can interact with the properties.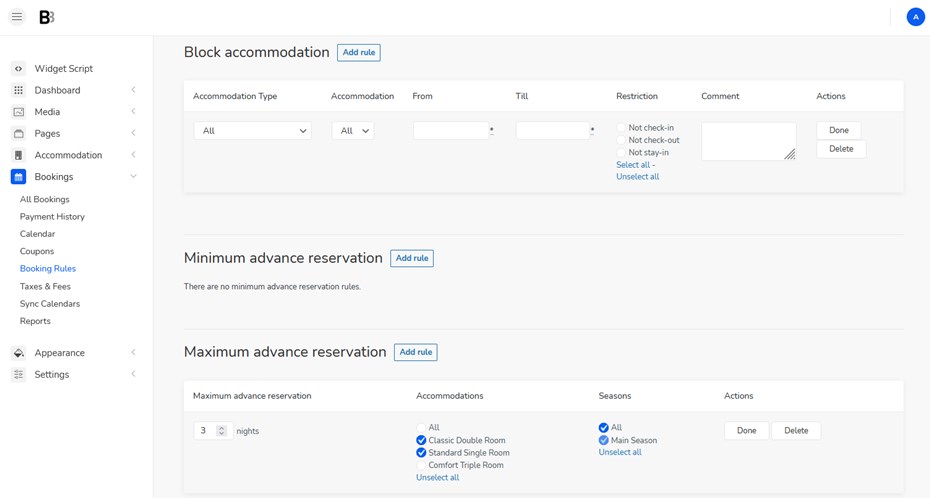 You can set available check-in and check-out days for guests, minimum and maximum stay-in days, designate buffer times between bookings, and disable booking options for specific properties for the needed dates.
All these rules you can apply individually to properties, seasons or chosen dates.
Automated messaging and notifications
The BNBForms booking CMS will send automated notifications for all events, e.g. confirming or canceling a booking.
You'll find it easy to brand email templates as to the overall color scheme, email subject, text content and other details. This will help you automate communication with your clients and decrease the workload of your staff.
Payment processing via the CMS hotel booking system
You can activate world-popular payment methods right via the booking widget so that your guests have no problems with securing their places in your property.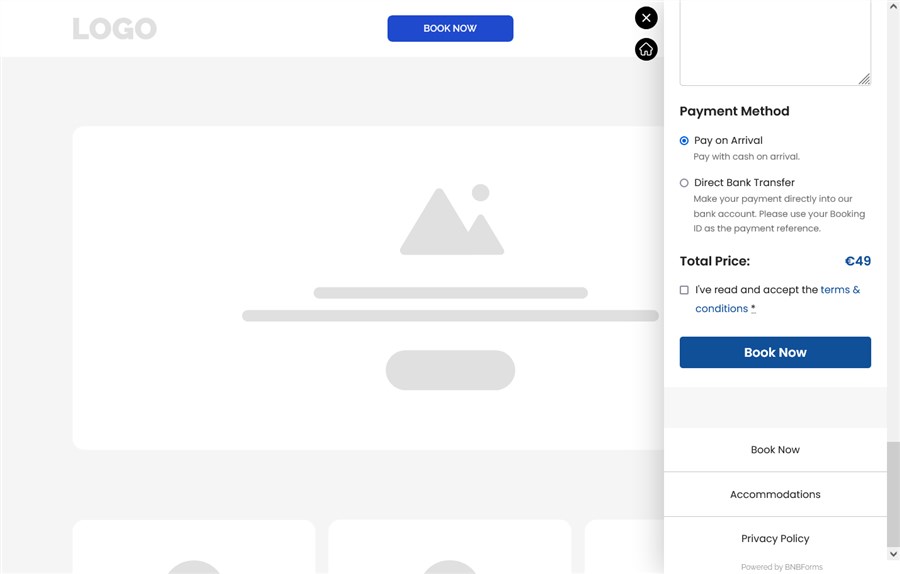 PayPal, 2checkout, Stripe, Pay on Arrival, Direct Bank Transfer and more methods are available as such that can be turned on in a few clicks, without any extensions or paid connections.
Sell extra services per guest or per property
To earn even more from each booking, you can sell extras at checkout, at least try to offer a few more goodies to your guests and you'll see the result!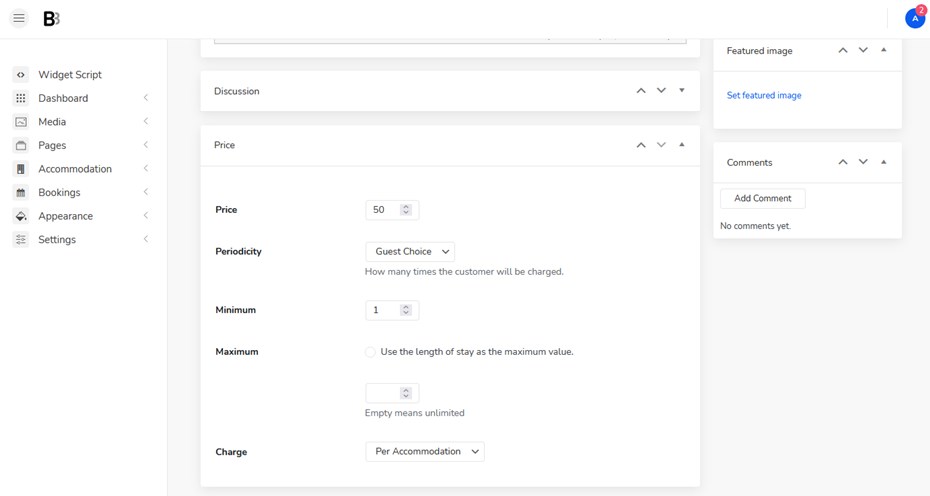 Customize the price, charging periodicity, and designate whether it's a per-guest or per-accommodation price.
Managing bookings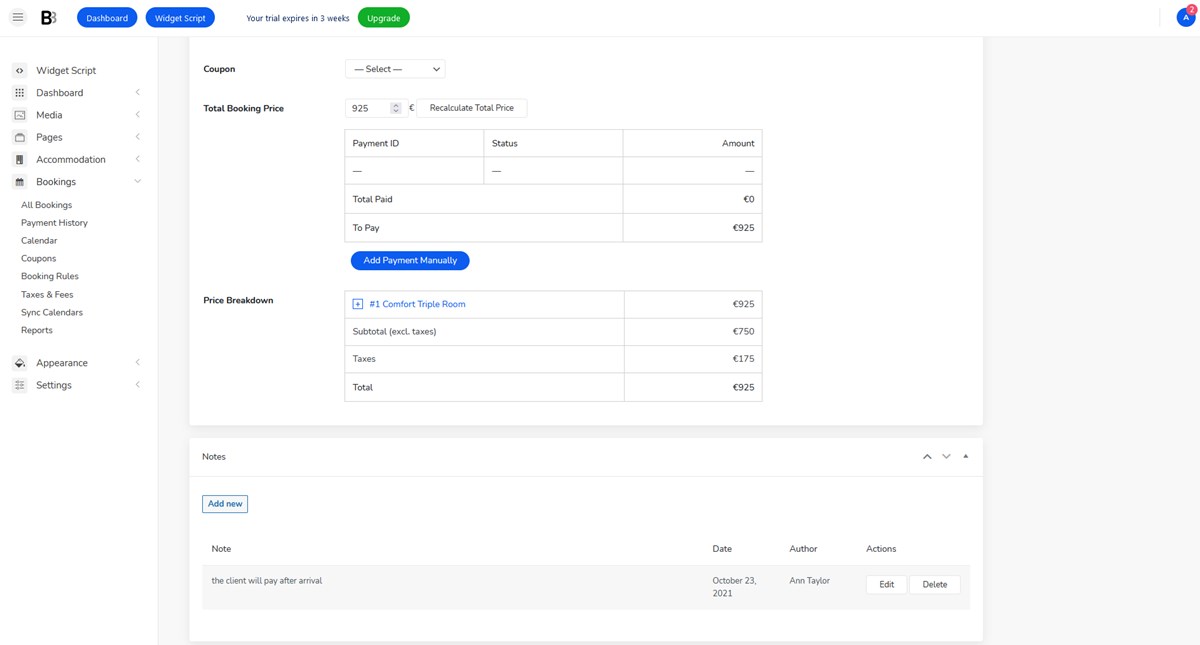 There are many ways to view all the past and upcoming bookings in a handy calendar view, including the ability to filter all of them by dates and booking statuses.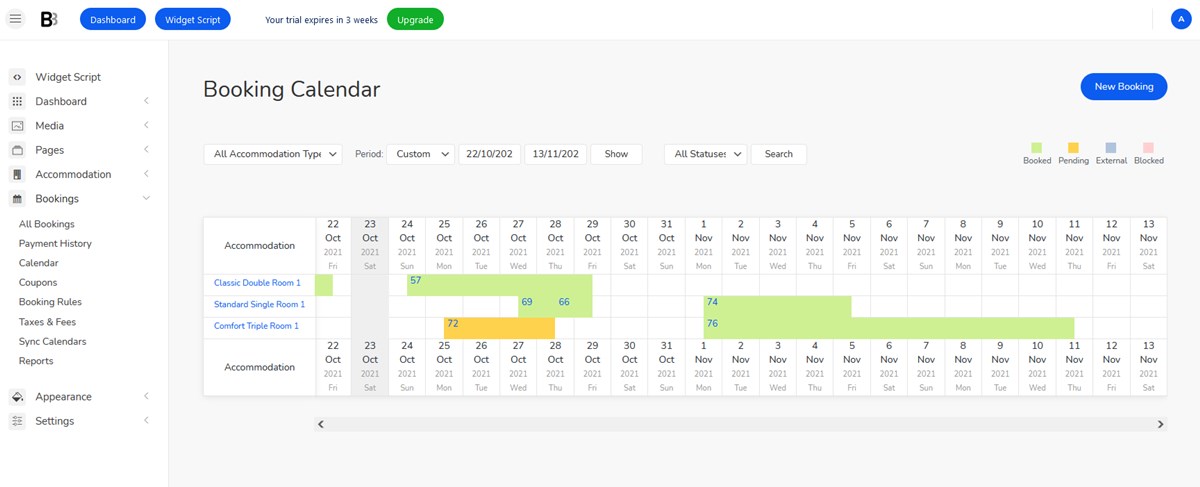 You can also browse a booking history and payment transactions, edit current bookings (for example, switch rooms, dates or services; update client info in a booking), and add bookings via the admin dashboard manually.
It's also possible to record manual payments when a client first paid a deposit or didn't pay at all.
As you see, you can do literally any management task when it comes to working with your reservations.
Thanks to the sales dashboard integrated into the BNBForms CMS hotel booking system, you can track the overall performance of bookings and payments made on your site, including the ability to track sums with or without taxes.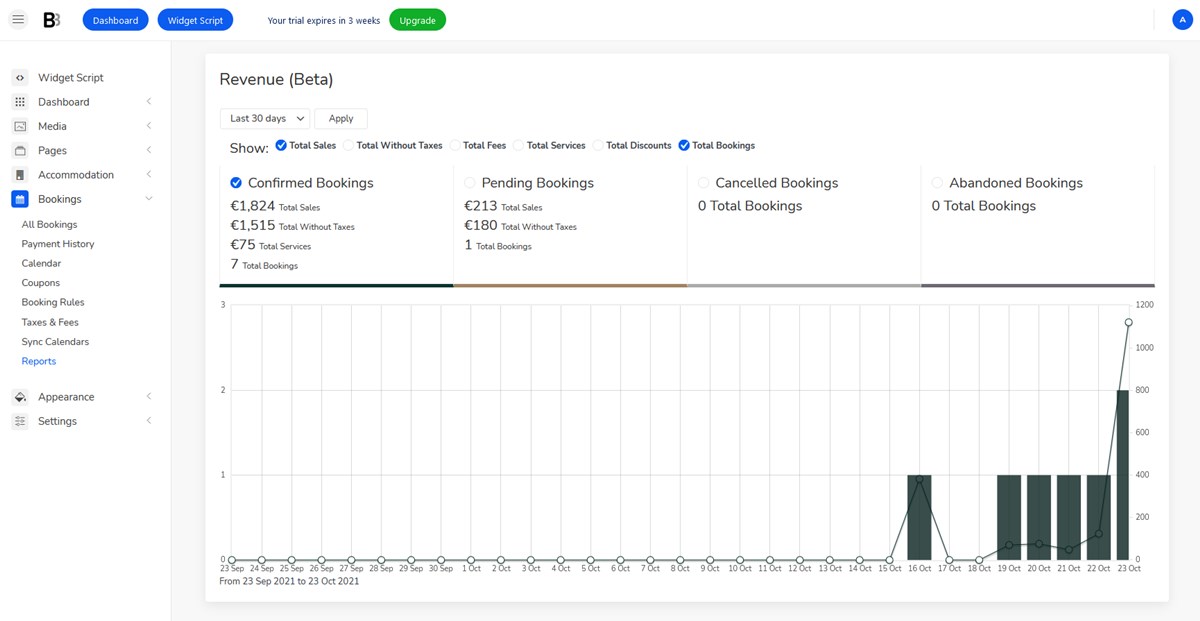 You can also work with the bookings data in multiple ways, download reports, see the stats, and do more tasks with the CMS booking plugin.
Channel manager for popular OTAs
The booking CMS for hotels is perfect for streamlining all the hotel operations.
Thanks to the iCal file format support, you can sync calendars' availability with external platforms, such as Airbnb or Booking.com. This also ensures support for the smooth sync process with the Google and Apple calendars.
All bookings in sync will be recorded with BNBForms and stored under one roof, you'll never get double bookings in this case.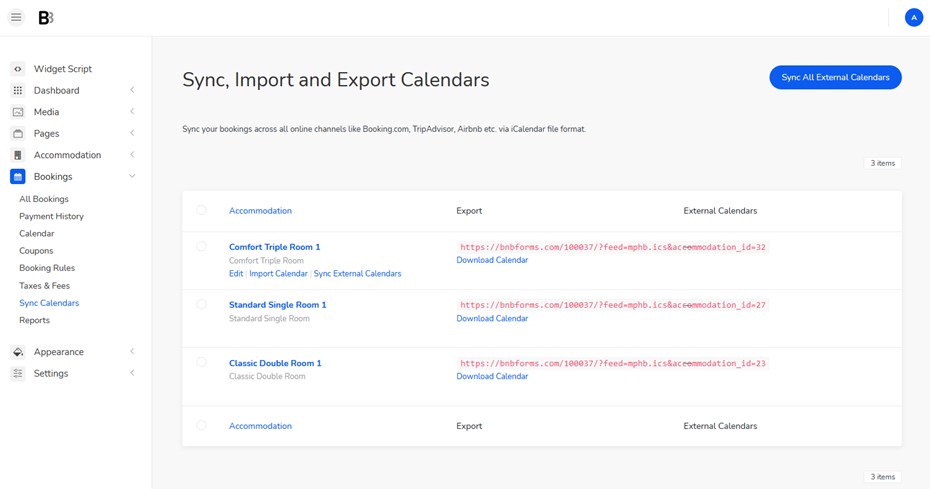 You can alter the frequency for the sync process but usually it's happening in near real time.
The booking widget is customizable when it comes to the number of fields in the property search form, colors of the search form and more.
How to add the widget to your site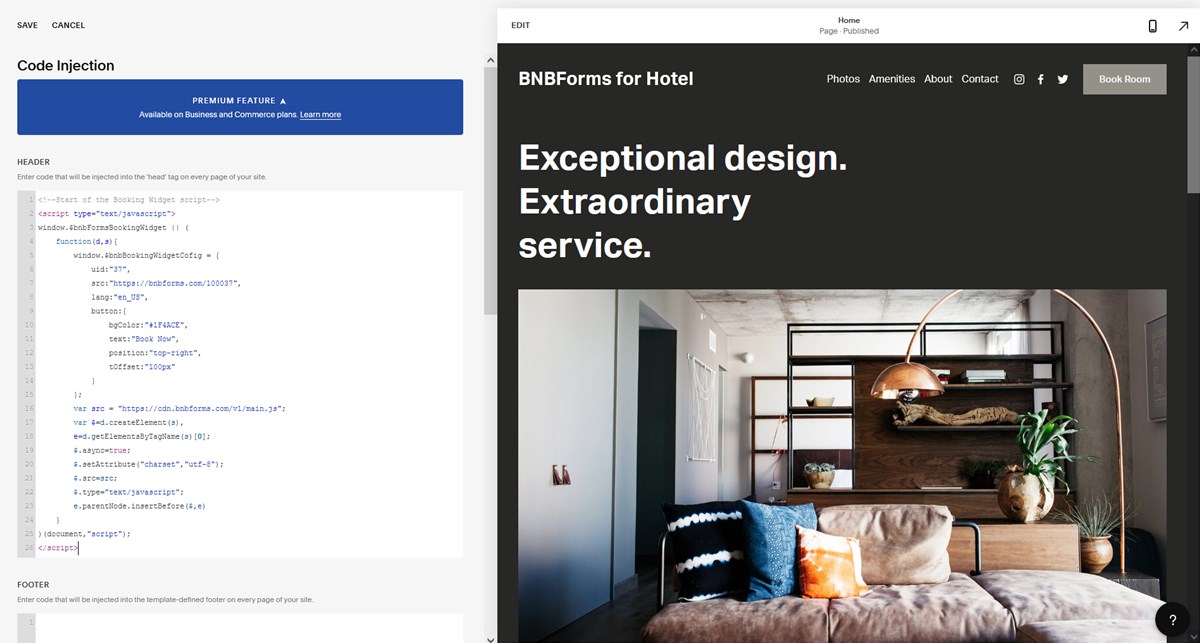 The CMS booking hotel system by BNBForms is a simple generated code snippet you need to insert to the dedicated area on your site.
Those areas can be headers, footers, specific site parts, etc. In your BNBForms dashboard, you'll discover tutorials for each of the cases, so you just need to choose yours.
For example, you can find how to add widgets to Wix, Squarespace, WordPress, GoDaddy, and a plain HTML website.
Bottom line: Powerful CMS Hotel Booking System for cost-conscious property managers
The booking system empowers property management to create full-scale short-term rental websites. It's a modern, secure and convenient way to multiply your bookings without much effort or money.
As you see, BNBForms serves as a CMS booking rental system you can use for any type of website and rental property, with a single code embed and a full-scale property management platform at hand.
Test BNBForms with no set-up fee today