Is Wix any good for a hotel business website? In this article, we'll be addressing all your key concerns related to building a stunning hotel website with Wix hotel templates.
We'll share some valuable insights on how to get started with a Wix website, provide reviews of the best Wix hotel themes, and explain how to seamlessly add a "Book Now" button to your site, giving you the power to secure direct bookings for your rentals.
Two ways to build a hotel site using Wix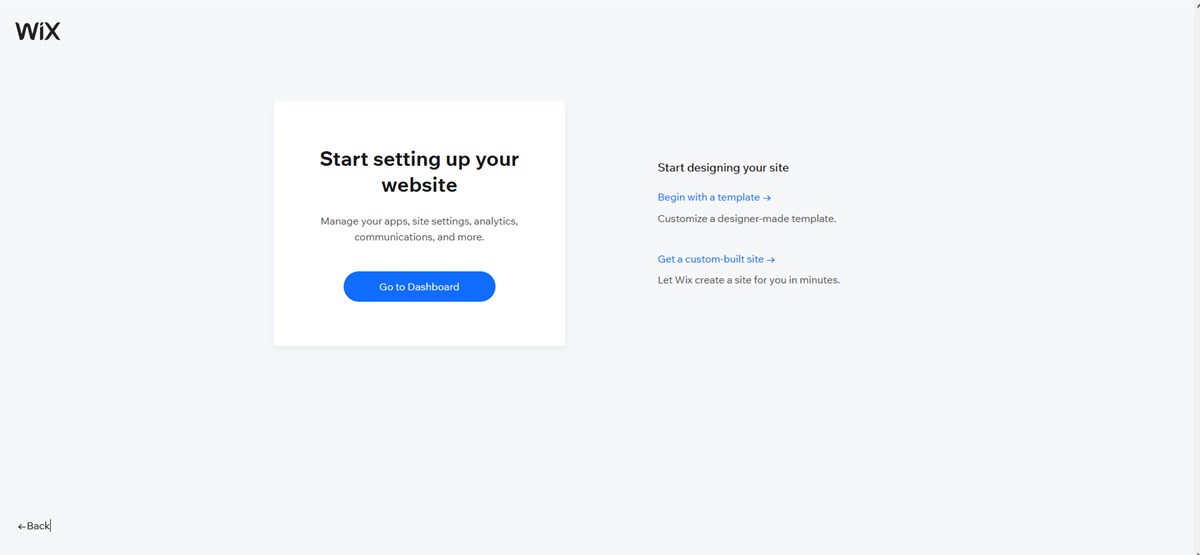 Wix offers pre-designed and blank templates for every need. When it comes to hotel, vacation rental and bed and breakfast websites, there are two key options.
Use pre-designed Wix templates for hotels
In the Travel and Tourism category on the Wix website, you can find a selection of sleek, purpose-built templates.
Use Wix ADI (Wix Artificial Design Intelligence)
Wix ADI, a powerful AI design tool, empowers you to start with a blank canvas and, with the help of a user-friendly wizard, create an exceptional and contemporary hotel website tailored to your exact requirements just by clicking buttons.
Leveraging the latest in artificial intelligence, the ADI uses a vast database to filter and combine billions of layouts, text, images, and designs, resulting in a truly bespoke website that reflects your brand's unique identity.
For example:
You can choose which functionality to add (e.g. an Instagram feed, blog or portfolio).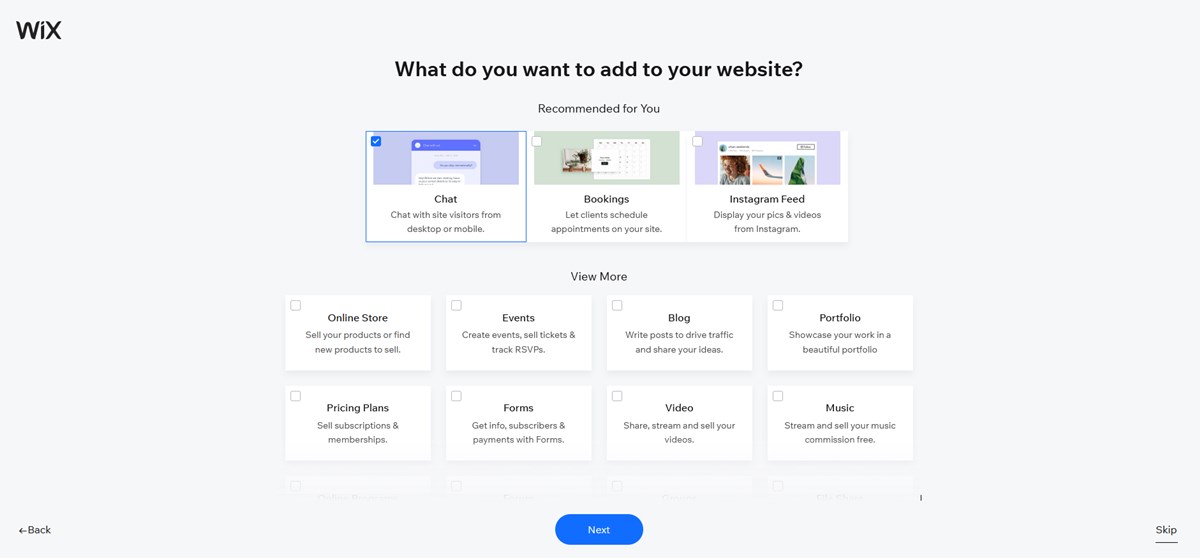 Choose a brand color scheme and font.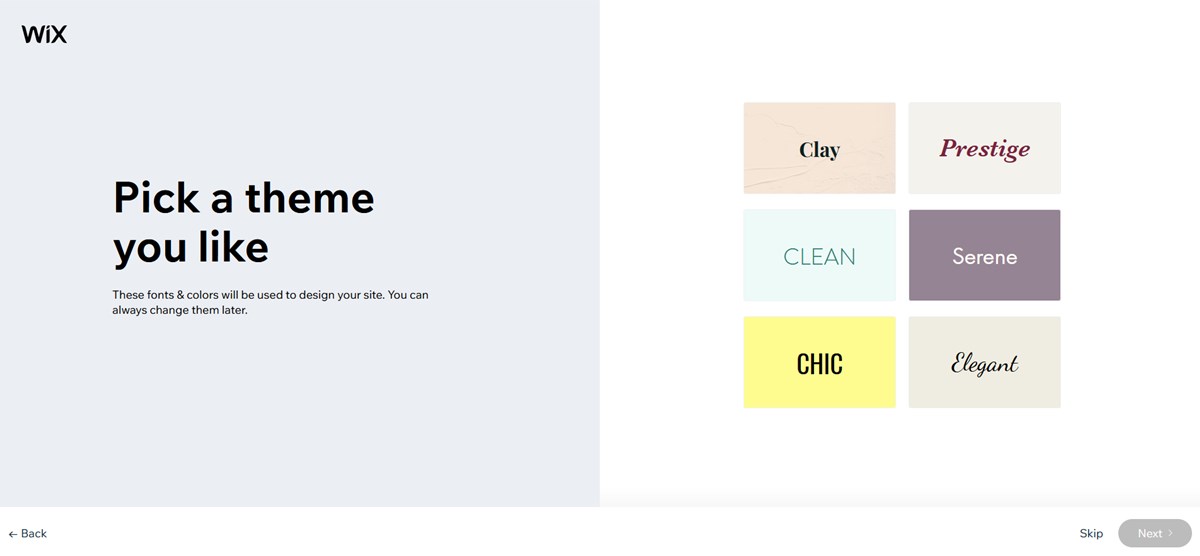 Pick a home page design automatically generated for you.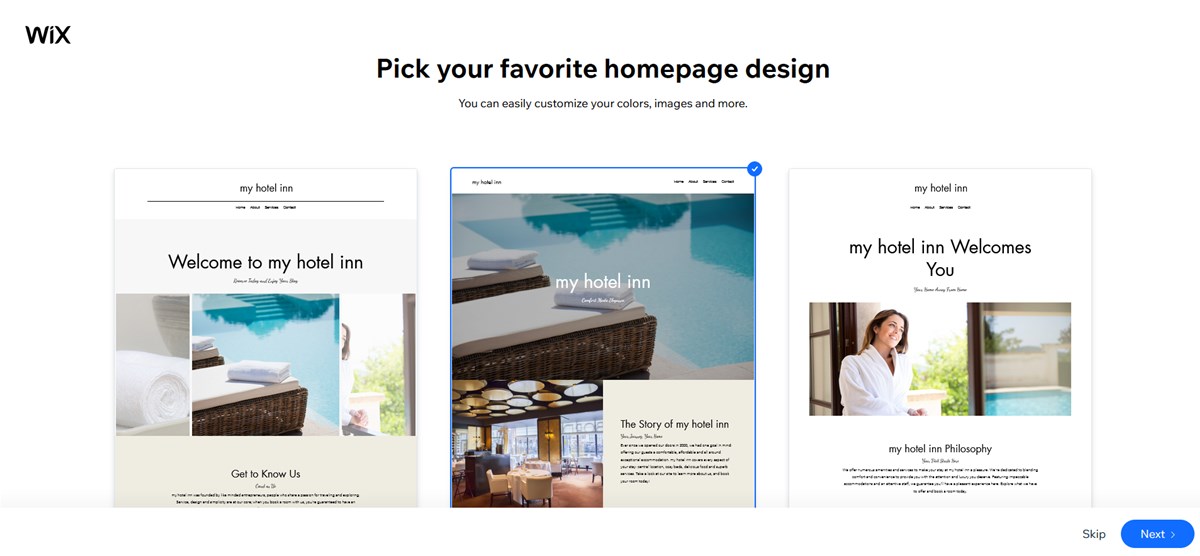 Add any inner website pages that you need for your hotel business.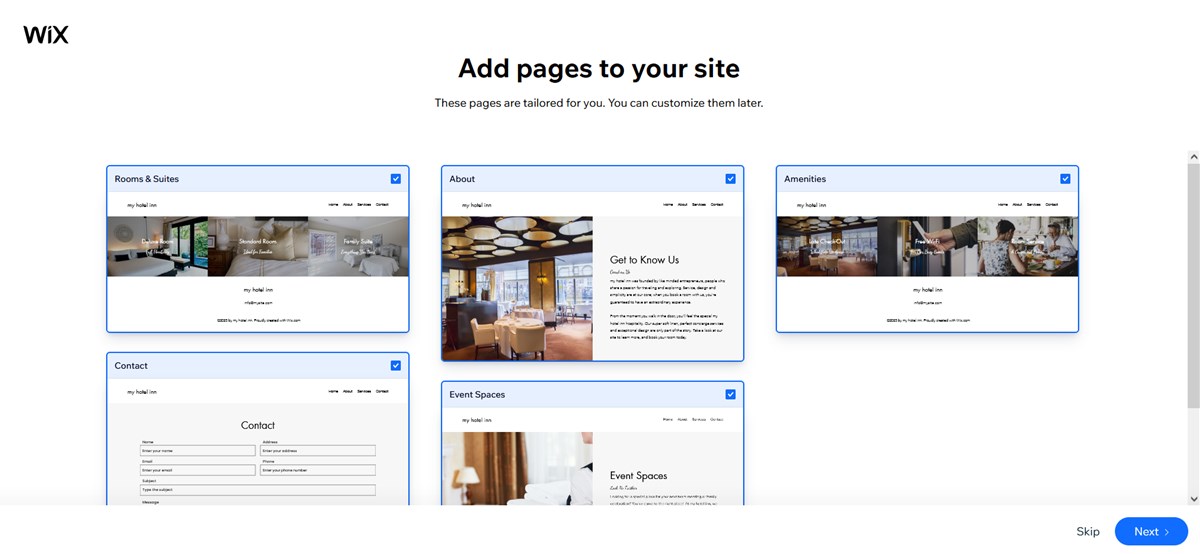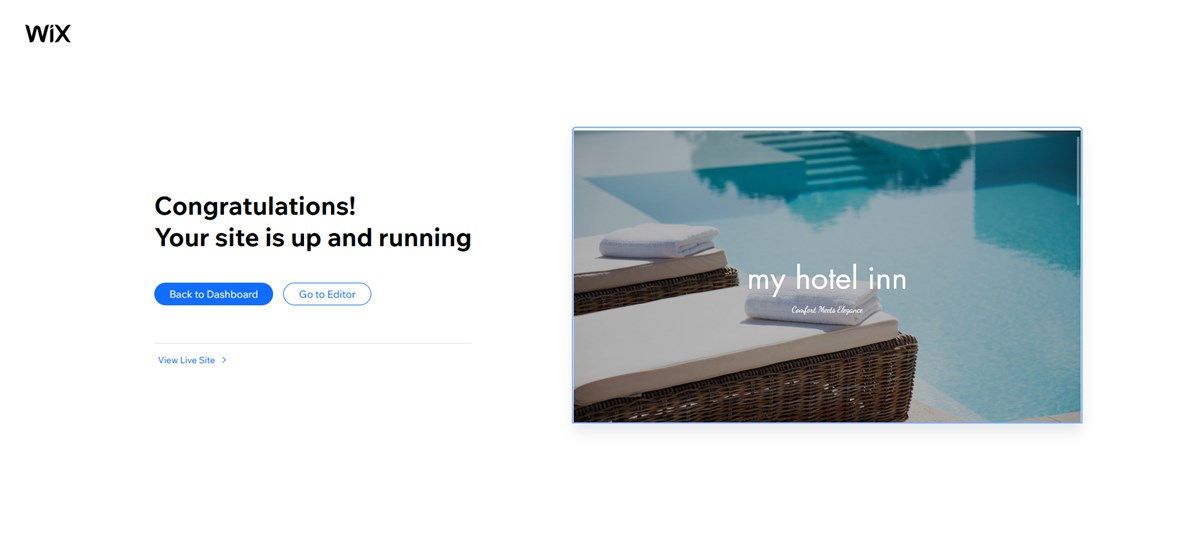 After you are done, you can tweak your custom-created site in the Wix Editor, just like you do with a template.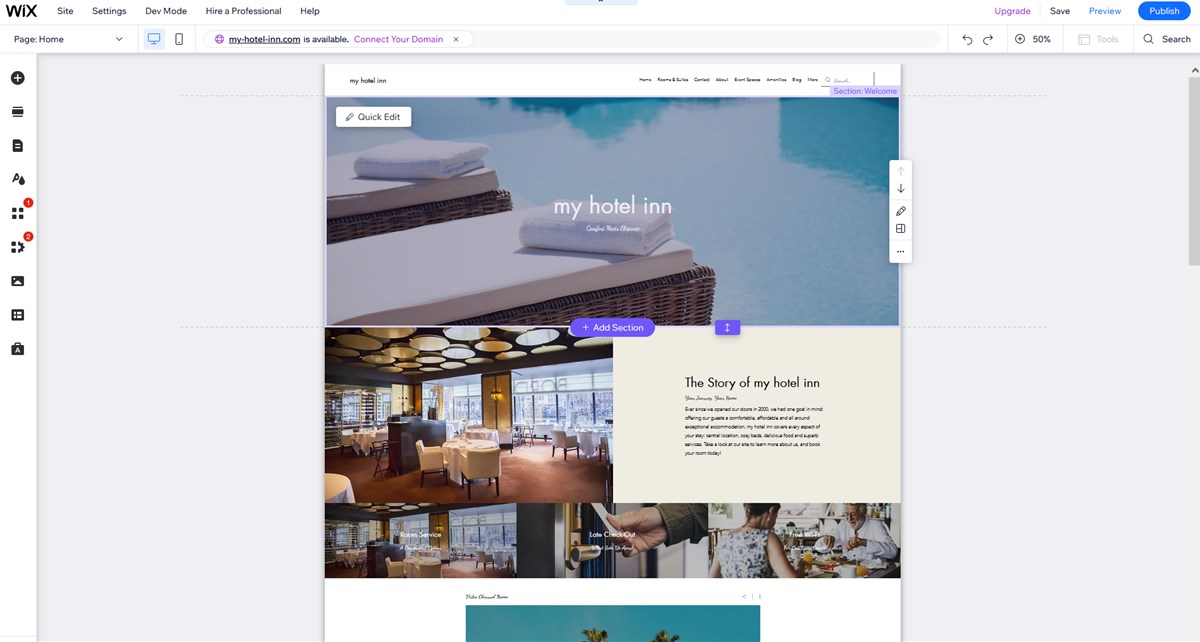 We believe in some cases, this AI tool will help you 'generate' even more modern and good-looking site designs than those offered by the pre-made Wix templates.
Are Wix templates any good for hotel websites?
When it comes to building a hotel website, using Wix hotel templates / Wix ADI can be a fantastic option – but it all depends on your specific needs.
Are you looking for a stunning brochure-style website that shows off your accommodations with gorgeous imagery and slick gallery features? If so, Wix's hotel-specific templates could be exactly what you need to get started quickly.
However, if you need specialized software or integrations for your hotel website, you may need to explore third-party options to ensure you can offer the best possible user experience to your guests.
For example, if you want to create a highly customized booking system or integrate loyalty programs, you may need to explore other options or connect third-party tools.
It's also worth considering how much customization you require – while Wix offers a great range of customization options, it may not have all the branding tools you need.
That being said, for the vast majority of hoteliers, Wix hotel templates are more than capable of meeting their needs. They offer a range of designs and features that can help you quickly create a professional-looking website that showcases your accommodations and even accept booking submissions (although not necessarily automatically).
However, if you have specific requirements that go beyond what Wix offers out of the box, you may need to consider using other tools or platforms to achieve your goals, or simply find ways to connect external tools and integrations to Wix.
Can I upload my own templates to Wix?
As of 2023, we have been unable to locate an option in the Wix Editor to upload our own Wix template, nor have we found a support article that states whether it is possible to import a template created elsewhere to Wix.
Although it appears that custom templates could be uploaded to Wix in the past, it is likely that the platform no longer supports this feature.
10 Best Wix templates for hotels & B&B websites
Let's now take a look at what is actually offered in the category of travel & tourism for hotels and try to find the best Wix hotel templates.
Anton & Lily
Best suited to: Bed and breakfast, inn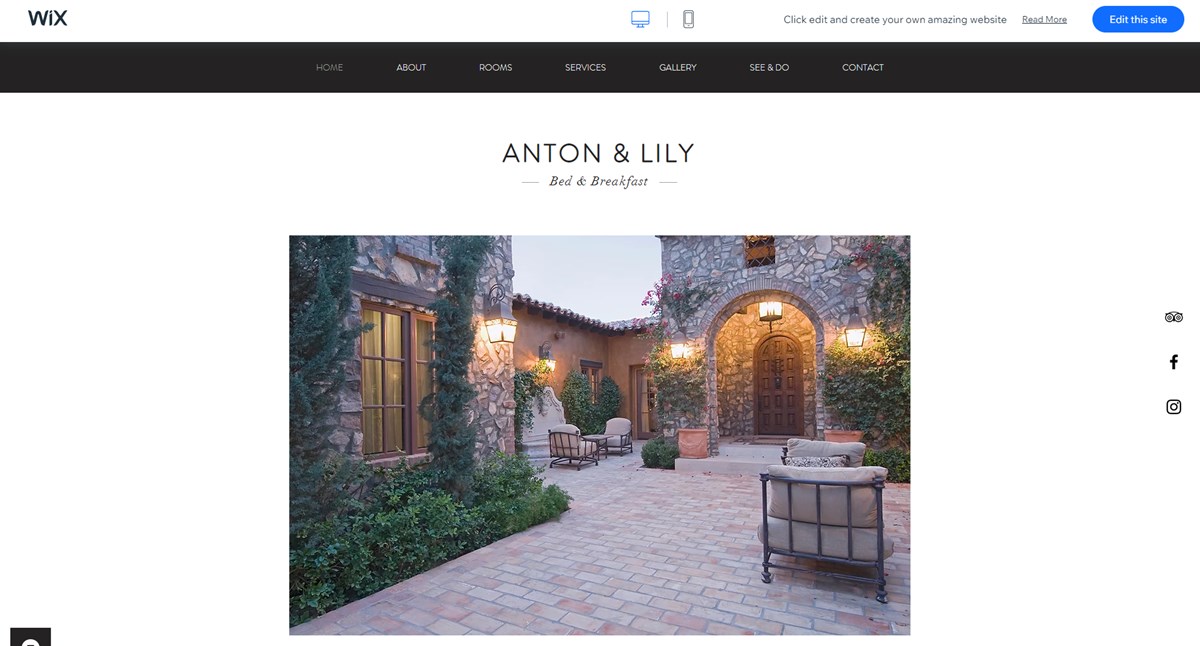 A nice on-page hotel template, designed to showcase your inn or villa and provide all the essential details right on the front page. Ideal for those renting out a single suite, this minimalistic template offers the perfect solution to showcase your rental in a sleek and professional way.
Great Hotel
Best suited to: Hotels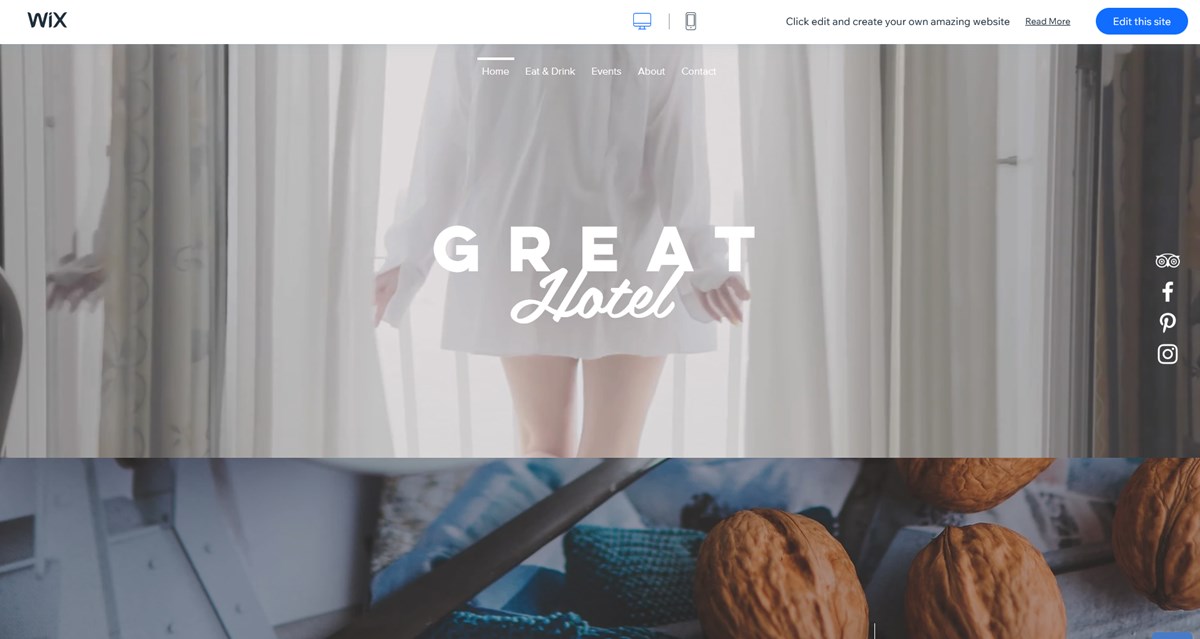 This modern hotel template is the perfect solution for showcasing your property in style. Boasting full-screen images and background video, your guests will be captivated from the moment they arrive on your site. The template also includes all the essential pages needed to showcase your hotel, ensuring that potential guests can easily access information on amenities, accommodations, and more.
Casa City Hostel
Best suited to: Urban hotels, B&Bs, and hostels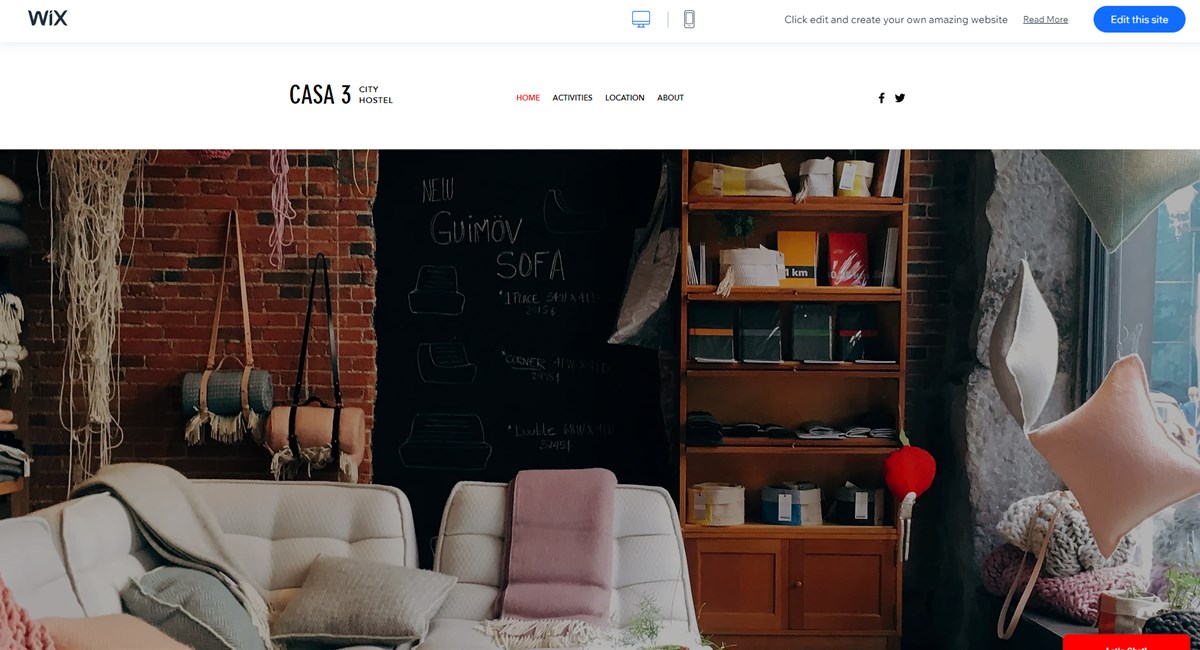 Looking for a hotel template that's both sleek and functional? Check out this clean and modern design featuring a stunning full-screen image gallery.
With this user-friendly layout, you can easily showcase your interiors, activities, and amenities, allowing potential guests to get a true sense of your hotel's offerings. Plus, a minimalistic approach ensures a seamless browsing experience that's sure to delight your website visitors.
True Traveler
Best suited to: Travel blogs and brochure hotel sites
While this template may not be specifically tailored to hotels, it offers a versatile design that works seamlessly for a variety of travel topics.
With a sleek and modern flat design, this template can be easily customized to suit the unique style and branding of your hotel or serviced apartment.
The Salinger Hotel
Best suited to: Service apartments, hotels, hostels, apart hotels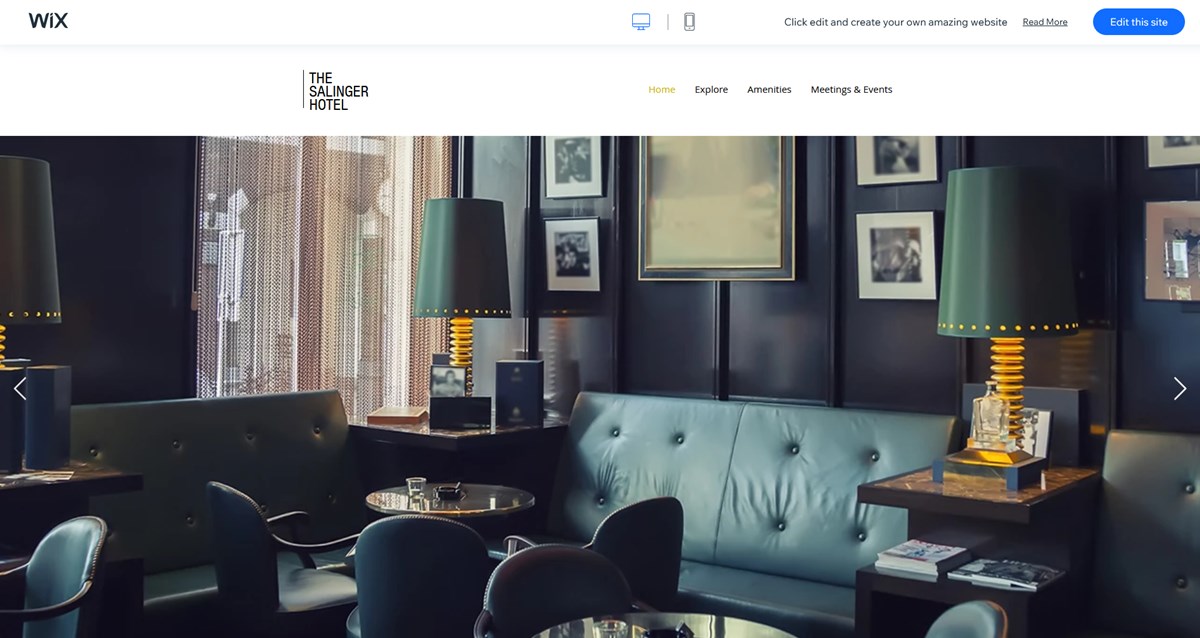 This Wix hotel template is an excellent example of class and functionality, suitable for a wide range of websites. It showcases amenities, meeting spaces, event venues, and captivating image galleries, making it perfect for businesses in the hospitality industry. Modest fonts, wide-width layouts and the essentials to get you going.
San Jose
Best suited to: Seaside B&B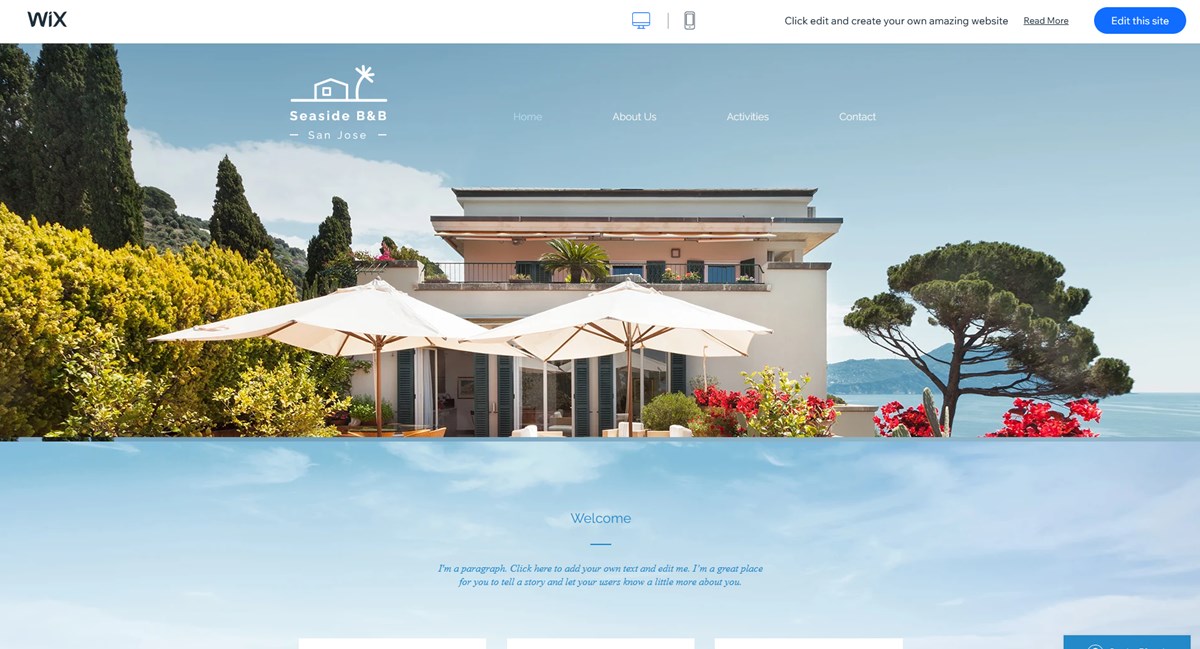 While this template is specifically designed for seaside B&Bs and beachfront resorts, it can be easily tailored to fit a variety of needs, from cozy apartments to charming inns. Its standout features include a stunning full-screen image, well-organized room and amenities categories, and a streamlined slider that's both user-friendly and visually appealing.
Laguna Resort
Best suited to: Marine hotels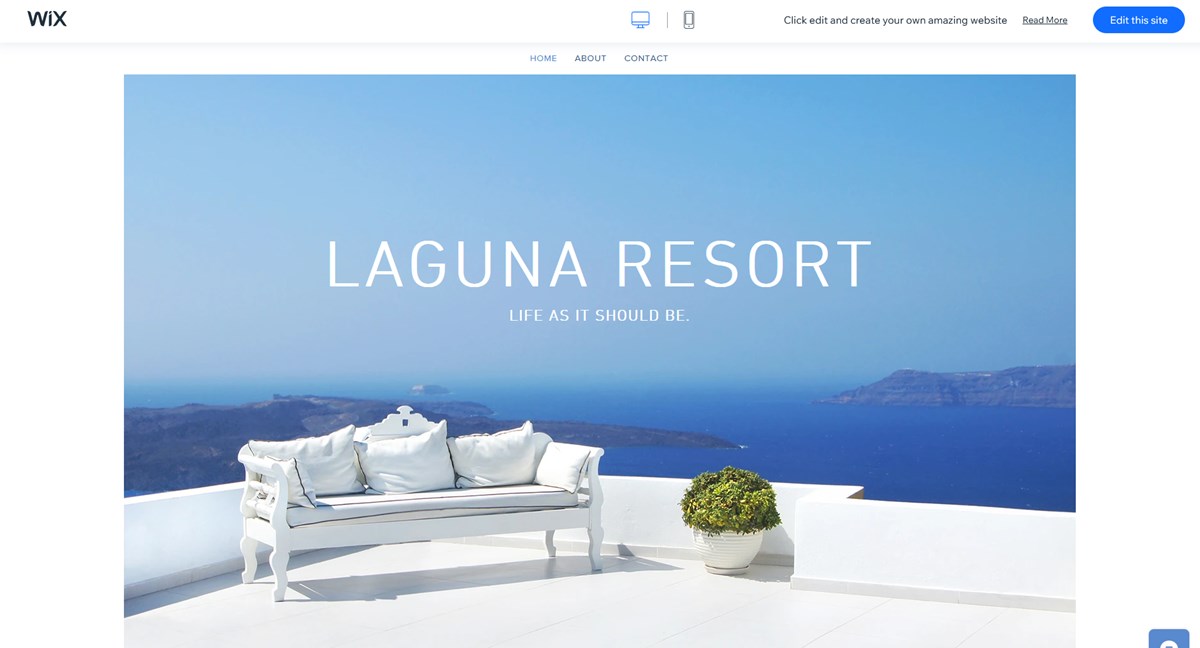 With its minimalist design and user-friendly interface, this hotel template makes it easy to showcase your hotel's amenities and other important information. Plus, the navy blue color scheme is a perfect fit for beachfront or marine hotels.
Villa Aphrodite
Best suited to: Villa, guest house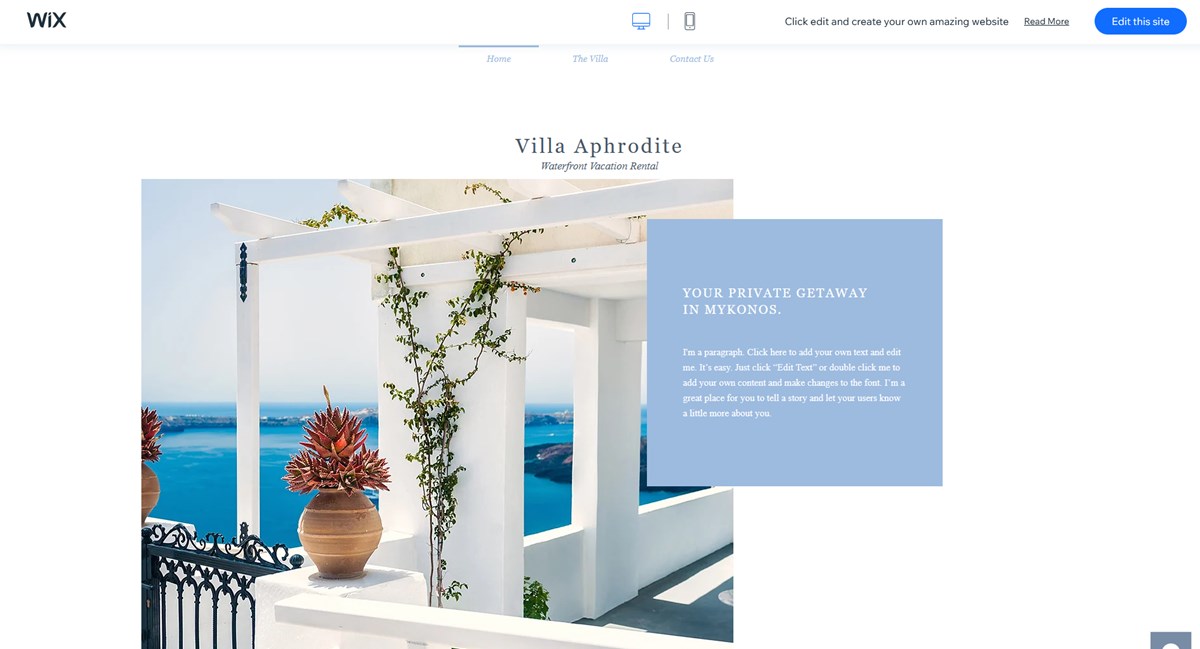 This Wix template is designed to showcase your individual vacation rental, whether it's a luxurious villa or a charming beachfront house. With ample space dedicated to highlighting your property's unique amenities and attractions, your guests will be left in awe. Plus, the template seamlessly integrates a user-friendly contact form and interactive Google Maps, making it effortless for potential renters to get in touch and find your property with ease.
Home & Away
Best suited to: Urban hotels & serviced apartments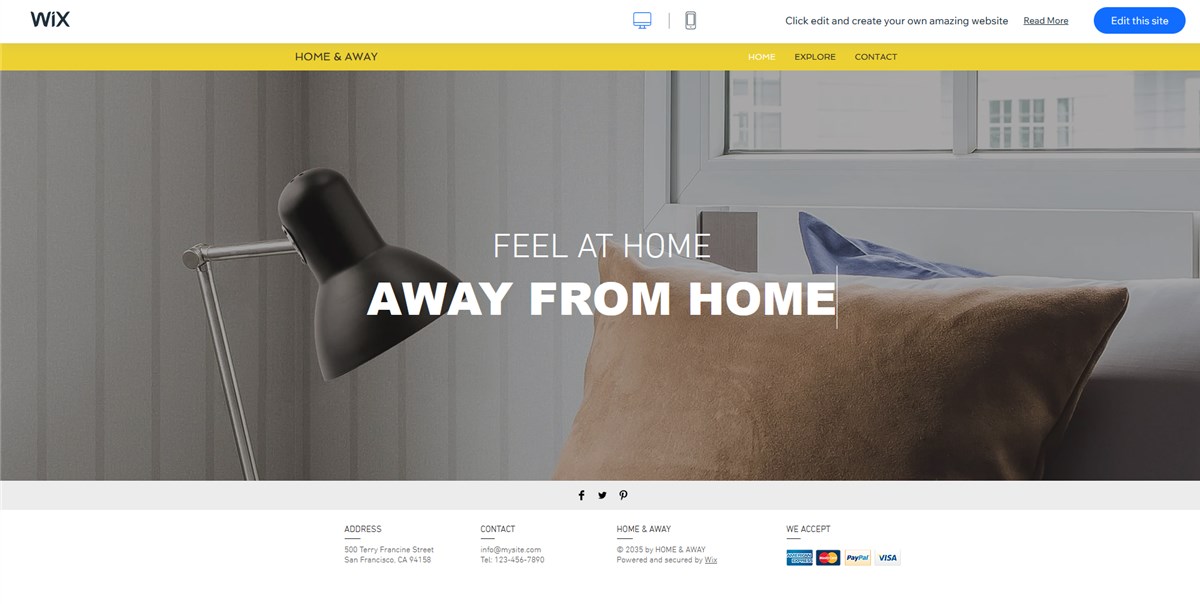 The well-structured layout of this Wix hotel template offers a nice set of icons to highlight your unique activities, while a convenient contact form and integrated map make it easy for potential renters to get in touch and locate your property. With stunning background images that perfectly capture the essence of your hotel accommodations, this template is sure to leave a lasting impression on travelers.
Dandy Campers
Best suited to: Campsites and RVs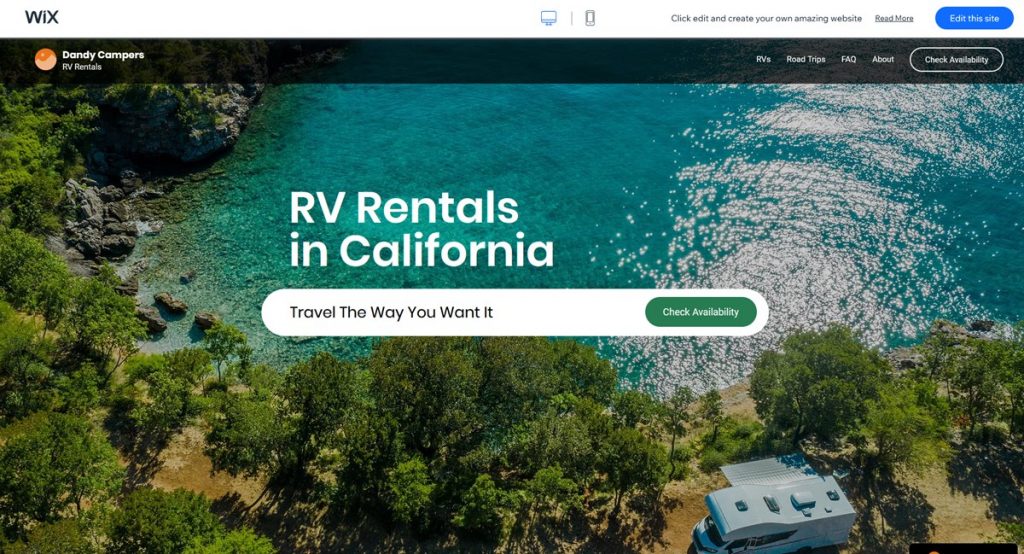 This fancy and modern Wix template is perfect for showcasing your campground or RV rental. With an integrated contact form, potential campers can easily request a booking and secure their spot. The template also features an Instagram widget to showcase stunning outdoor photos, an FAQ section to answer common questions, and a road trip blog to inspire new adventures.
How to accept hotel bookings on Wix automatically?
Although Wix provides a booking software called Wix Bookings, it is mainly tailored for managing appointments.
However, if you're a professional hotel or vacation rental business that wants to streamline your operations, save your staff's valuable time, and optimize various hotel processes, manually accepting bookings is not the most efficient solution that Wix offers for your business.
Simply put, there are no default dedicated booking tools for hotels on Wix.
But no worries. You can easily add a dedicated booking and management software for accommodations to Wix hotel templates using solutions like BNBForms.
It allows you to place a Book now button to your Wix website, show availability of every room or property in real time and enable guests to book online with or without a payment.
So how to add a hotel booking button to Wix?
Create an account with BNBForms (it's free).
Add your properties and services. Quick start guide.
Set up pricing and booking rules.
Copy the BNBforms code in the Widget Script section (Widget Script – Copy).
Go to your Wix Dashboard > choose Settings from the left-hand panel > Advanced > select Custom code. You should have a premium Wix plan and a domain name connected to add custom codes.
Click on the "+ Add Custom Code" button.
Simply copy and paste the code snippet from BNBForms into the designated text box.
Name your code and choose its location.
Save the changes – this should add the widget to your Wix website.
Go to your Wix Dashboard > Site & App > Website > Edit website > Preview. The Book Now should be added to your website.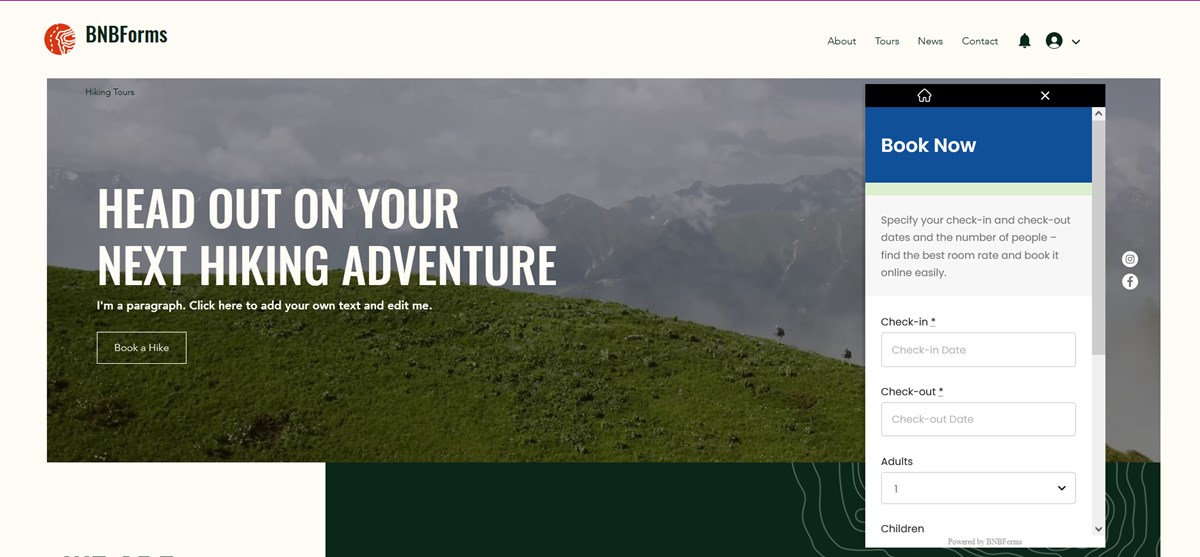 Read a detailed tutorial on Wix + BNBForms
Final word: How to create a hotel site with Wix and automate bookings?
To sum up, here are the main steps for launching your hotel site with Wix:
Choose a Wix hotel template or use Wix ADI to automatically generate the hotel or bed and breakfast design you desire.
If you don't require automated bookings on your website, you can utilize any Wix hotel template that comes with a pre-integrated contact form.
To automatically receive and manage hotel bookings on Wix, create a BNBForms account and paste the code into Wix to add a "Book Now" button and control all your bookings, clients and payments centrilized.