In recent years, the concept of glamping, short for glamorous camping, has witnessed a steady rise in popularity. More and more individuals seek exceptional and luxurious outdoor experiences. If you're an aspiring entrepreneur with plans to establish a glamping business in 2023, this comprehensive guide will lead you through the essential steps of creating a successful and enticing glampsite.
If you're an aspiring entrepreneur with plans to establish a glamping business in 2023, this comprehensive guide will lead you through the essential steps of creating a successful and enticing glampsite. With the glamping sector expected to reach a market value of $4.8 billion by the end of this year, there is a clear opportunity for growth and profitability in this flourishing industry. By following the right strategies and understanding the preferences of your target audience, you can position your glamping venture for success in this rapidly expanding market.
| Year | Glamping Market Growth Rate (%) | Projected Market Value (USD billion) |
| --- | --- | --- |
| 2020 | 10 | 3.2 |
| 2021 | 12 | 3.6 |
| 2022 | 14 | 4.1 |
| 2023 | 15 | 4.8 |
This table illustrates the growth rate of the glamping market over the past few years and its projected market value for the year 2023. The data indicates a steady increase in demand for glamping experiences, making it an appealing business opportunity for entrepreneurs looking to venture into this industry.
Here are some key trends that were driving the glamping business:
Rising Demand for Unique Experiences: Modern travelers were seeking more authentic and unique experiences, moving away from traditional hotel stays. Glamping provided a perfect blend of luxury and outdoor adventure, appealing to those who wanted to reconnect with nature without sacrificing comfort.
Sustainable and Eco-friendly Practices: Glamping businesses were incorporating eco-friendly practices into their operations. Many glampsites focused on using sustainable materials, minimizing environmental impact, and promoting responsible tourism.
Social Media and Influencer Marketing: Glamping experiences were widely shared on social media platforms, attracting attention from influencers and travelers alike. Instagrammable accommodations and picturesque landscapes contributed to the viral marketing of glamping destinations.
Expansion of Glamping Sites: The number of glamping sites and accommodations was on the rise in various regions, including national parks, rural areas, and scenic landscapes. This expansion increased accessibility and diversified the glamping options available to travelers.
Diverse Accommodation Types: Glamping was no longer limited to just luxury tents. Many glampsites offered various unique accommodations, such as treehouses, yurts, cabins, geodesic domes, and renovated vintage trailers, catering to different tastes and preferences.
All-season Appeal: Glamping businesses capitalized on offering experiences throughout the year. Some sites adapted accommodations to withstand different weather conditions, making glamping an all-season activity.
Weddings and Events: Glamping destinations were becoming popular choices for weddings, corporate retreats, and special events. The combination of natural settings and luxurious amenities attracted event planners and couples looking for unforgettable experiences.
Wellness and Mindfulness: Some glamping businesses integrated wellness offerings into their experiences, providing activities like yoga, meditation, and spa treatments, which resonated with travelers seeking relaxation and mindfulness in nature.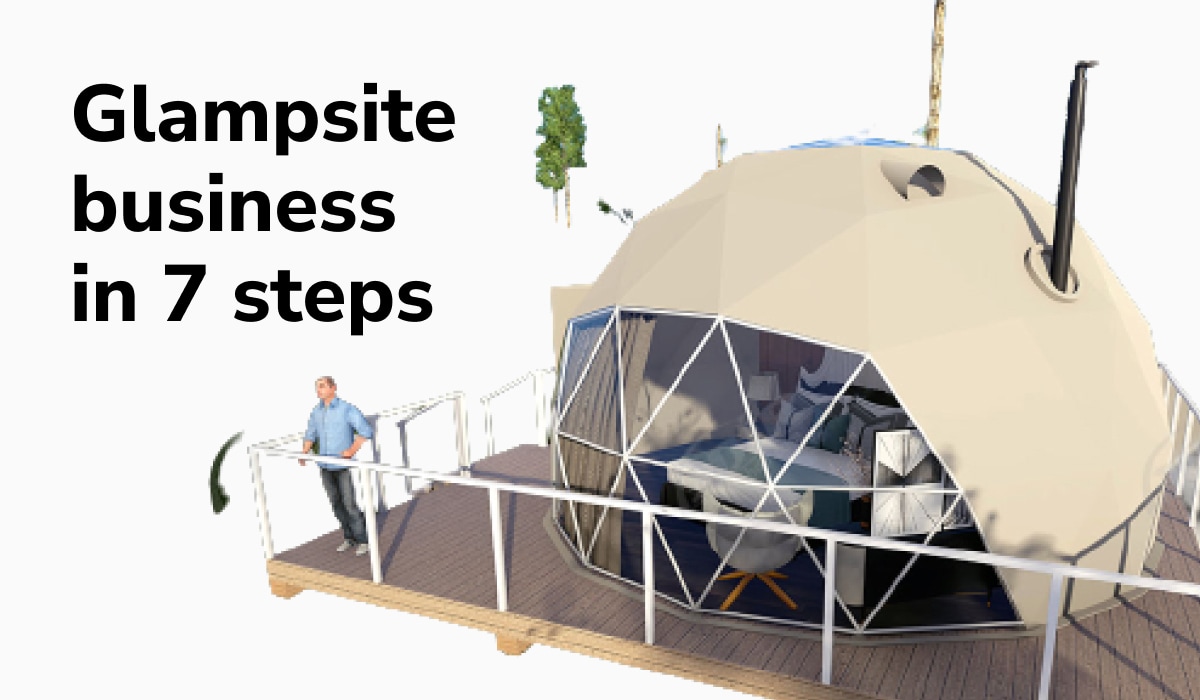 Step 1: Choose your location
The first step in starting a glamping business is finding the perfect location. Look for an area that has beautiful natural surroundings, such as a forest, beach, or mountains. Your location should also be easily accessible and have amenities such as water, electricity, and sewage. Consider the local climate and weather patterns when selecting a site to ensure that your guests will be comfortable and safe.
Step 2: Develop your concept
Once you've chosen your location, it's time to develop your concept. Think about what type of glamping experience you want to offer, such as luxury tents, yurts, or treehouses. You should also consider the level of luxury you want to provide, such as high-end amenities and gourmet dining. Determine your target audience and what they would expect from a glamping experience. Use this information to create a unique concept that will set you apart from other glamping sites.
Step 3: Obtain permits and licenses
Before you can start building your glampsite, you'll need to obtain any necessary permits and licenses. Check with your local government to see what regulations and requirements you need to meet to operate a glamping business. This may include building permits, zoning permits, and health and safety inspections.
Step 4: Design and build your glampsite. How to set up glampsite.
Designing and building your glampsite is a crucial step in starting your business. You'll need to invest in high-quality tents or other structures, as well as comfortable furnishings and amenities such as heating and air conditioning. Work with an experienced builder or architect to ensure that your glampsite is safe, durable, and visually appealing.
Step 5: Market your business
Once your glampsite is up and running, it's time to start marketing your business. Use social media and online advertising to reach your target audience, and consider partnering with local tourism boards or travel agencies to promote your glamping experience. Create a website that showcases your glampsite and provides information about pricing, amenities, and availability.
Step 6: Create a website and add an online booking engine for your clients
A website can be easily created without a developer. Use one of the site builders with a wide range of templates for your needs. When your site is ready add an online booking form that allows your clients to choose available dates and rooms on your glamping website.  

BNBforms is a perfect solution for your glamping business. This booking form enables hotels of all sizes to manage their operations more efficiently and effectively. The software includes various features that help hotel staff manage reservations, check-ins, billing, and other tasks.
Step 7: Provide exceptional customer service
Finally, remember that customer service is key to the success of any hospitality business. Train your staff to be friendly, helpful, and knowledgeable about the area and your glamping experience. Provide personalized service and take the time to get to know your guests. Word-of-mouth recommendations are often the best way to attract new customers and grow your glamping business.
Starting Your Glamping Business in 2023 – Conclusion
In conclusion, embarking on the journey of starting a glamping business in 2023 holds immense potential for both fulfillment and financial success. By carefully selecting the ideal location, crafting a captivating concept, and implementing a well-thought-out marketing strategy, you can establish a glampsite that stands out, offering an unforgettable experience to your customers and garnering glowing reviews.
Following the outlined steps in this guide, you can gain a comprehensive understanding of how to set up your glamping business and pave the way toward a prosperous and thriving venture. Remember, providing a blend of luxury, nature, and personalized service will be the key to attracting a loyal clientele and establishing your presence in the ever-growing glamping market. With dedication, creativity, and attention to detail, your glamping business can become a sought-after destination for those seeking an enchanting and luxurious escape amidst the great outdoors.