Are you searching for a suitable alternative to WPForms to meet your booking form requirements? Let's explore an excellent option: BNBForms, a robust and cost-effective form builder tailored specifically to cater to the unique needs of the hotel industry.
In this article, we'll embark on a journey through the unmatched features and benefits of BNBForms, exploring why it stands head and shoulders above traditional form builders like WPForms. Say goodbye to the limitations and constraints of generic form builders, and say hello to an industry-specific solution tailored exclusively to cater to your hotel's booking needs.
What is BNBForms?
When it comes to choosing the right form builder, it's essential to consider your specific needs and industry requirements. While WPForms is undoubtedly a popular choice, BNBForms offers several advantages that make it an appealing option for hotels and other hospitality businesses.
Industry-Focused Features: BNBForms is designed with the hotel industry in mind. It offers a range of pre-built templates and features specifically crafted to facilitate smooth and seamless booking processes, including easy room selection, check-in and check-out dates, guest information, and more. This specialization ensures that hoteliers can quickly set up functional booking forms without the need for extensive customization.
Integration with Hotel Management Systems: Unlike many generic form builders, BNBForms often integrates seamlessly with various hotel management systems, such as property management software and online booking platforms. This integration streamlines data flow and reduces manual entry, ultimately saving time and minimizing errors.
Customization Options: BNBForms provides ample room for customization. Hotels can brand their forms to maintain consistency with their website design and enhance the overall user experience. Additionally, you can tailor the forms to collect specific information unique to your hotel's offerings, providing a personalized and professional touch to your booking process.
Responsive Design: In an age where people use a variety of devices to access the internet, BNBForms ensures that your booking forms are responsive and mobile-friendly. This feature allows potential guests to make reservations conveniently from their smartphones or tablets, boosting conversion rates and enhancing user satisfaction.
Affordability: Cost-effectiveness is a significant advantage of BNBForms over some of its competitors. It offers powerful features at a competitive price, making it an attractive option for budget-conscious hoteliers without compromising on functionality and performance.
Customer Support: BNBForms prioritizes customer satisfaction, offering excellent customer support to address any queries or issues that may arise during the form-building process. This level of support can be crucial, especially for hotel businesses that require efficient and timely solutions to meet their booking requirements.
What is WPForms?
WPForms stands as one of the most widely used WordPress plugins for building online contact forms. It comes in two versions: the lite version, which offers basic functionality with limited field options, and the premium version with more advanced features. While the lite version allows users to create straightforward contact forms, the full potential of WPForms can be unlocked through its premium offerings.
Despite its popularity and feature-rich nature, the premium pricing of WPForms can be a deterrent for some users. As a result, many individuals and businesses often seek out alternative solutions that provide similar functionality without the hefty price tag.
If you find yourself in search of a viable WPForms alternative, consider exploring other form builder options that offer compelling features at a more accessible price point. There are various alternatives available in the market that cater to different needs and budgets, ensuring you find the perfect fit for your requirements.
Before deciding on a specific alternative, consider the following factors:
Feature Set: Look for a form builder that offers the features essential to your needs, such as customizable fields, advanced form logic, conditional logic, file uploads, and payment processing (if required).
Pricing: Compare the pricing plans of various form builders to ensure they align with your budget. Some form builders offer free plans with limited features, while others provide affordable premium plans with robust functionality.
Integration: Check whether the form builder can easily integrate with your existing website or content management system. Seamless integration simplifies the process of implementing and managing the forms.
User-Friendliness: Consider the ease of use and user-friendly interface. A straightforward form builder will save you time and effort in the form creation process.
Support and Updates: Ensure that the form builder offers reliable customer support and regular updates to maintain compatibility and security.
WPForms vs BNBForms
Undoubtedly, BNBForms boasts a myriad of advantages over WPForms, with one of the most significant being its cost-effectiveness. WPForms may prove to be expensive, particularly when you require additional add-ons or extensions to fulfill your booking form requirements fully. Even the most basic WPForms plan might not include all the features you need, pushing you to opt for more expensive plans to access essential functionalities. This can be a considerable financial burden for businesses, especially those in the hospitality industry.
In stark contrast, BNBForms takes a refreshingly different approach by offering affordable pricing plans tailored explicitly to cater to the unique needs of the hospitality sector. With BNBForms, all the features you require to create powerful and efficient booking forms are readily available in one comprehensive plan. There's no need to worry about purchasing costly add-ons or upgrading to more expensive tiers just to access essential functionalities. This simplicity in pricing ensures that you get everything you need in one package, making it an attractive and budget-friendly option for hotels and accommodation providers.
Moreover, BNBForms' commitment to the hospitality industry means that every aspect of their form builder is designed with your needs in mind. You can rest assured that the pricing is fair and tailored to accommodate the specific requirements of your hotel booking process.
By opting for BNBForms, you not only save on costs but also benefit from a streamlined and efficient form building experience. There are no hidden fees or unexpected expenses to worry about, as all the features are included transparently in the plan. This level of cost transparency gives you the confidence to plan your budget effectively without any unwelcome surprises down the road.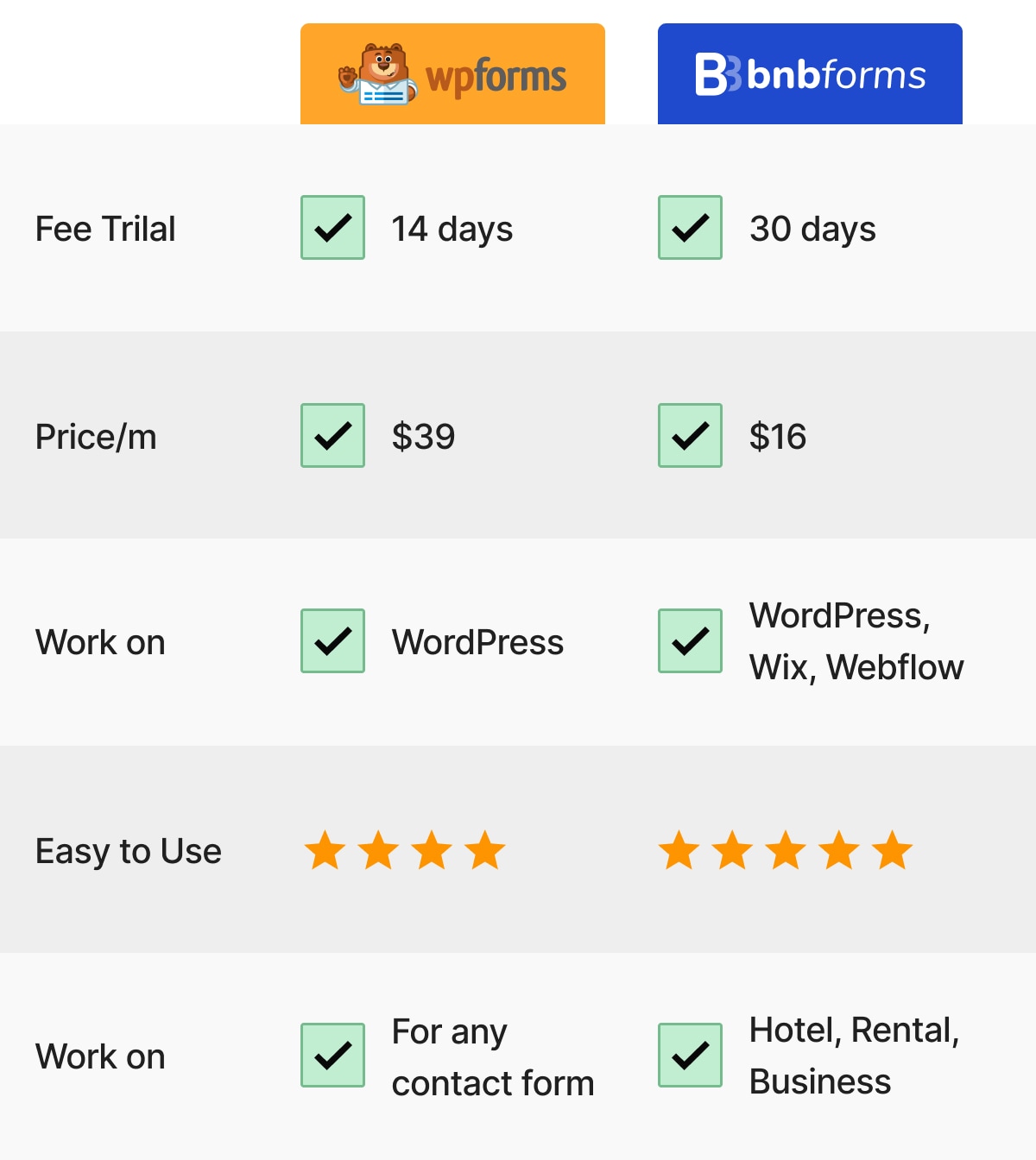 The second remarkable advantage of BNBForms lies in its unwavering focus on addressing the unique requirements of the hospitality industry. BNBForms stands out as a form builder meticulously crafted to cater to hotel and vacation rental owners, enabling them to create fully customizable booking forms that align precisely with their specific needs. By tailoring the platform to accommodate the diverse demands of the hospitality sector, BNBForms empowers businesses to enhance their guests' booking experience significantly.
Among its array of industry-focused features, BNBForms offers built-in payment processing capabilities, streamlining the payment flow and making it seamless for guests to secure their reservations. This not only enhances the overall efficiency of the booking process but also instills confidence in guests, as they can complete their transactions securely and conveniently without being redirected to external payment gateways.
Furthermore, BNBForms exhibits exceptional versatility by providing support for multiple languages and currencies. As a result, hotel and vacation rental owners can effortlessly expand their reach to a global audience, offering their services to guests from different linguistic backgrounds and facilitating transactions in various currencies. This international approach opens doors to new markets and broadens the potential customer base, ultimately leading to increased bookings and revenue.
With BNBForms, the process of creating a professional and user-friendly booking experience becomes a breeze. Hotel owners can customize their forms to showcase their brand identity, imbuing their website with a unique and memorable touch. Additionally, the user-friendly interface of BNBForms allows owners to build intuitive and seamless booking forms, ensuring that potential guests can navigate through the process effortlessly, from selecting their desired accommodations to finalizing their reservation.
Now, let's delve into the third outstanding advantage of BNBForms. Unlike some form builders, which may be limited to specific platforms, BNBForms boasts the remarkable ability to seamlessly integrate with a variety of site builders. Whether you operate on WordPress, Wix, Webflow, GoDaddy, Joomla, or any other popular website-building platform, BNBForms ensures compatibility across the board. This means that regardless of your chosen site builder, you can harness the power of BNBForms to create dynamic and efficient booking forms that elevate your business's online presence.
On the other hand, WPForms, as the name suggests, is primarily designed for WordPress users, which can be a limiting factor for businesses that prefer or already operate on different site builders. BNBForms eliminates this barrier, providing hotel and vacation rental owners with the flexibility to leverage its exceptional features regardless of their chosen website platform.
Comparison of key features and functionalities between WPForms and BNBForms.
| Feature | WPForms | BNBForms |
| --- | --- | --- |
| Versatility | Suitable for various industries | Tailored specifically for the hospitality industry |
| Cost-Effectiveness | May require additional add-ons and upgrades, leading to increased costs | All-inclusive pricing with affordable plans, no need for costly add-ons or upgrades |
| Comprehensive Features | Requires add-ons for certain features related to booking forms | Industry-focused features, including built-in payment processing, multiple languages, and currencies |
| Customization Options | Customization available, but may have limitations for hospitality-specific needs | Fully customizable to align with hotel branding and unique requirements |
| User-Friendly Interface | User-friendly, but may require some technical expertise | Intuitive drag-and-drop interface, suitable for users of all levels of expertise |
| Mobile Responsiveness | Responsive, but no specialization for mobile booking experience | Mobile-friendly design, optimized for seamless booking on all devices |
| Customer Support | Offers customer support, but not specialized for the hospitality industry | Dedicated customer support tailored to hoteliers' booking-related challenges |
| Integration Options | Integrates with various platforms, including WordPress | Compatible with multiple site builders, including WordPress, Wix, Webflow, GoDaddy, Joomla, and more |
| Industry Templates | Provides general form templates | Offers pre-built templates specifically designed for hotel booking, check-in, check-out, and guest information |
| Booking Form Features | Offers basic booking form features | Extensive booking form features, such as date-range pickers, room selection, occupancy details, and more |
| Language and Currency Support | Limited internationalization support | Supports multiple languages and currencies, facilitating a global reach for international guests |
| Data Collection & Management | Data collection options with limited integrations | Seamless integration with hotel management systems and property management software |
| Performance and Security | Solid performance and security features | Ensures data security and compliance with industry standards for handling sensitive guest information |
| Trial and Free Options | Offers limited free version and paid plans | Provides trial periods or free options for testing before making a commitment |
Comparison of key features and functionalities between WPForms and BNBForms.
Form builder alternative conclusion. WPForms vs BNBForms.
In conclusion, after a thorough comparison between BNBForms and WPForms, it becomes evident that while WPForms is a robust and versatile form builder suitable for various industries and purposes, it may not fully meet the specific needs and demands of the hospitality industry. Although WPForms offers add-ons and extensions for creating booking forms, the cumulative cost of these additional features can become prohibitive for businesses looking to manage their budget effectively.
On the other hand, BNBForms shines as a dedicated and specialized form builder tailored explicitly for the hospitality sector, with a strong focus on the unique requirements of hotels and vacation rentals. Its thoughtfully crafted features and templates are designed to streamline the booking process, simplify payment processing, and create a user-friendly experience that resonates with guests worldwide.
The cost-effectiveness of BNBForms further enhances its appeal. With a transparent and all-in-one pricing structure, hotel owners can access a comprehensive set of features without incurring additional expenses or compromising on functionality. This makes BNBForms a wise investment for businesses seeking to optimize their online booking process and enhance guest satisfaction.
Moreover, BNBForms' commitment to excellent customer support ensures that hoteliers receive timely assistance and solutions tailored to their specific industry-related challenges. The responsive support team is well-versed in addressing issues and providing guidance on creating efficient booking forms, offering peace of mind to hotel owners as they navigate their form-building journey.
Additionally, the customizable options provided by BNBForms empower hotels and vacation rentals to brand their booking forms uniquely, thereby reinforcing their identity and establishing a professional image in the minds of potential guests. The ability to cater to multiple languages and currencies fosters a global outreach, opening doors to a diverse audience and expanding the business's horizons.
Furthermore, BNBForms' user-friendly interface makes the form creation process intuitive and accessible to all levels of expertise, eliminating the need for technical expertise and extensive training. This simplicity ensures that hotel owners can quickly implement effective booking forms and focus on providing exceptional guest experiences.
In summary, BNBForms emerges as an outstanding alternative to WPForms for the hospitality industry, combining powerful features, cost-effectiveness, industry specialization, and top-notch customer support. By choosing BNBForms, hotel and vacation rental owners can elevate their online booking system, drive more reservations, and ultimately thrive in the competitive landscape of the hospitality sector. So, if you're in the hotel business and seeking an innovative and tailored solution for your booking forms, look no further than BNBForms – the ultimate partner for enhancing your guests' journey and boosting your business's success.